Race Date 19 March 2019
President of Cheshire County AA and senior member of West Cheshire Athletics Club, Joe Shellhorn's career in athletics started in the early 1970's when his daughters became involved in the sport at school. The type of character who forms the backbone of club athletics in the UK, Joe also organised this race in the Algarve for many years. Sadly, Joe passed away a few years ago and the race is now named in his memory.
Although the course is not an easy one, with three laps and a total of 125m of climb, the standard is high as course records are 14:32 and 16:31. The standard was maintained this year as it was won in 15:32 by Ross Braden (Blackheath and Bromley) with first lady Tabea Theman (Hamburg Running e.V) crossing the line in 17:45. The race regularly sports international athletes and this years field of 148 included Jennifer Spink and Mara Yamauchi, here as part of Mike Gratton's 2:09 Events coaching team who very kindly sponsored the race. The field is always full of club vests from Britain and the continent as, with its benign spring climate, the Algarve is a popular training destination for athletes of all disciplines and abilities from international standard downwards including two members of Steel City Striders.
| | | | |
| --- | --- | --- | --- |
| Pos | Name | Cat | Time |
| 14 | Sam Brown | SM | 18:14 |
| 60 | Peter Brown | M55 | 21:25 |
Full results are only available on Facebook at the moment:  Falesia 5km results The link will be updated when results appear on Run Britain.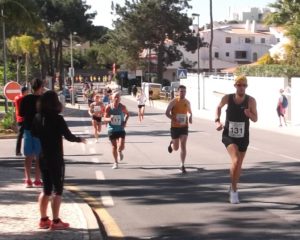 Sam hauling his yellow vest up the hill for the last time. Although the results always tell their own tale of what happened, Sam dipped into the runners book of excuses and advises that he was conscious of the 12 stage relays which were taking place in a few days time. The other club member said that he was running as hard as he could.
Peter Brown writes: we first came to Falesia in 2012 with Mike Gratton's 2:09 Events and have been regular visitors under our own steam ever since. There are two tartan tracks nearby as well as numerous trails and quiet roads to train on whilst the Acoteias cross country course provides an ideal venue for fartlek and other sessions. With the opportunity for twice a day training we get some serious work done during the week with over seventy miles over seven days across twelve sessions. Next year's race is provisionally scheduled for 17 March 2020.