Report by Stuart Jones
Race Date: Saturday 5th October 2019, 12:00 start
(The 2nd running of this 10K event, by Goyt Valley Striders and Crazy Legs, who also put on The Three Halls of Stockport in January)
The Report in five words:
Really good, but not 'great'.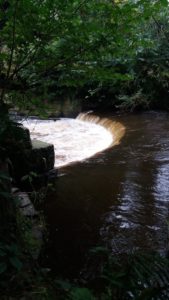 And a slightly longer version:
After being 20th at the brilliant Marple parkrun (waterlogged and muddy, and trail shoes essential) out of 158 finishers, I finished this lovely little challenge in 29th place out of 151 finishers. Trail shoes were also essential here. Sort of Trunce crossed with El Flasko, but with more mud.
The first 1.25 miles were dead flat on compact gravel, but then it got fun, with trails, tracks like fresh wet concrete, woodland paths, mud, and six sharp but thankfully short climbs. Beautiful scenery and more marshals than an event with plenty of marshals.
Having had a shower, I went for a mug of spicy butternut squash soup and a cup of tea in the Sailing Club Clubhouse (race HQ was at Errwood Reservoir) and subsequently managed to leave my dirty kit and my trail shoes (in a Club merch drawstring bag) behind when I left. This is running the risk of becoming a habit – I lost my wallet at Billingham 10k a couple of months ago. The buff-to-every-runner is nice but will not cover me up as much as the Club vest. Bollards!
Winner (first male):        Lee Ashwood    Disley Runners  41:29
Winner (first female):     Ruth Pettit          U/A                    48:27
There were prizes for first three male and female, and then first in each 5-year-span age category and a team prize male and female. I still got nowhere near, being 7th VM55. I would have been first VM65, if I were a lot older and the same speed I am now, but not first VM60. I am on page one of the results (here), and that's what counts, right?
Sole Steel City Strider:
| | | | | |
| --- | --- | --- | --- | --- |
| Pos | Name | Time | Cat | Cat Pos |
| 29 | Stuart Jones | 50:44 | MV55 | 7 |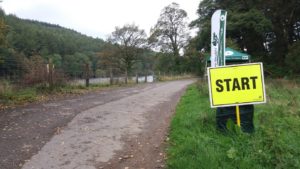 Medical history post-script:
Goitres, inflammations of the Thyroid gland in the neck, are largely caused by iodine deficiency. In the Peak District they became known as 'Derbyshire Neck'. In the Goyt Valley a 'fair amount'(PHJ Turton M.D., D.P.H., 1933) of adenoparenchymatous goitre existed in the 1930s. The jury is still out on whether the names are linked – did the prevalence of goitre in the Goyt Valley lead to the naming of the condition.