Note this was not an official race – just Andy creating a 113 mile 'Great North Ultra' before doing the Great North Run! Well done to Andy, here is his report.
113 miles then the Great North Run (Andy Wier's Great North Ultra)
It seemed like a good idea back in January!
Having discovered and run bits of the 63-mile Northumberland coastal path whilst on holiday last year, the thought of running the whole thing had been knocking round my head for a while. And when Church Army, the charity I work for, announced they were looking for people to do the Great North Run, I thought it might be 'fun' to put the two together and throw in a few extra miles in between. Some people tell me that I have a strange idea of fun.
Over the next few months, I began to research the route and a plan began to come together for a 3-day 126-mile running adventure in Northumberland: 113 miles them the Great North Run!
At risk of stating the obvious, a multi-day solo challenge like this should not be undertaken lightly and without proper preparation and training. I'd already run ultra-length distances before (though never in consecutive days) and followed a sensible training plan. And, though I'd originally planned to do it all on my own, it was a huge help that fellow Strider and work colleague Fiona Tweedie offered to crew for me when she heard about my crazy idea.
Friday 6 September – Berwick-upon-Tweed to Seahouses via Lindisfarne
Distance: 43 miles
As my early morning train passed through Newcastle, it struck me that I would be arriving in Berwick-upon-Tweed in just 45 minutes but returning to Newcastle from there would require two full days running. At Berwick station, I met Fiona (who had travelled down from Edinburgh) where we took a few photos and she showed me how to operate the emergency tracker she was lending me – just in case!
At 9am, I set off on my first 10-mile leg which took me over the river Tweed and out of Berwick along some glorious sections of coast towards the Lindisfarne Causeway. As the tide was out, I didn't stick to the coastal path and in places took the opportunity to run beside the sea. The only downside of this was that, as I got nearer to Lindisfarne, I needed to double-back a fair bit in order to safely cross an estuary I'd not noticed. This was the first of several unplanned detours that day which ultimately increased Friday's mileage from the 40 I'd originally planned to 43. But still I arrived at the Causeway in good time and in good spirits.
After a quick refuelling stop and chat with Fiona, I was ready to go again. The next leg involved another detour but this was an intentional one. When planning my route, I'd decided I just couldn't turn down the chance to run onto and around the beautiful and 'holy' island of Lindisfarne, and had scheduled my trip to coincide with safe crossing times. It meant having to run an extra 11 miles that day but it was well worth it.
Once back on the mainland, the next 15 miles or so of 'coastal path' took me inland and a long way from the coast. Other than having to cross the East Coast train line twice and the A1 twice (no bridges or underpasses), I don't remember a huge amount about this section. The route was a bit hillier than I'd imagined, and as the day wore on, I felt myself beginning to tire of running. Meeting Fiona at regular intervals helped keep me going and when, eventually, I found myself heading towards the sea with a great view of Bamburgh Castle ahead, I knew the hardest part of the day was behind me.
From Bamburgh, there were only a few miles to go to my hostel accommodation in Seahouses. But thanks to my rather casual approach to map reading, I still manage to fit in a couple more minor detours. I eventually reached my destination sometime after 6pm. Having been up since 4:20am and running since 9am, all I wanted was a big meal and a good night's sleep before getting up and doing it all over again the next day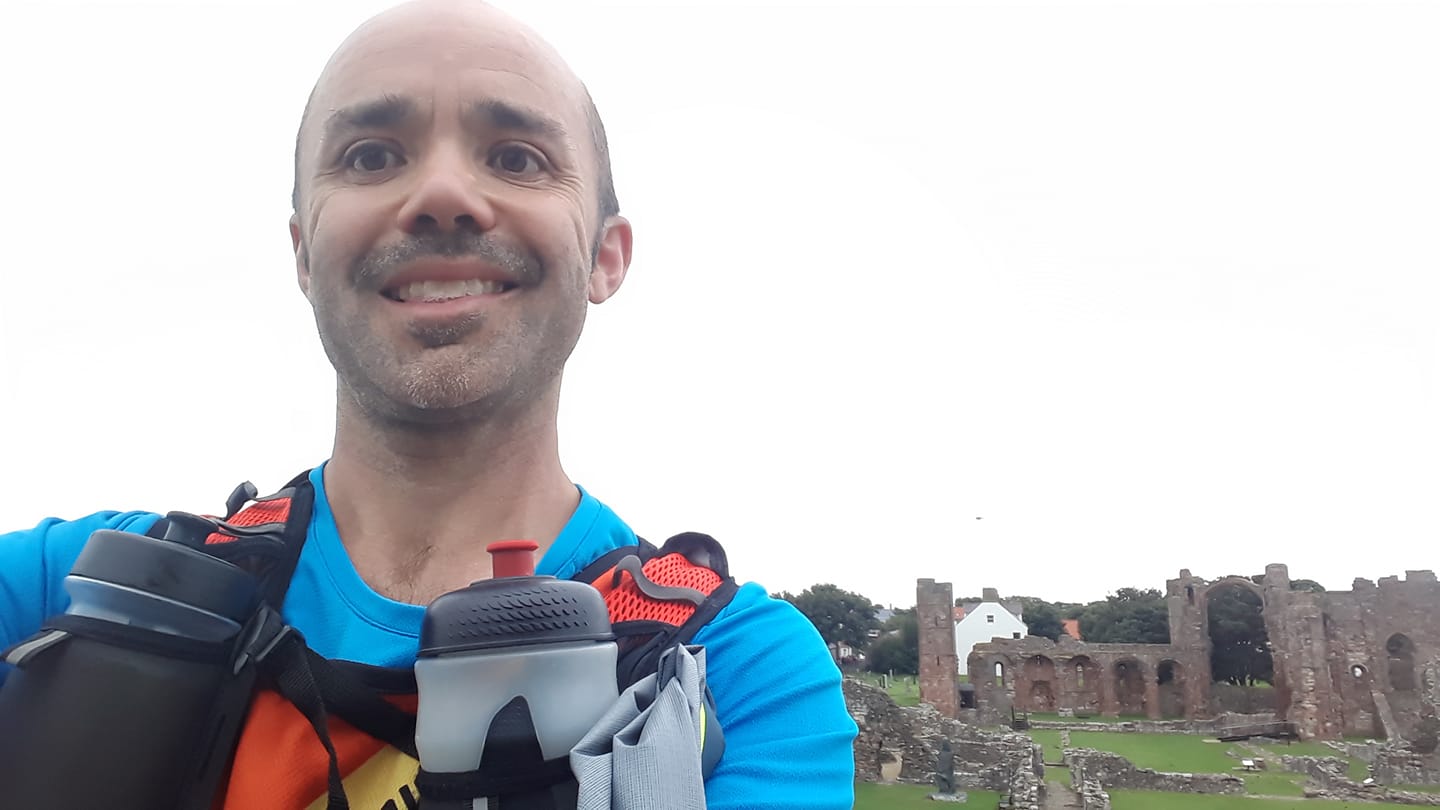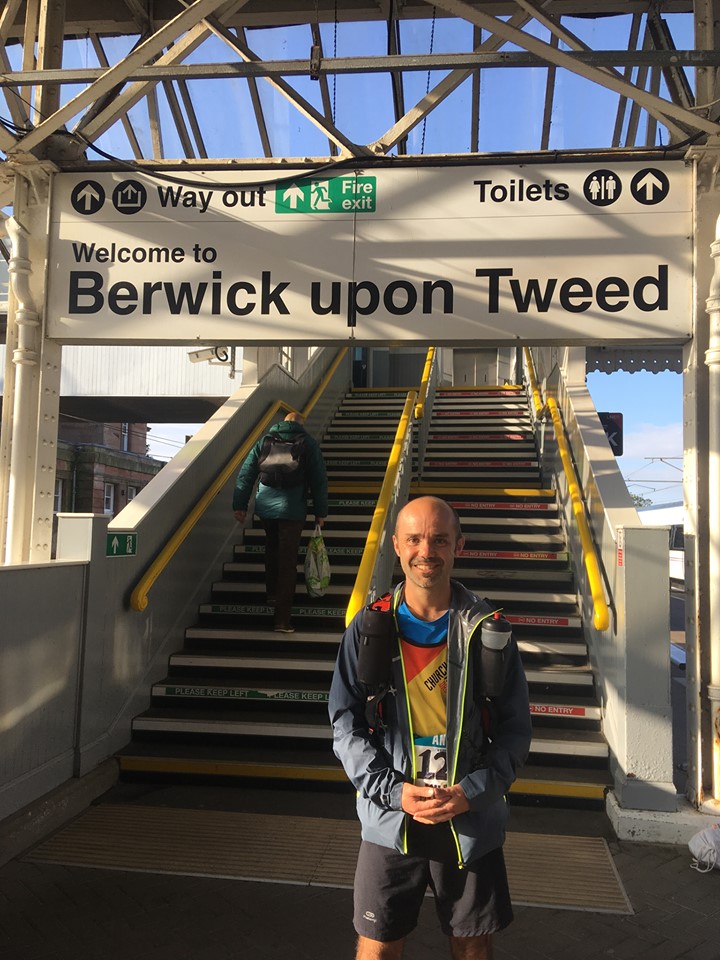 Saturday 7 September – Seahouses to Seaton Sluice
Distance: 57 miles
Although I'd run 43 miles the previous day, I felt surprising ok as I left Seahouses at 5.45am and re-joined the coastal path. I knew this part of the route while well and I enjoyed passing places like Beadnell and Craster that I'd been to on holiday the previous year. It was a beautiful morning for running and Dunstanburgh Castle in the early morning sun was simply stunning. My first proper scheduled stop was at Alnmouth, 18 miles in, and I remember being pleased that I still felt pretty good. From there, my next aim was to reach the 30 mile mark at Druridge Bay Visitors Centre. The miles seemed to go by quite quickly as I passed through pretty places like Warkworth and Amble and I managed to keep going at a slow-but-steady place all the way to Druridge Bay.
It was there that Fiona asked me if my feet were ok. "I think I might have a couple of small blisters" was my reply, "but they're fine". Fortunately, I decided to take a look anyway. What I saw wasn't pretty but I'm glad (and very grateful to Fiona) that we were able to spot and treat the blisters when we did.
The second half of Day 2 was a lot harder than the first. This was obviously partly because I was running on tired legs. But I think the terrain and environment also played a part. First, there seemed to be an awful lot of running sand dunes, which both slowed me down and sapped my strength. And then, after the official end of the Northumberland Coastal Path at Cresswell, the coastline began to get more industrial, uninspiring and harder to negotiate (epitomised by the experience of clambering over rocks round the back of Lynemouth power station).By the time I reached Newbiggin by the Sea at about 40 miles, I was beginning to struggle and had to stop and rest in Fiona's car for quite a while before being able to carry on.
I think it was at this point that Fiona posted something on the Striders Facebook page, saying I looked tired and might appreciate some messages of support. Quite a few people responded and I glanced at some of their comments at various points over the next couple of hours. If the intention was to give me a boost, they certainly worked. As I slowly made my way along the coast to Cambois (45 miles) and then inland towards East Sleeburn to cross the River Blyth, I was beginning to feel positive again.
But then my sense of direction began to fail. Having done a recce of this inland section a few weeks earlier, I was aware it was potentially tricky as some of the paths were very over-grown and some of the direction signs unclear. And if you don't have a great sense of direction at the best of times, it's hard to make good navigation decisions when you're very tired. So I ended up losing my way and had to climb over a couple of barbed wire fences to get back on track (not recommended!), only to then head off in the wrong direction again and have to double back. All this added to my mileage and slowed me down but eventually, and with the help of Fiona who was tracking me, I found myself on the 'right' side of the River Blythe.
By this stage, I had already run 50 miles and my overnight accommodation in Whitley Bay was still 10 miles away. Time was also ticking on and I knew I needed to leave 'enough in the tank' for the 26 miles I had planned the following day. So I decided to cut the day's run a little short. Rather than running all the way to Whitley Bay, I would stop after 57 miles because this (combined with the previous day's miles) was all I needed to do to reach my target of 100 miles for the first two days.
Those last seven miles of the day seemed to take forever. Alongside the fact that I was running very slowly, my progress was further delayed by the need for an emergency toilet stop in Blyth. But eventually I found myself back on the coast near Seaton Sluice with just under a mile to go. To help get me through that last mile, I decided to video call my wife and kids and it was lovely to see their faces and chat to them while I ran. As soon as my Garmin told me that I'd run 57 miles, I stopped. That was certainly enough running for one day!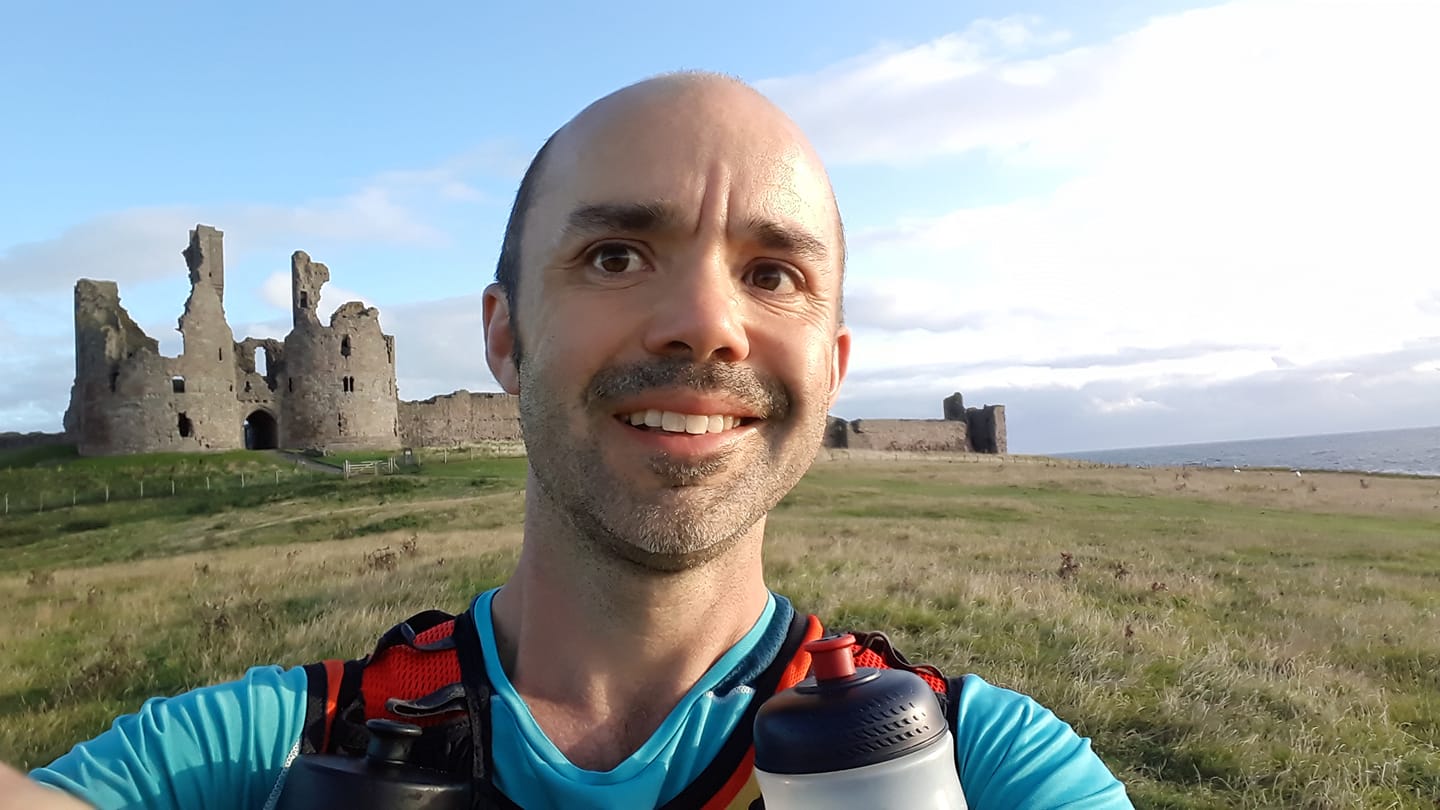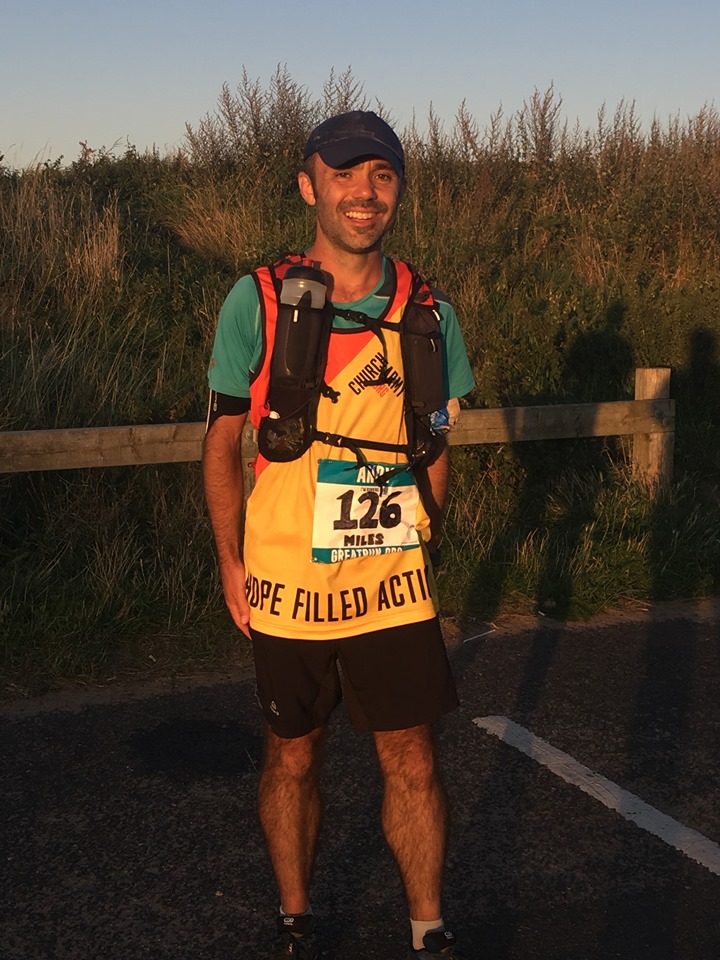 Sunday 8 September – Whitley Bay to Newcastle then the Great North Run
Distance: 26 miles – 13 miles into Newcastle then the GNR itself
The house I was staying in was just round the corner from Whitley Bay Metro Station and, as I set off at 5.40am, the thought did occur that any sensible person heading to Newcastle would use public transport. But as you might have gathered from this report, I was in no mood to be sensible so I started running again.
This section of the run, which began following the river Tyne before heading inland to the city, was fairly uneventful. I just wanted to get to Newcastle and, through the sheer stubbornness of continuing to put one foot in front of another, eventually I did.
I have to tell you that arriving at the start of the world's biggest half marathon off the back of a 113-mile solo run is a slightly strange experience. But it was lovely to see some friendly faces from both Striders and Church Army when we gathered for team photos outside Haymarket station at 9.15.
As with all big events, there was a lot of queuing and waiting around but this gave me plenty of time to eat (a constant theme of the weekend), acclimatise to my new surroundings, and enjoy the pre-race build up with Fiona who was also running.
When I'd originally signed up for the GNR, I'd based my predicted finish time on my half-marathon PB so was allocated a start zone towards the front. But something told me this wasn't going to be a sub 1:30 day so I ended up dropping back a few zones and started behind the 2:35 pacer. My main aim was simply to get round and enjoy the experience as much as I could.
Once we finally got going, I found that running on a road with 57,000 other people is a bit different to running on a beach or coastal path alone. The things I liked were the support from the crowds (especially children giving high fives), the music, and the camaraderie with other runners. But compared with Northumberland's stunning coastline, the route itself was fairly non-descript and I didn't like not being to see very far ahead. Nevertheless, I was grateful that I was able to keep running and ticking off the miles. By this stage, I knew for certain that I was going to complete my challenge.
I remember that around mile 10 or 11 my legs really started to hurt, but I managed to hold on. And I even managed to speed up a bit during the final mile, thinking for a moment that I might just about manage a sub 2:30 finish. That wasn't quite possible (I finished in 2:31:13) but that didn't really matter. During the final stretch along the sea front, I found myself laughing out loud in joy, relief, satisfaction and gratitude that I'd been able to complete this amazing adventure.
Thank you so much to all the Striders who posted such lovely, encouraging, messages over the course of the weekend and to those who helped raise over £1,600 for Church Army. And huge thanks of course to my support crew, aka Fiona Tweedie.