Race Date: Friday 16th – Sunday 18th August 2019
Report from Sarah Storey
I entered this run as I'd done the Hell on the Humber Halloween run last year and loved the experience. Right up until the week started that I was due to run I felt confident about this run and thought it would be great miles for the Ladybower50 and I'd previously done the dusk till dawn on Manvers through the night the previous month but as the week drew on the nerves and self-doubt got much stronger. I'd been in contact with Nick Booker the King of running daft long endurance runs regarding my plan of action needless to say that got scrapped and I followed Nicks advice to keep moving and eat on the move
The night before the big day and I didn't get a great deal of sleep I got up at 4:30 to have my breakfast and a coffee before waking up my husband to drive me to Hessle and the ever looming Humber Bridge. Karl who organises the whole event is one of the loveliest blokes you could meet he's welcoming and very encouraging of everyone whether they be runners or walkers.
There are a few rules for the race:
Rule 1: No egos are allowed everyone I've equal and will be treated as such
Rule 2: No iPods, earphones or any other kind of music players are allowed on the bridge
Rule 3: You have to complete 1x 4 mile loop every 3 hours or you'll be disqualified from the race
At 7am after a 6.15 registration we gathered at the starting line. The route was simple up the slight incline, turn left, follow the path all the way to the top step out onto the bridge, run to the very end where you see a cone, run round the said cone, then make your way back to the start to check in and head out again as many times as you can in the 24 hour period. My plan was to keep moving, walk the inclines and eat on my feet so every time I hit the path before the bridge I'd walk up and run to the cone at the far end of the bridge once at the cone I'd walk up the incline again until the bridge slowly evens out again. It's surprising how fast the time went whilst up on the bridge you get to talk to all different kinds of people who are doing this for one reason or another. It was I have to say a fantastic relief for my head as I didn't have to wear a torch though the night as when I did Manvers I had headache for a good 36 hours afterwards. I managed to run the first 80 miles the only time I walked was to eat food but as the night wore on more and more people were walking and I decided to walk the last the 6 hours as I was mentally tired and I'd gained a blister on top off my toe that was a little painful. It soon got to 6.30 and if by that time you'd not checked in you could officially end your race as you wouldn't get the four miles done and at 7am the race is ended so if you came in at 7.05 those 4 miles wouldn't count (harsh but rules are rules)
I checked in at 6:37 so I finished the race then I finished the Hell on the Humber in joint top miles with Sarah Walton we both did 96 miles over the 24 hours but Sarah took first place and I took second place as she covered an extra loop in her first 6 hours.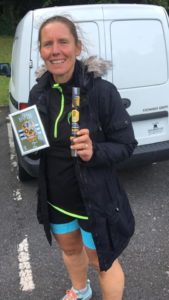 Every 1st, 2nd, and 3rd place finishers both men and women from the 6,12,24 and 36 hours get a free entry into next year's event to either defend their miles or have a go at breaking someone else's record for another distance
I'm now officially entered into next year's 24hr race
It was a fantastic event but I was slightly miffed I didn't get 100 miles next year I need to run a few of those walking laps instead
When I eventually got home I slept for 4 hours then I took the dogs out to meet my son at the lane but I did rest them on the Monday but I was back out on the Tuesday the legs have felt good since so it's now Ladybower here I come !!!!!
Results seem to be stuck, as they were last year, in 2017, but here is a link to the event website.