Race Date: Sunday 24th February 2019
Race Report by: Ady Good
Hills, Hills and more Hills. I decided at the beginning of the year to do a 10k race every month and after doing Meltham tough 10k in January I thought it would get easier, but I was wrong.
The Weather was an ideal nice spring morning, I arrived early at Lockwood Rugby Club to collect my number and have a pre-race chat with other Striders. 9:30 came and after a short briefing we were off and straight on to a little hill out of the rugby club then turning left under a huge viaduct on a rare flat section. We came to our first major hill, Meltham Road, a climb for around 1 mile and a half through Netherton Village where the locals gave us a good reception, we finally reached the top and a steep downhill section greeted us with a water station at the bottom. We then came up against the steepest hill I have ever seen (Wood Bottom Road); great views once at the top until I glanced across the field to see another huge hill with people running up so knew that was to come. We kept following Wood Bottom Road still climbing slightly then a sharp left turn on to Lea Lane which was so steep to run down it felt like I could topple over at anytime, then it was back to the hills with the up section of Lea Lane, Netherton Fold and right up Moor Lane, finally another down hill which again was so steep in places making it hard to run down. Another little hill which I was promised by another runner was the final one, this led back on to the main road and the last mile was flat and slightly down hill till we reached Lockwood Park and then it was a 200 metre sprint down to the finish.
A really tough 10k with great support and, for the price, a great t-shirt. Will I return next year? Possibly, but need loads of hill training.
The overall winner was Chris Bevan (unattached) in 00:36:05. First female was Laura Hesketh from Clayton-le-Moors Harriers in 00:38:30.
6 Striders took part, their results are below. Full results can be found here.
| | | | |
| --- | --- | --- | --- |
| Pos | Name | Category | Time |
| 7 | Joe Sweetnam-Powell | MSEN | 00:37:41 |
| 32 | Adrian Fisher | M45 | 00:42:05 |
| 165 | Phil Dooley | M40 | 00:50:50 |
| 173 | Nick Hails | M40 | 00:50:56 |
| 406 | Adrian Good | M35 | 01:03:21 |
| 419 | Dawn Jackson | F55 | 01:04:23 |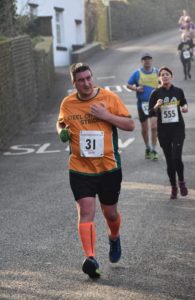 Ady with his eyes on the next hill…