Report by John Liddle
Race Date: Saturday 3rd August 2019
Getting to Islay takes an effort. 4 ½ hrs to Glasgow, 2 ½ hrs past Glasgow to the ferry port & then a 2hr ferry – it's quicker to get to the US. But, it's worth it. As a family we went for the first time in 2001 and since then have usually had a holiday on the island each year (whisky distilleries mixed in with beach BBQ's type of holiday). The Islay half marathon has been going since 1986 and always attracts a small (usually 200 ish) mix of locals, Scottish club runners and the odd international tourist. It is though, incredibly well organised by local volunteers and generously sponsored by Ardbeg Distillery.
Entry is only £15 and most communication is via the organiser on Facebook. After checking in for registration on race-day (the organiser sets up a small table in the square of the main town of Bowmore so everyone can see her), the race itself starts at a civilised time of 10:30am – this enables the day tourists to get the early ferry and make their way to the start. They announced at the start that this year, the start line would be pushed 100m further back – I don't recall there being a distance issue previously but at least it gave a gentle downhill start for a few yards ! The weather was warm, early 20's even at the start time – although there was a breeze which was helpful to cool.
The route climbs out of Bowmore and takes the back road (an undulating route with a number of tough hills – in simple terms, it's the single track road called the B8016) over the first 6 miles. Views to the left are the Paps of Jura and to the right, you can see the Atlantic – pretty gorgeous views  throughout the run are a feature.  I had a sub 2hr in mind, no record by any means but something to aim for. I chatted to German, Polish & Scottish runners over the first half of the race, trying to keep around 8:50-9:00 pace. At half way and a right turn for a downhill mile towards the small airport gave some respite from the hills  – I was on pace but knew that the second half was a long drag back on the main road into Bowmore. The weather was now getting warmer and I don't think one runner failed to take a drink from the water stations positioned every 2 miles.
Whilst the breeze was behind, this road is uphill – I mean, you can stand on it and see that it climbs – how does Strava say it is downhill ? If it's an optical illusion, it certainly didn't feel that way on my legs !. At mile 12 there is one final hill to overcome and by this time, I had succumbed to knowing that I'd be outside my target by a couple of minutes. I entered Bowmore at the top of the hill by the round church (designed to be round so the devil can't hide in any corners !) and the last 400 yards are fab. The race announcer has a telescope and picks out your race number and through the speaker, announces to everyone who is coming down the hill. Locals & tourists line the final few hundred yards enthusiastically clapping. I tried to up my speed & crossed the line in 2hrs & 17 seconds.Grrrr…….if I had known I was that close, could I have pushed it a little more ? (in hindsight – probably).
Straight after the line, you were handed a Mars bar, a bottle of water & a t-shirt. But the pressies do not end there. You decamp to the local hall where there is whisky, a can of Tennents lager & a large free buffet for all the runners to tuck into. For those staying the evening, there is always an optional Cèilidh which takes place as well – great Islay hospitality !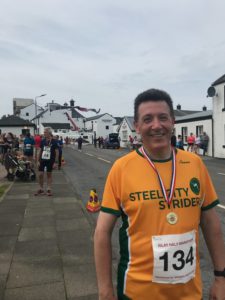 There were 141 runners this year, a little down on normal, due I hear to a few of the normal Scottish clubs who make the trip didn't/couldn't attend. However the prizes were plentiful – remember, just 141 runners ! Top 6 – yes 6 male & female, extra prizes for the top 3 in V40, V50, V60 (male & female separately)  & a special prize in the V70 & youngest runners categories. Plus local runner prizes, nearest to a certain time (1hr 56, & 2hr 1min for some reason were chosen this year), raffle prizes based on your race number not to mention team prizes. Almost every winner as a minimum received a large bottle of Ardbeg – seriously, if Striders took a mini-bus here one year, you could clean up !! The prizes are dealt with efficiently allowing those like me who had to get the afternoon ferry back, a swift get away to catch the bus to the ferry port. It's a super event, in great surroundings, Islay at its best & well worth doing. I'll be trying again next year – it's always on the first Saturday in August, unfortunately for Tramlines fans – I think this is the same weekend in 2020.
141 runners took part.
First male:-
Miguel Siliero     Glasgow              1:15:10
First female:-
Kirsten Law         Ardrishaig            1:47:49
Sole Strider:
| | | | | |
| --- | --- | --- | --- | --- |
| Pos | Name | Cat | Cat Pos | Time |
| 54 | John Liddle | SV | 9 | 2:00:17 |
Link to full results here.