Race date: Sunday, 7 July 2019; race distance: 7.2 miles
Race report by Stuart Jones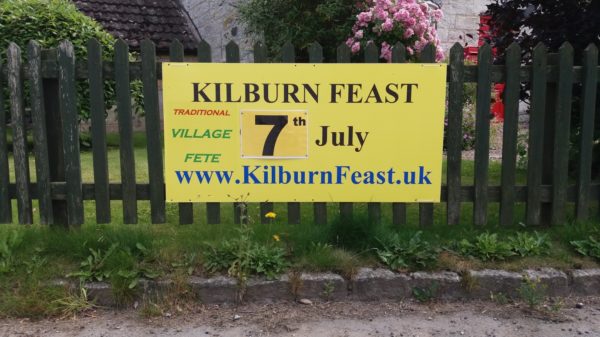 Another first for Race Reports; I will be learning how to use footnotes[i]  and using them for real.
I could, of course, have simply gone out to any number of Peak District villages[ii] this weekend and run the race attached to their village fete, but I have an attachment to the Kilburn Feast. When I first ran it it was on my birthday, and I remember the cake afterwards being the only cake I got that day.
Anyway, the first year we (Ben and me) ran it we were confused about whether Tour de France winner and Olympic hero, Bradley Wiggins, had done a lot of his training going up and down Sutton Bank, as it is well known that he comes from Kilburn[iii]. Turns out there's more than one Kilburn – we were headed to the edge of the North York Moors National Park, not the High Street in Brent.
If not exactly famous for it, Kilburn is at least well-known for its White Horse[iv], the studios of Robert Thompson – the Mouseman[v], and the Yorkshire Gliding Club. Seeing as the White Horse is the largest of its kind you would expect it to be highly visible on the route of the 7.2 mile Kilburn Feast. So would I, and so would most runners. But, like most road races, this route is anti-clockwise for 'Health and Safety' reasons (you turn left only and do not have to cross a single road – it is safer I suppose). This puts the hyperhippomnemosynon[vi] over the runners' right shoulder and behind them as they re-enter the village towards the end of the race. You have to take a walk purposely to find it!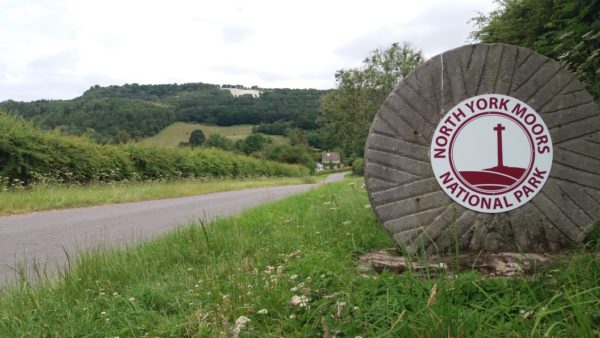 The beauty of this sort of race is that the kids and non-running members of the party get to eat, drink and bet on the duck race while the foot race is afoot. Kilburn Feast always has a stall where you get to throw hard hockey balls at crockery (though you do have to wear safety goggles), one where you chip golf balls over the stream aiming at prize pots in the garden beyond, and two Tombola stalls where the prizes were all donated after being won the year before on the other Tombola stall.
Around 180 runners gather from across a small part of the north east, though there were two from Penistone, and I recognised another two who had run RSR the week before, from Stainland[vii] Lions.
The route is described as undulating, and it is. A little ramp on the way to Coxwold[viii], a big ramp coming to Byland Abbey[ix] and then a long uphill of 60 m elevation gain in 3 km. This leaves a very pleasant 2 km downhill to the finish line. Not Sheffield hills at all, but enough to slow me by 20 seconds a mile (apologies for mixing my measures) in the second half.
For my £13 entry fee I got:
A nice day out,
Great weather,
Great marshalling[x],
Cheese and salad sandwiches, fruit cake and a cup of tea,
Free parking,
A 2 minute 47 second course pb,
'Flantered' by the tea lady,
To see some beautiful Yorkshire scenery, and
To be First Strider – and how many of us can say that?
General observations:
The only other Striders I could see were Selby Striders and Stockton Striders.
First Woman was wearing a crop top.
First Man was wearing a t-shirt that ran the slogan, 'In Training for Manchester Marathon'. He had his, cycle-borne, Coach with him.
Results:
Gregory Jayasuriya of Middlesbrough and Cleveland Harriers was first male, and first finisher, in 37:46.
Dawn Richardson of Quakers Running Club was first female, and first V45F, in 48:11, securing 33rd place overall.
First Steel City Strider was Stuart Jones in 53:20[xi], securing 59th place.
| | | | |
| --- | --- | --- | --- |
| P | Name | Cat | Time |
| 59 | Stuart Jones | MV55 | 53:20 |
257 finishers.
---
[i] Entirely different to the Footnoterphone invented by author Jasper Fforde in the Literatec novels featuring Thursday Next.
These are actually Endnotes, of course. Footnotes go at the bottom of each relevant page, rather than at the end of the document.
[ii] Ashbourne, Hucklow and Langley to name three.
[iii] https://www.kilburntimes.co.uk/news/cycling-hero-bradley-wiggins-message-to-kilburn-kids-as-he-retires-1-4832300
[iv] England's most northerly turf-cut monument, according to the White Horse Association, who recently publicised Health and Safety fears that mean children will no longer be allowed to help with the tri-ennial repainting job.
[v] 1876 – 1955. Famed for 'signing' his furniture pieces with a hand-carved mouse, hence the nickname.
[vi] A portmanteau word, meaning large horse monument, all from the Greek (for 'apple').
[vii] Stainland Lions – meet five times a week for training, out of Halifax.
[viii] Home to Shandy Hall, setting for the novel, 'Tristram Shandy' don't you know?
[ix] The sort of historic site about which my father would always, but always, say, 'be nice when it's finished'.
[x] By the looks of them, by the oldest Rotary Club members around.
[xi] Strava had my time as 53:03, but you can tell I'm not complaining, can't you?