Race Date: Sunday 24th March 2019
Race Report by Helen Smith
This the second year of the London Landmarks Half Marathon. Having signed up In 2018 and having deferred due to Sharon's back surgery there seemed to have a been quite some build up to this race…was it going to be all it was cracked up to be on social media and the marketing emails we'd been inundated with in the weeks and months building up to it?
So we woke up on Sunday morning to bright blue skies..where were the clouds that had been forecast?? A great day for it some would say (we'd learn later that the promised cloud would never appear much to our disappointment!) a hearty Premier Inn breakfast, time to pack our official bag drop bag and we were set for a gentle stroll the the start on Pall Mall.
Great organisation at Bag Drop meant a 5 minute queue rather than the 45 minute one we'd be told to expect, and hardly any queues at the loos…all good so far. Then we moved towards the start…unfortunately the organisation at the bag drop wasn't repeated at the start. Despite allocation of waves, all with interesting and inspirational names like lightning, cheetah, sunshine, I was in chocolate wave…( not sure if I should have been insulted or amused!) there were no pens so everyone in waves 1-4 arrived at the start area and just queued up in no specific order.
The race started slow…lots of people, some walking and narrow streets meant lots of weaving around people and real difficulty in pacing the first couple of miles..I however managed to defy all odds and go off too fast…which I'd pay for later. Sharon pulled away from me before the first mile marker but I'd see her numerous times as the course has a dizzying amount of loops and double backs.
The promised Landmarks I'm sure were there but I have to admit I didn't really notice much as my fast first half and the unexpected warm weather started to catch up with me.
Just after mile 9 you find yourself on The embankment heading towards The Tower of London the bit I was really looking forward to, you turn at the Tower of London and all the way back along the embankment to Big Ben, loop back and finish on Whitehall just outside Downing Street. The crowds along this final 4 miles were fantastic and much needed as by this point I was hanging on to sub 10 minute miles and trying to calculate if I could take a walking break. I never allowed myself that break as slowing down at the water station I spied a man dressed as Big Ben behind me…there was no way I was getting overtaken by a man dressed as a clock!!
Overall a fabulous race with a great atmosphere and for those of us who maybe would never feel able to attempt the London Marathon a great alternative. First male was Seyfu Jamaal in 1.08.14, first female was Catriona Paterson in 1.23.07. Full results can be found here.
Only 2 striders ran (we think and results don't show running club), Sharon Renshaw in 2.00.26 and Helen Smith in 2.05.48, and in case I haven't mentioned it…both of us got PBs!
| | | | |
| --- | --- | --- | --- |
| Pos | Name | Category | Time |
| 3401 | Sharon Renshaw | F45 | 02:00:26 |
| 3963 | Helen Smith | F40 | 02:05:48 |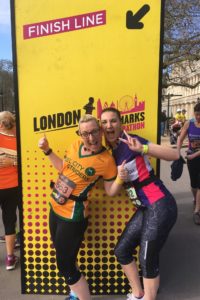 Absolutely fabulous scenes at the finish line of the LLHM