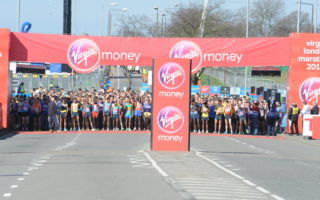 Report by Mark Norman
For many people this race is on their bucket list, and this year 38 Striders took up the challenge of one of the biggest races of the year (subject to opinion of course!).
This year saw much cooler conditions than in 2018 with grey skies and a cool breeze welcomed by over 40,000 runners at the start in Greenwich.
There are three main starting points for the race; red, blue and green. Depending on how you entered the race dictates where you start. Most charity places seemed to be in red, club places in blue. The routes merge around the 5km mark where you can find yourself out of position amongst slower or faster runners from the other starts. There is always some humorous booing between the different groups as the routes merge! The race finishes with a short sprint, hop or crawl up the Mall where a small army of volunteers herds the constant flow of finishers through.
Results
In the elite men's race Eliud Kipchoge gave a master class to record a fourth victory with a time of 02:02:37. Our own Sir Mo Farah can home a respectable fifth. In the elite women's race Brigid Kosgei won with a time of 02:18:20.
The fastest Striders of the day were Steve Canning with 02:43:14 and Sian Evan with 02:52:08. Well done to all Striders who ran and to those raising money for some great charities.
The list of Striders finishing times are below and the full results can be found here.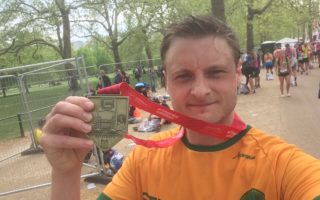 ---
On a personal level, this was my second London Marathon, having deferred from 2018 due to injury. No doubt, this is a monster of an event and it's easy to be consumed by the sheer noise of the supporters as you race around some of the most famous landmarks of the capital. I made the absolute rookie-error of going off too quickly and fell apart at around the 20-mile mark. It takes a lot to run a marathon, most of it is physical, but as I'm learning fast, a little intelligence also goes a long way!
I'll work on that for next time, we've all entered next year's ballot right…..?
| | | | | |
| --- | --- | --- | --- | --- |
| P | Name |   | Cat | Time |
| 606 | Steve | Canning | 18-39 | 02:43:14 |
| 1000 | James | Rose | 40-44 | 02:49:12 |
| 1257 | Sian | Evans | 18-39 | 02:52:08 |
| 1463 | David | Smith | 50-54 | 02:54:39 |
| 2784 | Caroline | Brock | 18-39 | 03:05:12 |
| 3460 | David | Forrest | 18-39 | 03:11:09 |
| 3887 | Lucy | Broom | 45-49 | 03:14:12 |
| 4227 | Ashleigh | Barron | 18-39 | 03:16:27 |
| 5612 | Kevin | Sibley | 45-49 | 03:24:55 |
| 6679 | Richard | Carter | 40-44 | 03:29:41 |
| 6774 | Tracy | Biney | 40-44 | 03:30:02 |
| 46713 | Daniel | Driscoll | 18-39 | 03:30:58 |
| 7510 | Adam | Briggs | 50-54 | 03:33:35 |
| 7897 | Charlie | Field | 40-44 | 03:35:19 |
| 8789 | Helen | Burgess | 18-39 | 03:39:09 |
| 9038 | Matt | Rimmer | 40-44 | 03:40:01 |
| 9376 | Valeria | Gasparini | 18-39 | 03:41:33 |
| 10148 | Nicola | Ross | 18-39 | 03:44:37 |
| 10442 | Mandy | Taylor | 55-59 | 03:45:50 |
| 10740 | Martyn | Goldsack | 18-39 | 03:46:59 |
| 10884 | Matthew | Gibson | 40-44 | 03:47:37 |
| 12153 | Nicky | Campbell | 40-44 | 03:52:18 |
| 14238 | Mark | Wilson | 40-44 | 03:58:31 |
| 15209 | Charlotte | Civico | 18-39 | 04:01:24 |
| 15802 | Gillian | Burgon | 18-39 | 04:03:47 |
| 17103 | John | Bridgman | 40-44 | 04:09:00 |
| 17647 | Joanna | Carnie | 50-54 | 04:11:12 |
| 19118 | Arif | Ali | 18-39 | 04:16:34 |
| 20197 | Mark | Norman | 18-39 | 04:21:05 |
| 21485 | Lindsey | Crowson | 40-44 | 04:25:45 |
| 22355 | Catherine | Mckeown | 50-54 | 04:28:43 |
| 23393 | Jill | Davies | 55-59 | 04:32:42 |
| 24885 | Michelle | Vermeulen | 18-39 | 04:38:35 |
| 25154 | Sarah | Bird | 18-39 | 04:39:34 |
| 25382 | Scott | Graham | 40-44 | 04:40:33 |
| 37686 | Joanne | Graham | 40-44 | 05:47:34 |