Race Date: Saturday 23rd March 2019
Race Report by: Matt Williams
It's hard to believe that when I booked this race for 2018 it what would have been my first half marathon. It wasn't to be however as it got cancelled last year due to snow; the first time I'd ever know anything in Dorset to be cancelled due to snow.
Fast forward what seems like a lifetime and it was time to make my way down to one of the most beautiful parts of the country for only my second half marathon distance race. My friend had been trying forever to talk me into switching to the ultra but I didn't fancy the recovery of that this time around.
Lulworth Cove is in Dorset on the South Coast between Weymouth and Poole. The route is along the South West Coast Path and has some brutal hills (which is saying something given some of the hills we have around here) taking in beautiful coastal scenery including Durdle Door and views over Weymouth when the weather is favourable. Unfortunately on the day the weather was grey, overcast and drizzly, perfect conditions for running in my mind!
Being only the second race since coming back from injury the plan in my head was to have a go but take it steady. In real terms that meant I was going to try and run to the time I had in my head before I got injured. Anything could happen, only time would tell.
Arriving at registration in the morning always makes me nervous when driving my car into a wet field to park up for a race, especially when it's still raining just ask Joe Buckman. People who have rear wheel drive cars will understand this. Not great to settle pre-race nerves wondering if I was going to have to be dragged out of the field or not at the end.
My friend and his wife had travelled down from Bicester the night before too so after a good catchup with them and a quick loo stop it was time to go.
For some reason I ended up right on the front row of the starting grid, unfortunately it didn't last. The bell, horn, whistle, or someone's foghorn went, I wasn't particularly paying attention and we were off. Down through a field, a brief mooch through the caravan park and round a narrow path which takes you down to the main Lulworth Cove visitors car park. From there it's the first climb, a hardcore path that goes up, and up. Apart from underfoot it reminded me of some of the summer fell races where I'm usually thinking, what the f@*# am I doing this for. These hills are not particularly long, but by god they're steep. That shocked the lungs into action anyway. Once at the top it was a longer descent into Durdle Door.
From here it all started going a bit sideways for me, I started to feel a little burn in my right heel so I knew what was coming. Regardless, I carried on up the next hill which seemed to go on forever but I could feel the burn getting worse the more we climbed. We eventually started an equally long descent back down and onto a short pebble beach stretch and onto CP2. The checkpoint was at about the half way point but it was no good, I had to stop and sort my heel out. I wasn't expecting to see what I did, maybe I have a higher pain threshold than I thought I had but it wasn't pleasant viewing. Thankfully I always carry a Compeed plaster in my pack but it wouldn't stick properly. I did the best I could with it and taped it as an extra precaution and off I went.
Having stopped for 5 minutes or so I'd started to get a bit chilly so it took me another 10 minutes to get going again. Another good climb and we were on our way back up onto the top and on the 'home straight'. Having ran and walked around here quite a lot over the last few years, I knew I could push on from here to the finish to try and make up some lost ground. It felt good pushing up the hills and on towards the finish. The climb back up is long but not particularly steep and you can get into a good rhythm. With a sharp left into the field and another steady little climb to the line the job was done. I was just outside the time I had in my mind before I started but given how long I had to stop for and running for 10 miles with 'that' on my heel, I was more than happy with my time.
It's a long trip down here but it's a great place to take the family for the weekend, the views in the area are stunning. It's hard work, the hills are brutal, but think of the cake!!
Overall winner of the challenging course was Harry Horsnell in a time of 01:36:54, and first lady was Katie Warren in a time of 01:46:10. Full results can be found here. Striders result below
| | | | |
| --- | --- | --- | --- |
| Pos | Name | Category | Time |
| 26 | Matt Williams | MSEN | 01:51:59 |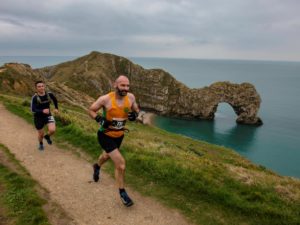 The iconic Matt Williams with the equally-iconic Durdle Door in the background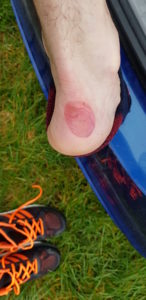 Those of a nervous disposition can turn away now…