Race date: Saturday, 8 June 2019
Race report by Matt Broadhead
Note to the LDS adjudicators. This isn't quite a marathon. 41.5k on Strava.
Four miles in, someone said to me: "The last five miles are all downhill." That man is a scoundrel.
The build-up
Although I'm writing this less than 48 hours after the race, it's already a bit hazy. Even by the end it was a bit hazy. It's hard to remember something as a narrative when you've had to concentrate on every step for 5 hours. Nevertheless, here's my attempt to tell you about the Mourne Way Marathon, which is a wonderful thing in a wonderful place. I'd definitely recommend it to anyone who likes a big muddy hill. (For a great recent take on racing in these parts, Joe Mallinshaw's report of the Slieve Donard race is a cracker: https://www.steelcitystriders.co.uk/2019/slieve-donard-race-2019-result-and-report/.)
The Mourne Way Marathon is actually the back half of the Mourne Way Ultra, which is an out-and-back double marathon, starting in Kilbroney Park in the little town of Rostrevor on the shore of Carlingford Lough, running through the foothills (ha!) of the Mourne Mountains to the seaside resort of Newcastle, then turning and running all the way back. There's a half marathon that runs the back half of the marathon, a 10k that's the back half of the half and a challenge walk that's the marathon course.
I'd taken the ferry across from Birkenhead on Thursday, and as I drove down to Rostrevor on Friday morning the scenery reminded me of the Peaks. The sun was out, and the Lough was breathtaking. I got my bike out of the boot and had a gentle ride up and down the coast and across the little ferry before an early lasagna-and-chips tea and bed.
The races were timed to finish together-ish, so although the ultras started at 6, we kicked off at the awkward lunchtime hour of 12:30. I ate a lot of bananas between my fry-up and the start, as I watched the pouring rain through the B&B window, the car window and then the window of the school bus taking us from Rostrevor to the start.
As we lined up ready to go the rain stopped. Some of the ultras were coming in, grabbing food and turning back round. I will never know where they found the willpower to do that, in the full knowledge of what was coming. I'd see a fair few of them during the run, in various degrees of delirium, and they were all absolutely nails.
The race
In proper fell race style, we started off with a bit of track and then a really steep walky bit, in this case in a forest. Then for 15km or so, we did a long and wiggly route on forestry trails well-packed and not particularly muddy. There were lots of nice views of the sea, and though it was frustrating that we kept descending after every climb, I was pretty happy. I started to formulate a race plan in line with what I knew of the gradients to come: a big climb up to half way, then largely downhill with a couple of smaller climbs. "If I can get to the top in 3 hours, then maybe down in 2, that'll be 5, which is faster than I'd hoped for."
Idiot.
It turns out this isn't the trail race it fools you into thinking it's going to be. It's a 20k trail race, then a fell race, then a 10k trail race. We left the forest and entered a walk-and-run climb across moorland, complete with stream, bog, rock. "This is a sapper," said someone. It was. There was a brief respite as we ran past a reservoir, before a rotten little climb to a road, where I decided to give up avoiding the deep mud and embrace the bog, on the principle that no matter how loose I lace my trail shoes, they always feel too tight around the front of my ankle, so they weren't going anywhere. I was still pretty pleased with myself. I was nearly half an hour ahead of plan.
Then a road! Some of which wasn't uphill! And another reservoir, and a food station with cake! And over the top of a hill to the most amazing view, in bright sunshine. Here we go, I can get four and a half hours!
Idiot.
The route turned off the road, and then for a while it was all shallow gradients and stream bed, and everything was lovely. I overtook a couple of ultra runners discussing what they wanted to eat after the race. There was a disagreement about dairy.
Then round a corner and oh hell, what's that? It's a long climb, a bit like the slog up to Stanage that the Hathersage Hurtle does, but longer. The surface was good, though, and it's OK because I think this is the last big hill, we're 18 miles in, I've got this.
Idiot.
I'd seen the map, how had I got so mixed up? I came round a bend and saw this: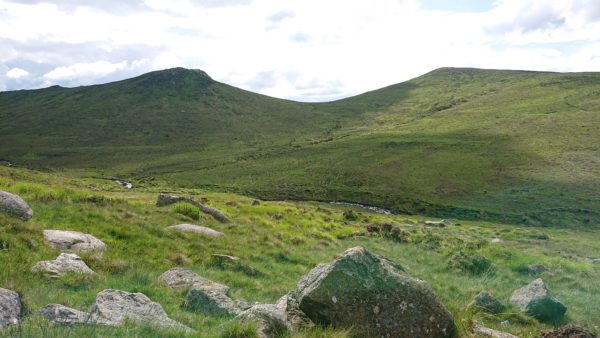 In fairness, they gave us a gentle run-in after the previous climb, but this was nasty. Ankle (and more) deep wet bog for about half the height, then moorland. I started to realise how much more than 20 miles a marathon is.
The rest really is a blur of keeping going. Down the hill to a food station manned by some teenagers who seemed to be speaking Spanish, then into the undulating, not-all-downhill last 5 miles through Rostrevor Forest. The best part was when another runner asked me how far to go and I said "about 2k" and someone piped up and said: "Oh no, it's only half a mile, it's a bit short."
And then we were there! The finish is a glorious descent over smooth grass and a swing round and under the arch. I somehow summoned a downhill sprint and carried it through the corner and over the line.
After
I collected my medal, struggled through the free sandwich and didn't struggle at all through the free beer, then after congratulating a couple of other runners who'd been in the same B&B, it was off for a shower.
This race has everything really. Scenery, terrain, lots of cake, lots of camaraderie between runners, organisers and volunteers. Friendly locals. Free beer.
It won't be the hardest, longest or fastest any Strider will run this year, and it won't be the greatest personal milestone any of us reach – there'll be PBs, debut distances, and first-time-running-in-public galore – but for one reason and another I really needed this race to go well, and it did, and I'm pleased. Thanks for reading.
The men's race was won by Keiron Kelly in 3:16:41.6. Fastest woman was Sinead Murtagh (7th overall) in 3:53:55.1. 139 runners finished.
Lee O'Boyle won the ultra in 8:13:37.7, with Wiola Gorman fastest woman (13th overall) 10:45:58.9. 57 finished.
Jason Wilson won the half, in 1:38:08.8, with Karen Alexander (6th overall) winning the women's race in 1:37:29.6. 204 finished.
Marek Filipiak won the 10k, in 37:34.8. Niamh O'Connell won the women's race (9th place overall) in 43:52.4. 96 finished.
45 runners did the marathon-distance challenge walk.
Striders result: