Race Date: Saturday 2nd November
Report from Stuart Jones
Many who do run XC wonder why more runners don't. Look online and you'll find offers such as Wild Mud Run – an 'Xtreme obstacle race' that costs 'just £39.66 per event'.
The National Cross Country Relays were free once again, race fees covered by the Club. There was easily as much mud in Mansfield as you'll find at 'xtreme' events wherever they are held.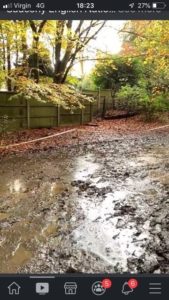 We had soft mud, deep mud, brown mud, black mud, wet mud, smooth mud, festival mud, mud on our shoes and in our shoes and over our shoes. It slipped, slopped and splashed. And we loved it.
Cross Country hasn't changed since you were at Secondary School, except we are not running it when everything else is cancelled; we run it out of choice. It is outdoors in winter, most runners do wear shorts and vests, and we do tend to get filthy. But it is brilliant. I just got to run in a National Championship! Our teams raced in the very same race as the top Clubs in the country and some top, top runners.
We do make a bit of a day of it – there's a tent for shelter from any inclement elements, there's flasks of tea and hot chocolate and plenty of homemade cakes. Basically it's a picnic with a bit of running thrown in.
Today's version featured senior women in teams of three, each running about 3km, and senior men in teams of four each running a little under 5km.
A bit like Dave almost says in The Full Monty, 'We may not be young, we may not be pretty, we may not be right good, but we're here, we're live, and for one race only, we're going the full Monty'. No, we don't win (don't expect to) but we really enjoy the banter, the support, the atmosphere of some great events and each other's company. Everyone who wants to run gets to run, and we put out what is known as 'incomplete' teams if we have spares.
For the record, we had three women's and three men's teams competing.
Senior Women:
1st Aldershot & Farnham in 31:09.30
78th SCS 'A' in 43:24.55
90th SCS 'B' in 45:17.00
127 complete teams
Incomplete SCS 'C' in 30:20.65 for two legs (out of three)
Senior Men:
1st Leeds City 'A' in 1:05:14
116th SCS 'A' in 1:29:28
147th SCS 'B' in 1:39:38
161 complete teams
Incomplete SCS 'C' in 25:59.00 for one leg (out of four)
Women: (Legs of around 3km) Charlotte Civico, Helen Eberlin, Katy Smith, Claire Martin, Gillian Burgon, Dot Kesterton, Jacqui Herring
Men: (Legs of around 5km) Richard Pegg, Tony Billington, Stuart Jones, Keith Bell, Kev Sibley, Ian Stinson, Chris Dawson, Louis Wood, John Lea-Wilson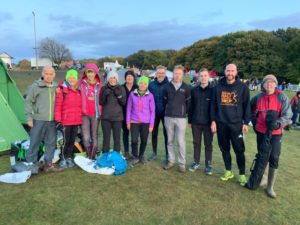 A peculiarity of Cross Country is that it is not 'open'; it is exclusive to Club members. Some may fear that they will, therefore, be horribly last or so slow that they hold up the rest of the team. My plaudits today would go to Ken Chapman of Kimberworth Striders. He is 77, and answered the call to make up the numbers in their team, running the slowest leg of the whole day (36 minutes for 5 km) – with a great big smile on his face.
Next event is in two weeks, a South Yorkshire event at Kiverton Park. Entry paid for by the Club. The fourth of the SY series is in December at Penistone Showground. There will be Yorkshire, Northern and National Championships, and we will be hosting the Yorkshire Veterans event in Sheffield's own Longley Park in the spring. You really should give it a go.