Race Date – Wednesday 17th July 2019
Report by Adam Bishop
Nostell Priory 10k is a well-supported and marshalled midweek event ran by Ackworth Road Runners set in the beautiful gardens and parkland of this National Trust property.
A two lap multi terrain course starting and finishing in front of the impressive house taking you through the gardens, around the main lake and then around Obelisk park. The tracks are a mixture of tarmac, gravel and grass making it truly multi-terrain and a few inclines thrown in for good measure.
Those of you who are Park Run tourists will probably want to chalk this off, if not done already
I ran this event last year and thoroughly enjoyed it so simply had to do it again; the only goal to beat last years' time.
On arrival the weather started to turn from what was once a muggy atmosphere to "pur-sis-itting" it down ! The majority of the runners took shelter where they could where I was off out "warming" up and by the time to the race was due to start it had stopped and the conditions had settled to a wet and cool breeze, ideal conditions for any runner.
As always, I got a bit giddy and the first km I clocked in a 3:24.  By 3km I had settled down heading out to the Obelisk for the first water station passing runners at every opportunity.
At the halfway point I passed the house and begun the second lap.  It was at that very point someone breezed passed me, I didn't even here them coming.  It was the only person to pass during the race and who would it be? The one and only – Ashleigh Barron.  As she cruised passed me in "stealth mode" she then continued to take on a further 2/3 runners if not more to create a gulf to which I was struggling to close.  I continued in pursuit up to 8km and was still no closer to closing the gulf created and by 9km it was a case of damage limitation.  Hanging on and dragging myself up the steady incline and crossing the line in very reasonable time of 42:11 beating my previous by 4:23.
Goal achieved.
Overall this is a great midweek race that has scenic views that ticks all the boxes for any runner.  The t-shirt is pretty decent too.
Congratulations to Kristoff Boynton who's in tremendous form at the minute winning the event and Ashleigh Barron for picking up the 2nd place in the senior females category (not bad for a threshold training session).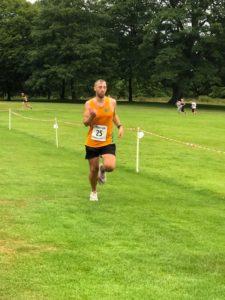 Striders Results – The 3 Amigos
| | | | | | | | |
| --- | --- | --- | --- | --- | --- | --- | --- |
| Position | Bib | NameName | Club | Category | Category Position | Net TimeNet Time | Gun TimeGun Time |
| 1 | 36 | Kristoff Boynton | Steel City Striders RC | MSEN | 1/64 | 34:40 | 34:41 |
| 25 | 16 | Ashleigh Barron | Steel City Striders RC | FSEN | 1/35 | 41:36 | 41:39 |
| 31 | 25 | Adam Bishop | Steel City Striders RC | MSEN | 11/64 | 42:11 | 42:14 |
First Male
| | | | | | | | |
| --- | --- | --- | --- | --- | --- | --- | --- |
| Position | Bib | NameName | Club | Category | Category Position | Net TimeNet Time | Gun TimeGun Time |
| 1 | 36 | Kristoff Boynton | Steel City Striders RC | MSEN | 1/64 | 34:40 | 34:41 |
First Female
| | | | | | | | |
| --- | --- | --- | --- | --- | --- | --- | --- |
| Position | Bib | NameName | Club | Category | Category Position | Net TimeNet Time | Gun TimeGun Time |
| 21 | 210 | Treena Johnson | Dewsbury Road Runners | FV55 | 1/20 | 40:27 | 40:29 |
Full Race Results – https://racebest.com/results/3yg85