Race Date: Saturday 3rd August 2019
Sheep, cattle, vintage tractors, gun dog scurry, gymkhana, show jumping, Scruffs Dog Show, ponies, kids' horseback races, sheep dog trials, trade stalls, produce, arts and crafts, horticulture … In the display tent, Class 92 was 'four distinct vegetables'.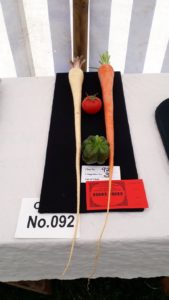 Osmotherley Show is no different to hundreds of others, I imagine. The Show makes for a relaxed afternoon out, and acts as an insight into the world beyond the city I'm so used to.
My parents lived in Osmotherley for a few years, running the Youth Hostel, and so a trip here is coming home in a way. Though I ran out from the Hostel many times, and raced to my best-ever finish (second place in the pre-Lyke Wake Walk Osmotherley Games evening race for villagers) here, there are parts of the Show Fell Race you can only access on race day. Thimbleby Hall and Home Farm are so jealous of their private land status that, though the route through is opened up to runners, spectators are not allowed to enter their land! You either stay on the Show field or travel round to the top of Oakdale, at the foot of Black Hambleton, to watch runners put in their effort. The access to private land is one of the attractions of the race, and I found a few people who were there simply so they could have a nosey at places they have never been, including a retired Postie.
The route is a brilliant mix of posh private drive, forestry tracks, steep steps (for land erosion prevention), pack horse drove road paving, a ford if you choose to take it (I did, obviously) rather than the narrow footbridge, rough stone and gravel, heather and peat, hard-packed stones, lush grazing and slippery concrete forestry downhills. There are views to die for / pay a vast sum to own; take-your-breath-away beautiful.
It is 50m elevation gain to the big house, a further 95m gain to the top of Oakdale and then just another 135m gain to the trig point. In old-money it is 1,000 feet of elevation in six miles of racing. This year I walked in a place I ran up twelve months ago, and ran the part I walked then. The leaders had a mile lead on me by the time I was halfway, unsurprisingly.
I had estimated a race time of 54 minutes, if I got my race head on, and an hour if I was just running. They are not so many races I run, and never by myself, so I pushed it on the downhill, or so I thought. Strava says I was over two minutes slower year on year in the second half, which I take to mean I raced really hard last year.
The downhill goes through shooting moors and a small woodland, and across a couple of meadows where the grass is well-fertilised. This gives an additional hazard, and a good reason for wearing trail shoes. The three cattle grids are all avoided by having side gates open.
The final drop into Home Farm is as steep as 1 in 5. Parts, in the wood with wet pine needles across the concrete surface, had me leaning back and resorting to hard heels strikes. No one passed me, but neither did I gain any places doing it.
Home Farm itself looked like it was prepared for a Royal visit – I do not see how a farmyard can be so clean and so broad.
A dash across the road and it was back into the Show field for an indistinct finish line. I presume there is an official time as this year, for the first time a local running shop (Lets Run, Stokesley) was running the race organisation.
The first two finishers get a prize. Everyone else (78 runners only this year) gets a cup of water. The folklore around Fell Racing is that they were, effectively, job interviews or showcases for shepherds. The fastest and fleetest of foot would be hired for their mountain craft to work on the hills. I'll go back to teaching, shall I?
Loved it, even with the two hours it took to cool down enough to put a shirt on! I'll be going back again next year if anyone wants a lift (Temple Newsam, Wetherby or Conyngham Hall parkrun on the way up).
First finisher: Paul, Whitaker, York Acorn, in 42:22
First Female: Emily Collins, Good Gym, 25th overall, in 52:57.
Well done to Stuart who finished 3rd in his age category
Striders Results:
| | | | |
| --- | --- | --- | --- |
| P | Name | Cat | Time |
| 31 | Stuart Jones | MV55 | 55.00 |
Full results: here