Report by Dot Kesterton
Race Date: 7th April 2019
The race is billed as fast and flat, on footpath and cycleway, from the quayside to Seaton Sluice and back.
I decided to go to Northumberland, not to miss the delights of the Dronfield 10K or even the Manchester marathon, but to defend my 2018 F65 10K title won last year at Trentham, Stoke.
Blyth is a small town north of Newcastle. It is undergoing lots of regeneration in renewable energies so the port was an exciting place to host a race for northern AC's and this year the British Masters Athletics Federation. bmaf.org.uk
It was cool and still on the quayside at the start of the race. I looked round for any familiar Sheffield shirts, but guessed you all had something more important to do last Sunday, so I did my customary jigging about for a warm up and pressed myself to the front of the pack for a swift getaway.
Running south from the quayside along paths and a cycle track I concentrated on my pace and form. My plan was to go for a consistent 7.30 minute mile pace and try not to fade in the last half mile or so. In the event I ran a little too fast, (first mile in 6.58), completing 5K in 22 minutes and had to draw on all my reserves to hold on for the remaining 5K. The F70 World Champion, Angela Copson overtook me in the home straight giving me the push I needed to sprint for the line.
Thanks to Angela's appearance I managed to shave a whole second off my chip time from last month's 10K at Chester to win the F65 title and gold medal in 45:13 gun, 45:09 chip. I'm thrilled to remain at the top of the Run Britain Rankings F65 10K ladder and 13th in the F65 All Time 10K records, at least until the next race which is in Birmingham next month.
The Men's race was won by Noah Hurton, Milton Keynes in 31:18 and Alyson Dixon, Sunderland Strollers in 33:28. One of the more notable Masters results was Alex Sutherland, M70, Inverness Harriers in 40:49. I congratulated him afterwards on such a brilliant run. He spoke of the importance of positive mental preparation and focus on core training. I found him to be a real inspiration and role model for older athletes.
The next BMAF road championship is the 5K on June 16th at Horwich, Bolton. Check out the website if you're over 35 years old and fancy having a go.
Dot Kesterton, Steel City Striders RC, Smiley Paces RC and NMAC.
Link to full results here.
| | | | | |
| --- | --- | --- | --- | --- |
| Cat P | Name | Cat | G/Time | C/Time |
| 1 | Dot Kesterton | FV65 | 45:13 | 45:09 |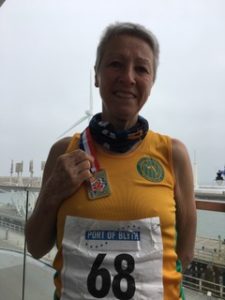 Well done Dot!