Race Date: 11th August 2019
SCS Divisional Road Race Championship 2019 Update 8 of 12
A little bit of housekeeping first; this is going to be a pretty long, probably boring, update so if you'd like to just see the standings click here.This link is the same throughout the season, so feel free to bookmark it.
After quite a period of time between races, rounds 7 and 8 come in quick succession with competitors taking to the hills (that possibly may have eyes) of Doncaster for the staple that is the Askern 10 Mile race.  Perhaps due to a number of competitors being away on summer training camps, Striders turnout on the day was slightly lower than previous rounds, meaning there were plenty of opportunities for points scoring.  There was some slight confusion at the start, due to the starting chip mat not being laid out; meaning runners weren't quite sure where to line up. This also meant that all times were gun only, penalising a few runners who got stuck at the back of the start.
One person who duly took advantage of absent division rivals was Joe Sweetnam-Powell. Fresh of his victory over Phil Skelton in the Striders 10K, he took advantage of the latter's absence to pick up another 20 points. James Rose had yet another blooming good performance to take 19 points, closely followed by Chris Guy:
| Name | Time | Points |
| --- | --- | --- |
| Joe Sweetnam-Powell | 00:59:19 | 20 |
| James Rose | 01:05:09 | 19 |
| Chris Guy | 01:06:43 | 18 |
Now at this point I'd normally talk about who is contention for what in the Premiership, but given the nature of the scoring system it can be at hard times to visualise, especially with runners still having plenty of races in hand with which to score points. Sadly, I have to admit this problem was on my mind during race day, and I spent the first half of the race mulling over how to best show this in the reports, especially now we've begun the end of season run on.  A slight moment of epiphany was had on the climb at half way, which might explain why I ran my one and only negative split race.  Something of a work in progress, I've came up with the graph below: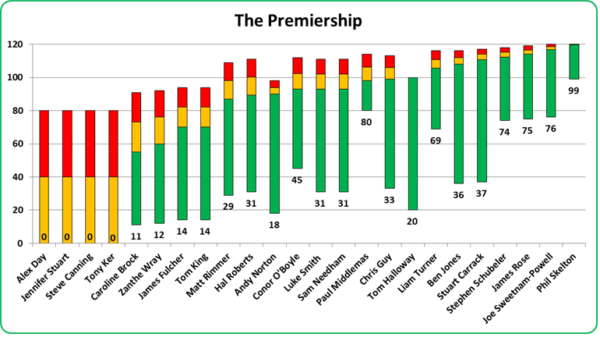 The numbers along the bottom of the bars represent the minimum points a runner can score between now and the end of the season. As we've yet to introduce point penalties, though I've been sorely tempted at times, this is the same as the current number of points each runner has. The green bars represent the range of points could possibly finish on if they carried on running at the same sort of level they have been previously, with the top of the bar being the total points they'd finish on if they scored the average number of points they have scored previously in the remaining 4 races. The wider bars tend to be for runners who haven't run as many races so are more of an unknown. The top of the red bar is the maximum points each runner can finish on, i.e. if the scored 20 points in the remaining 4 races. The orange bar is the halfway point between the average and maximum positions. To put it another way:
Bold Numbers =Current points (The worst a runner can do)
Green Bar = The range of points we'd expect a runner to finish on if they carry on their previous form (and turn up to races!)
Orange Bar = The estimated range of points a runner might finish on if they improve their form in the last 4 races
Red Bar = The range estimated range of points (up to their maximum possible score) we'd expect a runner to finish on if they absolutely smash it. Anyone finishing in this range will be drugs tested as a matter of course.
The wider each bar is, the worse of an estimate it is, most likely down to the runner not having completed as many races. Tighter (smaller) bars are runners where we can be more confident in how many points we think they will finish with.
Hopefully that makes some sense. If we go back to the Premiership graph, we can see Phil Skelton is already sitting pretty on 99 points and we'd expect him to finish with 120 points. However, Joe if he carries on his form (and shows up to races!) may well push Phil all the way, and could well snatch the title. The same could also be said to some extent for Stephen Flapjack and James Rose. Looking all the way to their other end of the graph we can see we have 4 runners that have scored 0 point so far and as such have no green bar (scoring any points would be an improvement!). However they could still well score enough to stay up if they can make the start line in the last few races.
Into Division 2, and with Dave Forrest again a no show, he's finally been reeled in by Adrian Fisher who took the honours on the day as well top spot in the division as things stand. Tim Holt being the only other runner day, picking up a very handy 19 points:
| Name | Time | Points |
| --- | --- | --- |
| Adrian Fisher | 01:09:02 | 20 |
| Tim Holt | 01:10:18 | 19 |
Looking at the graph for the division: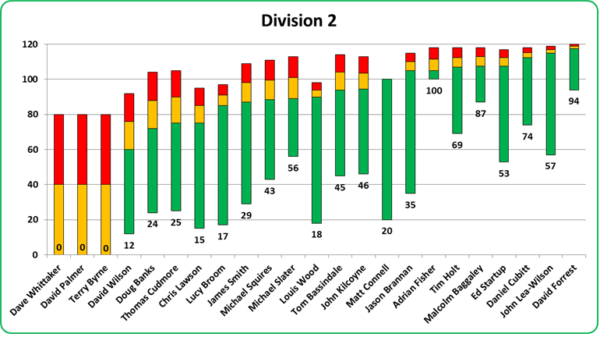 We can see Dave is still in the driving seat just about with the races in hand that he holds and that Adrian will be there or there abouts most likely but there is at least 5 dark horses who could challenge for both the title and promotion if they can replicate performances from earlier in the year.
In the division of the magic number, there was also a small turnout, with only the Postman and myself making the start line. I would say I felt bad taking  home 20 points on a less than stellar run, but as the saying goes, all is fair in love war and the road race championships:
| Name | Time | Points |
| --- | --- | --- |
| Alex Green | 01:10:40 | 20 |
| Paul Stuart | 01:12:10 | 19 |
The pretty picture currently looks like:
The more eagle eyed of you may have noticed that Jordan seems to have no bars, this is because he's already scored the maximum points and his position won't change at all. The bleary eyed of you might have noticed my box is significantly tighter than others. Aside from my dedicated Pilates routine, this is because I've factored in missing 2 of the remaining 4 races, handily demonstrating how the graphs would change as we tick off more races during the run in. With Jordan already having smashed the division, the race now is for promotion and it looks to be a 6 into 3 scenario with anyone from Colin through to Heather being very much in the mix.
Thankfully there were no pulled quads in Division 4 where Regan Hanson overcame getting trapped at the back of the start to run a very respectable 1:11:53, it would have been interesting to see what his chip time on the day was. There was a rare Ben Stittle sighting, picking up 19 points which might be enough to keep the wolf from the door when it comes to staying in the divison. Shout out too for Matthew Burgon for taking 16 points while being on pacing duties:
| Name | Time | Points |
| --- | --- | --- |
| Regan Hanson | 01:11:53 | 20 |
| Ben Stittle | 01:12:01 | 19 |
| Neil Schofield | 01:14:21 | 18 |
| Jeni Harvey | 01:20:22 | 17 |
| Matthew Burgon | 01:27:15 | 16 |
Playing Mystic Meg: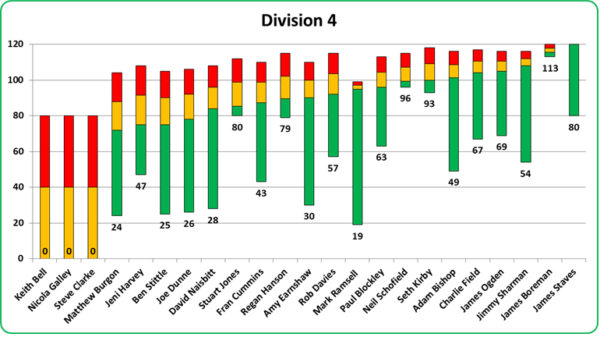 James Boreman looks pretty comfy at the top and would be the favourite in Vegas not doubt, but if James Staves can turn out for the last at least two of the last 4 races he still can still take the title based off his previous form. The battle for promotion behind looks pretty tight with at least 7 runners in contention for the two remaining spots.
Division 5 had a bumper showing comparatively with no less than 9 turning out. Rob Betts continues to show the virtues of the non-alcoholic hydration strategy with another storming performance with the pack behind being fairly tightly bunched in the battle for points:
| Name | Time | Points |
| --- | --- | --- |
| Rob Betts | 01:09:48 | 20 |
| Ben Sanderson | 01:13:23 | 19 |
| Peter Brown | 01:14:41 | 18 |
| Maz Kaczmarczyk | 01:15:38 | 17 |
| Matt Broadhead | 01:16:17 | 16 |
| Nicky Rafferty | 01:17:47 | 15 |
| Dominic Sleath | 01:20:12 | 14 |
| Chris Hodson | 01:24:36 | 13 |
| Kim Bateman | 01:25:46 | 12 |
Looking at the projection, the run in for the division might get pretty interesting:
Ben Elmore looks pretty good for taking top spot, but Ben Sanderson is very much still in the mix. Rob Betts is certainly a man who is getting better and better as the season goes on and I wouldn't bett against him running the table over the last 4 races, which would leave him on 119 points. Russell Stevenson and Helen Burgress are unknowns having only completed 2 races each so could make late pushes for promotion if they can get their 6 completed.
Andy Lock was the main beneficiary of current leader Charlotte Roper being absent picking up the 20 points. But the man of the day perhaps, was Al Dalton who had his best run of the season thus far to take 19 points in a storming 01:18:14:
| Name | Time | Points |
| --- | --- | --- |
| Andrew Lock | 01:17:52 | 20 |
| Al Dalton | 01:18:14 | 19 |
| Frances Norman | 01:21:42 | 18 |
| Arif Ali | 01:25:24 | 17 |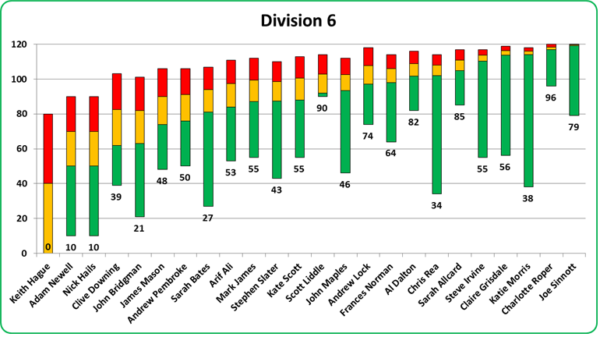 Charlotte looks to have destiny in her own hands currently but if Joe Sinnot can get at least another couple of races under his belt he can certainly challenge. Katie Morris remains the great unknown, will she make a surprise appearance in the last few races to snatch the title away? Or has she been lost to the dark wilderness of Rotherham forever? At the less fun end of the table there's quite a little battle against relegation shaping up with more than a few looking over their shoulder.
There was no lack of faith in Division of the 7 with a decent turnout of 9 runnners, James Broomhead again with a strong performance for 20 points well ahead of his nearest rival:
| Name | Time | Points |
| --- | --- | --- |
| James Broomhead | 01:11:59 | 20 |
| Will Day | 01:18:06 | 19 |
| Andrew Woffindin | 01:20:26 | 18 |
| Nicola Ross | 01:20:42 | 17 |
| Richard Pegg | 01:21:47 | 16 |
| Philip Swirles | 01:23:40 | 15 |
| Sarah Ward | 01:25:00 | 14 |
| Claire Johnson | 01:25:12 | 13 |
| Gillian Burgon | 01:27:14 | 12 |
Daniel Driscoll, who recently signed a long term contract, remains the man to beat, surely having half an eye on finishing with the maximum 120 points. Behind him Nicola Ross, Gareth Pert, Will Day and James Broomhead are looking in very tight battle for the promotion spots. However Poppy Tovey and James Rees may yet gatecrash the party if they can put in some late performances.
In Division 8, which often leaves me in pieces given the number of tie breakers it throws up, and Gilly Allen took advantage of the "big two" of Phil Dooley & Matt Gibson not participating to once again reap 20 points. This despite coming off a bout of illness and limited running. Lucy Woodward and Charlotte Civico contrived to finish with the same time to both pick up 18 points:
| Name | Time | Pos |
| --- | --- | --- |
| Gillian Allen | 1:15:04 | 20 |
| Cara Hanson | 1:24:18 | 19 |
| Lucy Woodward | 1:26:46 | 18 |
| Charlotte Civico | 1:26:46 | 18 |
| Steven Lewis | 1:29:48 | 17 |
Although it would look like to be neck and neck between Phil and Matt for the title, if Gilly can get another couple of races completed she could well take it at the last, especially with the fine form she's in. Behind this triumvirate of running prowess the battle for the final promotion spot seems to be between Loz Harvey and Cara Hanson.
Luke Prest, Striders Gold™ member, was quick to point out I'd accidentally de-neined him the 20 points he was due in the alpha version of this update, a just reward for his decent run on the day. Current leader Helen Jones finishing behind him with Ian Blackburn also scoring well to ease relegation fears:
| Name | Time | Pos |
| --- | --- | --- |
| Luke Prest | 1:20:24 | 20 |
| Helen Jones | 1:24:01 | 19 |
| Ryan Talley | 1:30:27 | 18 |
| Ian Blackburn | 1:30:36 | 17 |
| Chris Smith | 1:32:39 | 16 |
| Zoe Dickinson | 1:43:31 | 15 |
Luke currently looks to be favourite to clinch the division if he can get just one more decent run under his belt, though Helen can push him hard. Behind the leaders the race for promotion looks like it will come down to who can turn out for the races with Mark Warriner currently heading up the best of the rest.
Division 9 was another case of davja vu with Dave Rooney taking the full points again, though not quite clinching the title, both Helen Eberlin and Lindsay Motaleb running well enough to leave themselves a slim chance of equaling Dave's current total 119 points. Andy Telford managed score a very decent 15 points despite a handicapped start caused by a traffic jam:
| Name | Time | Pos |
| --- | --- | --- |
| Dave Rooney | 1:31:01 | 20 |
| Lindsey Motaleb | 1:34:06 | 19 |
| Helen Eberlin | 1:34:36 | 18 |
| Caroline Brash | 1:40:32 | 17 |
| Nicole Nield | 1:44:01 | 16 |
| Andy Telford | 1:47:10 | 15 |
| Ady Good | 1:48:24 | 14 |
As outlined above Dave has clearly broken away from the pack and secured points on the board, while Helen and Lindsay can still put themselves up there if they can increase their number of completed races. Helen Cain, Lucy Cowell and Tracy Davies could also cause upsets if they hit some late form.
To finish as always we take a trip to Division 11, where some say the true spirit of the competition lives on. None of these fancy cyro chambers or whale song encounter sessions for recovery. Sandie Farrow ploughed her way to 20 points, finishing nearly 10 minutes clear of her division rivals with Helen Smith once again (!) scoring 19 points and Paul Cooper taking an useful 18 points:
| Name | Time | Pos |
| --- | --- | --- |
| Sandie Farrow | 1:41:29 | 20 |
| Helen Smith | 1:51:26 | 19 |
| Paul Cooper | 1:53:45 | 18 |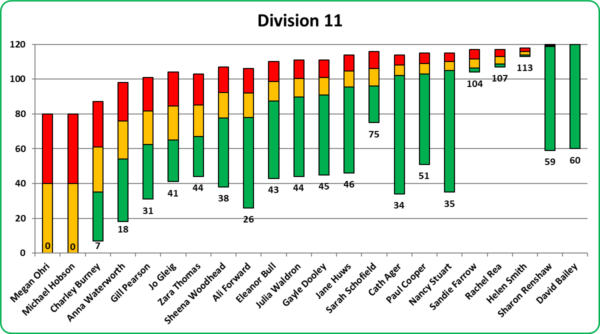 11 is an odd division to try and predict. You have the likes of Helen, Rachel & Sandie who all have good points on the board already with scope to improve, but also the two dark horses of Sharon Renshaw and David Bailey. When Sharon & Dave have run they have invariably taken 19 or 20 points so if they can gain a few more finishes they could easily end up the winner. It will be an intriguing run in to watch, perhaps even a photo finish.