Race Date: 31st August
Round 9 saw runners take on the shortest course in the championships, with the 5 mile delight of the Bassingham Bash, a name that I feel really merits an Urban Dictionary Entry. Not being present myself on the day, after unfortunately double booking myself with running around "Bedfordshire's best kept secret" (I agree, it is best kept secret), I can't comment as to the race itself. However detailed examination of multiple Strava activities has confirmed it was indeed 5 miles and in Bassingham.
As ever the current actual standings for each division can be found here.
Phil Skelton reasserted himself as the dominant power in Eternia, finishing ahead of Joe S-P to take the 20 points. Liam Turner had obviously made good study of the landscape to finish in between the two and claim 19 points:
| Name | Time | Points |
| --- | --- | --- |
| Phil Skelton | 0:26:54 | 20 |
| Liam Turner | 0:27:13 | 19 |
| Joe Sweetnam-Powell | 0:27:28 | 18 |
| Chris Guy | 0:29:47 | 17 |
Looking at the pretty colours of the predictor graph (see the previous update here for an explanation):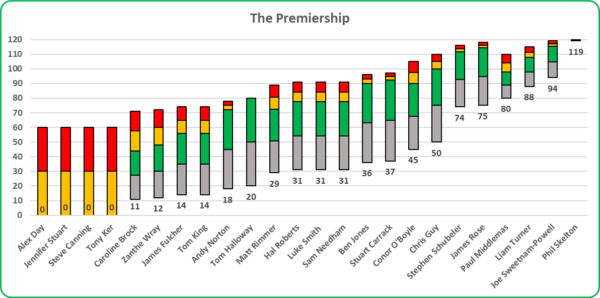 Phil took a huge step forward to securing the title, but can't be crowned as Joe can still technically win on a head to head tie breaker. Liam's timely return to action, although too late for a title challenge, could still propel him into 2nd.
None of the top 3 were in action in Division 2 which allowed club favourite Lucy Broom to make a cameo on road and sweep away 20 points. Michael Slater the only other runner on the day, moving himself up into the promotion spots:
| Name | Time | Points |
| --- | --- | --- |
| Lucy Broom | 0:33:18 | 20 |
| Michael Slater | 0:35:01 | 19 |
There was no real change at the top with Dave Forrest still having the slight advantage over his rivals, and will certainly need to make another couple of appearances in all likelihood. Adrian has the points on the board currently, but there's a number of runners who could be competing for the division that looked all but over earlier in the season.
Freshly crowned champion Jordan Moat was taking a well earned rest again in Division 3, giving Steve Smith the chance to take the honours on the day, with good performances from Sergei & Adam as well to keep them in the promotion hunt.
| Name | Time | Points |
| --- | --- | --- |
| Steve Smith | 0:32:45 | 20 |
| Sergei Shkul | 0:33:10 | 19 |
| Adam McAuley | 0:34:42 | 18 |
| Jonathan Legon | 0:40:34 | 17 |
With only promotion to play for, Steve forging a maximum score probably made him joint favourite along with Heather to be competing in Division 2 next year. Behind them there's a slew of runners who could all make late charges possibly with some late season form:
Regan Hanson has suddenly burst into life in Divison 4, with back to back 20 point performances.  Jimmy Sharman also ran well to take 19 points and former leaders Seith and Neil socring 16 and 17 points respectively:
| Name | Time | Points |
| --- | --- | --- |
| Regan Hanson | 0:33:24 | 20 |
| Jimmy Sharman | 0:33:31 | 19 |
| James Ogden | 0:34:03 | 18 |
| Neil Schofield | 0:34:54 | 17 |
| Seth Kirby | 0:35:11 | 16 |
Regan's late surge maintains his outside chance of taking the title, but surely it's too little too late, with James Boreman still the man to beat. James Staves however, with 4 maximums under his belt, stands a very good chance if he can make the start line of 2 of the remaining 3 races: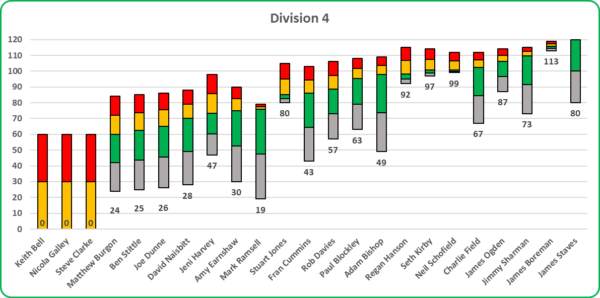 Division 5 has been a tussle between the two Bens throughout, although a resurgent plant powered Rob Betts tried to set the legumes among the lentils with some blinding performances lately. Sadly for him Ben Elmore finishing in front of him confirmed his title challenge was over, with the absent Ben Sanderson left as the only other contender. Letty Hancock, fresh off her announcement of plans to help increase membership numbers, scored a useful 15 points but still lies perilously in the relegation zone:
| Name | Time | Points |
| --- | --- | --- |
| Ben Elmore | 0:31:12 | 20 |
| Rob Betts | 0:32:32 | 19 |
| Peter Brown | 0:35:46 | 18 |
| Roger Watson | 0:36:09 | 17 |
| Dominic Sleath | 0:36:31 | 16 |
| Letty Hancock | 0:44:55 | 15 |
With the top 3 all but nailed on barring their finishing order, there's only really the one remaining promotion spot to play for. With none of the remaining races likely to be cheap enough to entice Phil Howson, the contest would appear to be between Roger and Peter, though Dominic and Maz could also have a say if they can take advantage of their races in hand: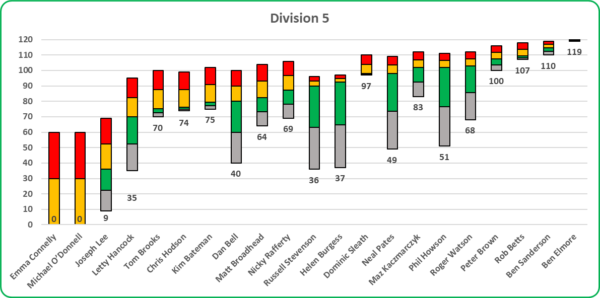 At this point in the report, as Salt-N-Pepa once sung, let's talk about 6 baby. Dronfield's own Sarah Allcard finished minutes clear of her division rivals to score her first 20 pointer of the season, good enough to move her to the top of the table. Joe Sinnot also had a good run to leap up into 2nd after scoring 18 points with John Bridgman taking home a very useful 17 points to move him out of the relegation zone:
| Name | Time | Points |
| --- | --- | --- |
| Sarah Allcard | 0:35:27 | 20 |
| Frances Norman | 0:37:56 | 19 |
| Joe Sinnott | 0:38:07 | 18 |
| John Bridgman | 0:38:33 | 17 |
| Stephen Slater | 0:39:46 | 16 |
It's currently a tight 3 battle at the top of the table with Sarah having the points on the board while Charlotte and Joe both have a race in hand on her. With Scott Liddle unlikely to take part in any other further races, the door has been opened for someone to sneak into the last promotion spot with the likes of Fran Norman and Al Dalton eyeing it up although if Steve Irvine and Claire Grisdale can reproduce some of their form from earlier in the season they stand a good chance too :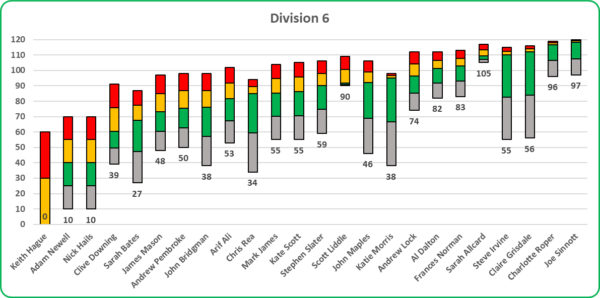 Daniel Driscoll confirmed what has felt inevitable for some time, finally taking the Division 7 crown and finishing with the maximum 120 points. A truly dominant performance throughout, testament to the rapid improvement he's made this year. Gareh Pert had a similarly perky run to take 19 points himself, helping firm up his promotion credentials. Andrew Woffindin, fresh off a mysterious visit to a Mexican dolphin dancing therapy centre, the 3rd runner on the day:
| Name | Time | Points |
| --- | --- | --- |
| Daniel Driscoll | 0:33:49 | 20 |
| Gareth Pert | 0:36:38 | 19 |
| Andrew Woffindin | 0:37:38 | 18 |
Outside of Daniel the race for promotion would appear to be between Will, Gareth and James Broomhead. However Poppy Tovey, after some strong performances earlier in the season, could well be a late bloomer if she can finish the remaining 3 races: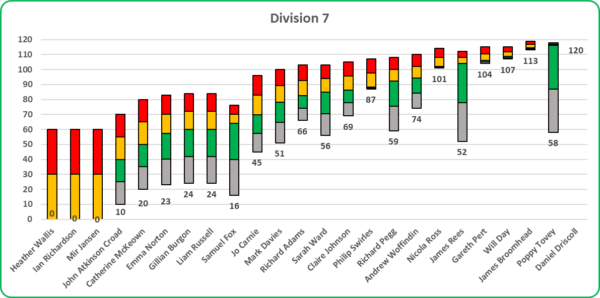 With the big two of Phil Dooley and Matt Gibson not running, there was no change at the top in Division 8. In fact there was only the one runner, with Charlotte Civicio profiting to score a handsome 20 points:
| Name | Time | Points |
| --- | --- | --- |
| Charlotte Civico | 0:41:32 | 20 |
In fact her 20 points means she still has a chance of the title just about, however as things stand it looks to be one of either Phil or Matt unless Gilly can be tempted off the fells for long enough to race on the road a few more times: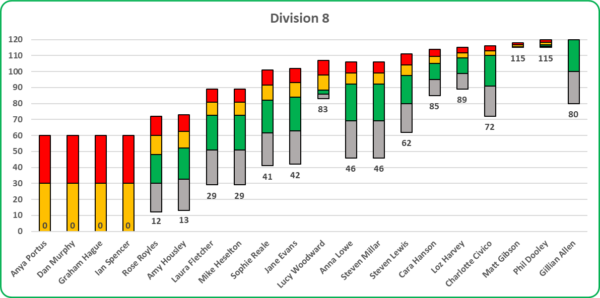 Division 9 went to Ryan Talley on the day, keeping his title shot just about alive with Simon Gleadhall also scoring well to move himself up into the promotion spots:
| Name | Time | Points |
| --- | --- | --- |
| Ryan Talley | 0:39:57 | 20 |
| Chris Smith | 0:40:42 | 19 |
| Vikki McAuley | 0:40:49 | 18 |
| Zoe Dickinson | 0:46:08 | 17 |
| Simon Gleadhall | 0:47:43 | 16 |
Although Ryan has still left himself a chance of the title, the fight does seem to be between Helen and Luke, with the latter still having the possibility of scoring the full 120 points for the season if he can pick up one more 20 pointer:
Tracey Davies did the clan proud in Division 10, finishing a barmy 6 minutes clear to emphatically take 20 points. Helen Eberlin kept up her own fine form this season to take 19, while Gaynor Hobson scored a season's best 15 points:
| Name | Time | Points |
| --- | --- | --- |
| Tracy Davies | 0:37:11 | 20 |
| Helen Eberlin | 0:43:51 | 19 |
| Julia Rose | 0:45:34 | 18 |
| Richard Slater | 0:45:44 | 17 |
| Nicole Nield | 0:46:11 | 16 |
| Gaynor Hobson | 0:47:07 | 15 |
| Ruth Jacks | 0:51:34 | 14 |
Tracey's heroics means she still has an outside shot at winning the division, though she would have to score 20 points in each of the remaining races to draw level with Dave Rooney on 119 points. Currently Dave leads on the head to head 3-2 so he could technically make sure of the title by not turning up to the remaining races, but what sort of evil mind would think up such a tactic?! Of the remaining two promotion spots, you'd assume Helen would be favourite to take one and potentially Lucy Cowell the other if she get finish off her own fine season: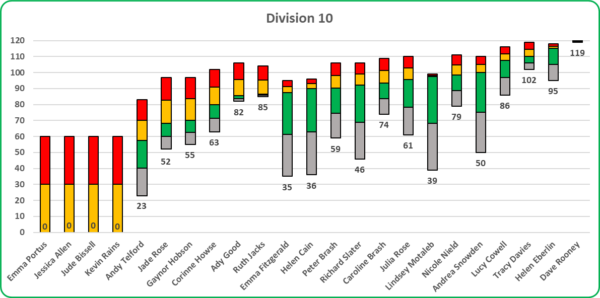 Finally, Division 11 had 2 runners on the day with Eleanor Bull scoring her first maximum of the season, and Gill Peason taking the 19 points behind her:
| Name | Time | Points |
| --- | --- | --- |
| Eleanor Bull | 0:52:56 | 20 |
| Gill Pearson | 0:55:54 | 19 |
This meant there was little change to the division with it all still to play for as with hit the final quarter: