Report by: Stuart Jones
Race Date: Sunday 15th September
Sedgefield is an unremarkable place (no one famous was ever born there, nothing significant was invented there, and President George W. Bush did not enjoy Fish and Chips there with the Rt. Hon Tony Blair when he was the local MP) and the Sedgefield Serpentine is a fairly unremarkable race.
From the middle of a green field beyond the Cricket Club the route goes through a tunnel / culvert into Hardwick Park, home of the local parkrun. Then it is left to the folly castle, and right to run along the Serpentine ornamental lakes. At the end the route turns sharp left to sweep back the other side. A quick right and left led to the longest straight; all of 500m. Another right-angle right turn led to the first narrow path. What followed was a noisy section besides a moto-cross meeting on a permanent course before crossing the River Skerne for the first time.
There was a right turn away from Bishop Middleham at the end of a harvested wheat field, and further lefts and rights as the route approached Knotty Hill Golf Course. The woodland here was stunning and worth the entry fee.
A couple more twists and turns led back into the Park and eventually back through the culvert / tunnel to the finish in the same field where we started. A serpentine route, all in all.
It is seven years since I last ran this one, recording today a 4 minute 40 second pb on the course.
Nice touches included the Mayor of the twin-town, Hamminkeln, starting the race and eleven visiting Germans from the same town running it, large plates of cakes and a coincidental Beer Festival.
| | | | |
| --- | --- | --- | --- |
| First Male: | Kurt Heron | Blyth AC | 36:12 |
| First Female: | Andrea Pfister | Hamminkeln | 43:50 |
| Only Steel City Strider(36th): | Stuart Jones | | 46:10 |
147 finishers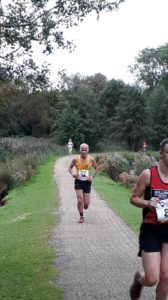 Posing with prizes I did not win, and heading to the  finish between second and third female.