Date:26th July 2019 – Woodbourn Road, Sheffield
The Men's inter-club track meet proved to be just as successful as the women's meet, with all clubs entering into the competitive but fun spirit.
Even the downpour during the relays couldn't wipe the grimaces and smiles from the runners faces.
Striders won the team trophy and both Vets 'A' and 'B' 4×400 relay teams broke the old club record!
(The Striders women's 4×400 relay team also broke their club record.)
Many thanks to Andy Davies and his band of volunteers for putting on another excellent event.
Photos courtesy of Fran Cummins.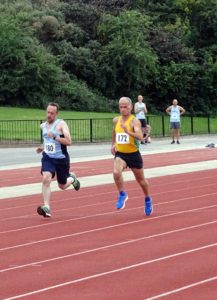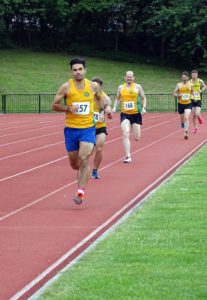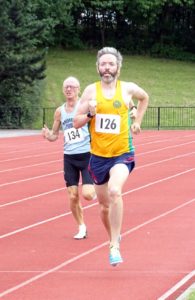 how to time a sprint finish!
Results
| | | |
| --- | --- | --- |
| Race 1 | 800m | |
| Mark Buskwood | Totley | 2:38.22 |
| Andrew Woffindin | Steel City Striders | 2:39.61 |
| Kevin Megson | Totley | 2:50.08 |
| John Scholey | Totley | 2:55.01 |
| Chris smith | Steel City Striders | 2:57.91 |
| Russell Dodd | Sheffield RC | 3.06.21 |
| Richard Moody | Sheffield RC | 3:21.06 |
| NEAL MATTHEWS | Sheffield RC | 3:25.18 |
| Jeremy Brayshaw | Totley | 3:27.19 |
| | | |
| --- | --- | --- |
| Race 2 | 800m | |
| Kevin Doyle | Kimberworth | 2:44.27 |
| Gareth Pert | Steel City Striders | 2:44.78 |
| Rob Betts | Steel City Striders | 2:48.20 |
| Kevin Randall | Valley Hill Runners | 2:49.20 |
| Paul McWhirter | Sheffield RC | 2:49.61 |
| Tud | Steel City Striders | 2:53.80 |
| | | |
| --- | --- | --- |
| Race 3 | 800m | |
| Alex Shepherd | Steel City Striders | 2:30.49 |
| Graham Dodd | Kimberworth | 2:33.30 |
| Alex Green | Steel City Striders | 2:36.41 |
| Gavin Edley | Kimberworth | 2:39.27 |
| Chris Heggs | Sheffield RC | 2:39.83 |
| Matthew Robinson | Handsworth Roadhogs | 2:40.11 |
| Paul Stuart | Steel City Striders | 2:40.69 |
| Mark Goodison | Totley | 2:42.03 |
| John comrie | Kimberworth | 2:45.03 |
| Christian Hopkins | Handsworth Roadhogs | 2:52.72 |
| | | |
| --- | --- | --- |
| Race 4 | 800m | |
| Doug Banks | Steel City Striders | 2:20.42 |
| Mark Anderson | Totley | 2:21.06 |
| Jed Turner | Sheffield RC | 2:21.22 |
| Paul Middlemas | Steel City Striders | 2:27.51 |
| Louis Wood | Steel City Striders | 2:28.44 |
| Simon ross | Steel City Striders | 2:30.16 |
| Tim Holt | Steel City Striders | 2:32.13 |
| Tom Burns | Kimberworth | 2:34.36 |
| James Broomhead | Steel City Striders | 2:37.49 |
| | | |
| --- | --- | --- |
| Race 5 | 800m | |
| Comor O'Boyle | Steel City Striders | 2:05.85 |
| Ryan Hastey | Rotherham | 2:09.46 |
| Sam Brown | Steel City Striders | 2:13.85 |
| Matt Worthington | Sheffield RC | 2:17.65 |
| Mark Ward | Rotherham | 2:19.54 |
| Dominic Hackney | Rotherham | 2:20.36 |
| David Millns | Totley | 2:22.26 |
| Matthew Burden | Totley | 2:26.50 |
| | | |
| --- | --- | --- |
| Race 6 | 100m | |
| Andrew Woffindin | Steel City Striders | 14.56 |
| Chris smith | Steel City Striders | 15.09 |
| Nasser Babazadeh | Totley | 15.2 |
| ALAN PICKARD | Sheffield RC | 15.65 |
| Richard Moody | Sheffield RC | 15.72 |
| Kevin Doyle | Kimberworth | 16.15 |
| David Ayrton | Totley | 16.55 |
| Rich millns | Kimberworth | 18.13 |
| Felipe del solar | Totley | 18.66 |
| | | |
| --- | --- | --- |
| Race 7 | 100m | |
| Andrew Platts | Totley | 13.17 |
| Earl Lever | Kimberworth | 14.36 |
| Chris Day | Totley | 14.76 |
| Kevin Randall | Valley Hill Runners | 15.94 |
| Paul McWhirter | Sheffield RC | 15.95 |
| Stuart Jones | Steel City Striders | 15.99 |
| Michael Waring | Handsworth Roadhogs | 16.68 |
| Russell dodd | Sheffield RC | 18.47 |
| | | |
| --- | --- | --- |
| Race 8 | 100m | |
| Ben Allen | Handsworth Roadhogs | 14.96 |
| Gavin Edley | Kimberworth | 15.25 |
| Mark Goodison | Totley | 16.19 |
| Matthew Burgon | Steel City Striders | 13.68 |
| Matthew Robinson | Handsworth Roadhogs | 16.36 |
| Paul Stuart | Steel City Striders | 17.18 |
| Louis Wood | Steel City Striders | 14.2 |
| Christopher Keeler | Kimberworth | 14.27 |
| Graham Dodd | Kimberworth | 15.78 |
| | | |
| --- | --- | --- |
| Race 9 | 100m | |
| Dominic Hackney | Rotherham | 12.21 |
| Steven Thorpe | Handsworth Roadhogs | 12.88 |
| Glen Mailer | Steel City Striders | 12.93 |
| Thomas Beaumont | Totley | 13.16 |
| Chris cotton | Kimberworth | 13.59 |
| Matt Worthington | Sheffield RC | 13.61 |
| James round | Handsworth Roadhogs | 14.75 |
| Alex Green | Steel City Striders | 15.21 |
| Lane 8 | | 16.71 |
| | | |
| --- | --- | --- |
| Race 10 | 1500m | |
| Christopher Keeler | Kimberworth | 5:39.62 |
| Mark Buskwood | Totley | 5:41.12 |
| Andrew Woffindin | Steel City Striders | 5:43.22 |
| Rob Betts | Steel City Striders | 5:45.14 |
| Tud | Steel City Striders | 5:57.24 |
| John Scholey | Totley | 6:01.92 |
| Adam Lenton | Handsworth Roadhogs | 6:02.10 |
| Kevin Megson | Totley | 6:05.86 |
| Paul McWhirter | Sheffield RC | 6:09.64 |
| Kevin Randall | Valley Hill Runners | 6:09.69 |
| Richard Pegg | Steel City Striders | |
| Pat Goodhall | Totley | |
| Alexa Dale | Sheffield RC | |
| NEAL MATTHEWS | Sheffield RC | |
| Jeremy Brayshaw | Totley | |
| | | |
| --- | --- | --- |
| Race 11 | 1500m | |
| Alex Shepherd | Steel City Striders | 5:10.67 |
| Graham Dodd | Kimberworth | 5:12.29 |
| Jonathan Legon | Steel City Striders | 5:20.66 |
| Caroline Brock | Steel City Striders | 5:21.66 |
| Colin Earl | Kimberworth | 5:28.05 |
| Fran Cummins | Steel City Striders | 5:30.52 |
| Andy Buck | Steel City Striders | 5:33.95 |
| Mark Goodison | Totley | 5:35.29 |
| John comrie | Kimberworth | 5:35.41 |
| Richard Bulmer | Totley | 5:44.89 |
| Paul Stuart | Steel City Striders | 5:50.32 |
| Kevin Doyle | Kimberworth | 5:58.49 |
| | | |
| --- | --- | --- |
| Race 12 | 1500m | |
| Charlie Baker | Totley | 4:25.94 |
| Ben Jones | Steel City Striders | 4:26.92 |
| Sam Brown | Steel City Striders | 4:36.86 |
| Ryan Hastey | Rotherham | 4:39.56 |
| David Millns | Totley | 4:44.10 |
| Hal Roberts | Steel City Striders | 4:44.64 |
| Mark Anderson | Totley | 4:46.56 |
| Chris Ireland | Sheffield RC | 4:52.20 |
| Stephen pope | Totley | 4:52.81 |
| Mark Ward | Rotherham | 4:53.51 |
| Jed Turner | Sheffield RC | 5:07.64 |
| Tom Burns | Kimberworth | 5:12.10 |
| Simon Hopkins | Kimberworth | 5:14.39 |
| Ben Allen | Handsworth Roadhogs | 5:21.37 |
| Gavin Edley | Kimberworth | 5:29.88 |
| Chris Heggs | Sheffield RC | 5:38.04 |
| Christian Hopkins | Handsworth Roadhogs | 5:45.00 |
| | | |
| --- | --- | --- |
| Race 14 | 400m | |
| Andrew Woffindin | Steel City Striders | 1:09.79 |
| Nasser Babazadeh | Totley | 1:14.50 |
| Kevin Randall | Valley Hill Runners | 1:16.63 |
| David Ayrton | Totley | 1:17.83 |
| ALAN PICKARD | Sheffield RC | 1:18.36 |
| Chris smith | Steel City Striders | 1:18.54 |
| Richard Moody | Sheffield RC | 1:32.92 |
| NEAL MATTHEWS | Sheffield RC | 1:38.21 |
| | | |
| --- | --- | --- |
| Race 15 | 400m | |
| Chris Day | Totley | 1:08.68 |
| Earl Lever | Kimberworth | 1:10.16 |
| Adam Lenton | Handsworth Roadhogs | 1:14.45 |
| Rich millns | Kimberworth | 1:18.88 |
| Michael Waring | Handsworth Roadhogs | 1:19.15 |
| Russell dodd | Sheffield RC | 1:21.42 |
| Kevin Doyle | Kimberworth | 1:25.26 |
| Richard Pegg | Steel City Striders | 1:25.67 |
| | | |
| --- | --- | --- |
| Race 16 | 400m | |
| Andrew Platts | Totley | 1:06.81 |
| Graham Dodd | Kimberworth | 1:06.92 |
| Christopher Keeler | Kimberworth | 1:07.30 |
| Colin Earl | Kimberworth | 1:09.61 |
| Mark Buskwood | Totley | 1:12.54 |
| Mark Goodison | Totley | 1:14.43 |
| Paul Stuart | Steel City Striders | 1:15.75 |
| | | |
| --- | --- | --- |
| Race 17 | 400m | |
| Matthew Burgon | Steel City Striders | 1:02.70 |
| Alex Green | Steel City Striders | 1:06.00 |
| Ben Allen | Handsworth Roadhogs | 1:07.60 |
| Gavin Edley | Kimberworth | 1:09.80 |
| Matthew Robinson | Handsworth Roadhogs | 1:12.00 |
| Christian Hopkins | Handsworth Roadhogs | 1:18,00 |
| | | |
| --- | --- | --- |
| Race 18 | 400m | |
| Mark Ward | Rotherham | 0:58.82 |
| Steven Thorpe | Handsworth Roadhogs | 1:01.24 |
| Jed Turner | Sheffield RC | 1:02.37 |
| Mark Anderson | Totley | 1:04.46 |
| Simon ross | Steel City Striders | 1:05.63 |
| Adam Bishop | Steel City Striders | 1:11.34 |
| | | |
| --- | --- | --- |
| Race 19 | 400m | |
| Ryan Hastey | Rotherham | 0:54.58 |
| Dominic Hackney | Rotherham | 0:55.01 |
| Matt Worthington | Sheffield RC | 0:59.58 |
| Matthew Burden | Totley | 1:03.94 |
| James round | Handsworth Roadhogs | 1:06.30 |
Race 20 4x100m B
Handsworth Roadhogs      58.39
Steel City Striders              59.39
Totley                                 1:08.00
 Kimberworth                    1:09.65
Handsworth B                   1:10.46
Sheffield RC                     unknown
Race 21 4x100m A
Steel City Striders               53.07
Rotherham                          55.14
Kimberworth                       58.17
Sheffield RC                       58.80
Totley                                 1:00.67
Steel City Striders Ladies   1:06.23
Race 22 4x400m B
Handsworth Roadhogs        4:34.88
Steel City Striders                 4:36.64
Steel City Striders Ladies     4:56.60
Kimberworth                         5:06.88
Totley                                     5:13.80
Handsworth Roadhogs B     5:35.18
Sheffield RC                          5:44.51
Race 23 4x400M A
Steel City Striders                   3:57.51
Steel City Striders Vets          4:13.56
Sheffield RC                           4:24.39
Rotherham                             4:26.11
Kimberworth                           4:37.45
Totley                                      4:38.60