Report by Angela Jackson
Event Date: 5th July 2019
This was the inaugural staging of the women's track meet open to local clubs for runners of all abilities.
Races were held over 100m, 400m, 800m, 1500m, 4×100 relay and 4×400 relay distances.  Each individual race was split into heats based on age categories and speed (based on 5km parkrun times). Medals were awarded for each heat so many people had the chance to stand on the podium!
For most runners this was a trip into the unknown and well outside our comfort zone, but we arrived at the Woodbourn Rd track to a friendly and relaxed atmosphere on a gorgeous summer evening.  How could we not enjoy this!
Special mention has to go to Andy Davies for organising and bringing together clubs, runners and volunteers to put on an event which, I think everyone agrees, was a great success.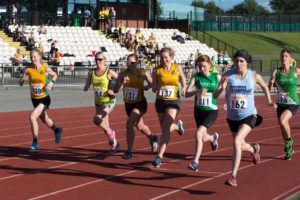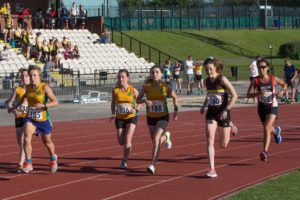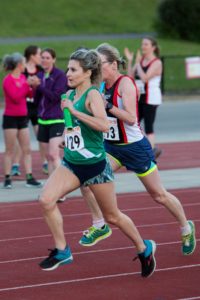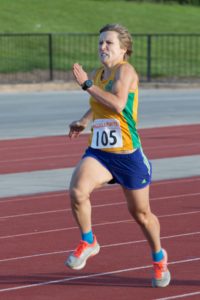 I have taken some excerpts from facebook posts:
From Andy –
Thank you to all the participants who made the night such a memorable occasion. Special thanks to the captains of SCS ( Kate Scott) , Totley ( Caz Kay ) , Smiley Paces ( Kate Morris) and Kimberworth ( Adelle Marsden) who enthusiastically recruited four very evenly matched teams. Also a mention for Sheffield RC , Handsworth Roadhogs and Dark Peak runners who, whilst not arriving in vast numbers, certainly added to the event.
However, the night only was successful due to the Striders and other volunteers, who once again gave up their Friday evening to benefit others. It's a warm, generous club, of that, I have no doubt. Big thanks go to:
Mark Havenhand, Tom Brooks, Claire Grisdale, Doug Banks, Paul Middlemas, James Broomhead, Chris Smith, Seth Kirby, Ben Stittle, Paul Blockley, Emily Davies, Hamad, Keith Jackson, Stuart Jones and the man with mic, John Liddle.
 From Harriet Eisner, Chair, Totley AC –
On behalf of Totley AC I would like to thank Steel City Striders for organising last night's brilliant event which was so supportive, inclusive and competitive. We hope this can become an annual fixture with as many clubs and members participating as possible. Well done Striders – you did Sheffield's running women proud!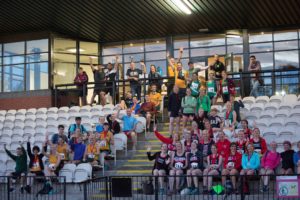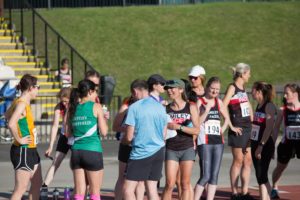 The runners from all clubs put in maximum effort, with some running all distances.  There were some brilliant races with close finishes to keep up the excitement throughout.
One noteable run was from Frances Roberts who won the 400m in 1:05:51, breaking a long standing (1988) Steel City Striders club record by 3 seconds. Super run Frances!
Striders came away with the overall team trophy – well done ladies!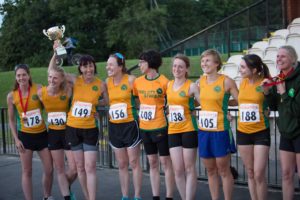 All Photos courtesy of Mark Havenhand
The Striders 4×100 relay team won the 'A' race – Amy Earnshaw, Helen Burgess, Heather Hatton, Frances Roberts.
The Striders 4×400 relay team were second  – Angie Smith, Lucy Broom, Gill Allen, Kate Scott.
Full results below:
| | | | |
| --- | --- | --- | --- |
| | Race 1 800M | | |
| Pos | Runner | Club | Time |
| 1 | Alexa Dale | Sheffield RC | 3:14.59 |
| 2 | Lucy Smith | Totley | 3:16.90 |
| 3 | Yvette McCracken | Smiley Paces | 3:17.27 |
| 4 | Keeleigh Scriven | Sheffield RC | 3:22.29 |
| 5 | Jane Boden | Smiley Paces | 3:23.79 |
| 6 | Carolina Scarton | Sheffield RC | 3:47.12 |
| | | | |
| --- | --- | --- | --- |
| | Race 2 800M | | |
| Pos | Name | Club | Time |
| 1 | Gemma Gladwin | Totley | 3:01.61 |
| 2 | Liz Burley | Kimberworth | 3:08.72 |
| 3 | Sarah Ward | Steel City Striders | 3:11.95 |
| 4 | Helen Pennington | Smiley Paces | 3:17.25 |
| 5 | Amy Clements | Kimberworth | 3:24.09 |
| 6 | Angela Jackson | Steel City Striders | 3:28.82 |
| 7 | Caroline Fuller | Smiley Paces | 3:28.82 |
| 8 | Melanie Edwards | Kimberworth | 3:37.36 |
| | | | |
| --- | --- | --- | --- |
| | Race 3 800M | | |
| Pos | Name | Club | Time |
| 1 | Kate Scott | Steel City Striders | 2:44.02 |
| 2 | Angie Smith | Steel City Striders | 3:04.85 |
| 3 | Rachel Barnes | Smiley Paces | 3:05.53 |
| 4 | Karen Stevens | Smiley Paces | 3:07.91 |
| 5 | Jane Langan | Smiley Paces | 3:14.69 |
| 6 | Pamela Leon | Smiley Paces | 3:18.08 |
| | | | |
| --- | --- | --- | --- |
| | Race 4 800M | | |
| Pos | Name | Club | Time |
| 1 | Carlene Rowson | Totley | 2:46.16 |
| 2 | Natalie Shield | Kimberworth | 2:48.97 |
| 3 | Gillian Allen | Steel City Striders | 2:52.63 |
| 4 | Heather Wallis | Steel City Striders | 2:55.02 |
| 5 | Gillian Burgon | Steel City Striders | 3:05.61 |
| 6 | Mel O'Connor | Handswoth Roadhogs | 3:08.02 |
| 7 | Roz Massey | Totley | 3:11.93 |
| 8 | Vicki Beckitt | Kimberworth | 3:15.23 |
| | | | |
| --- | --- | --- | --- |
| | Race 5 800M | | |
| Pos | Name | Club | Time |
| 1 | Caz Kay | Totley | 2:41.92 |
| 2 | Jane Gardiner | Smiley Paces | 2:42.46 |
| 3 | Lucy Broom | Steel City Striders | 2:45.09 |
| 4 | Ali Griffiths | Smiley Paces | 3:00.78 |
| 5 | Rachel Biggin | Totley | 3:01.59 |
| 6 | Fleur Roberts | Smiley Paces | 3:09.41 |
| | | | |
| --- | --- | --- | --- |
| | Race 6 800M | | |
| Pos | Name | Club | Time |
| 1 | Frances Roberts | Steel City Striders | 2:26.04 |
| 2 | Megan Wilson | Dark Peak | 2:33.57 |
| 3 | Amy Earnshaw | Steel City Striders | 2:38.93 |
| 4 | Heather Hatton | Steel City Striders | 2:39.13 |
| 5 | Helen Burgess | Steel City Striders | 2:42.18 |
| 6 | Helen Chan Webster | Smiley Paces | 2:51.98 |
| | | | |
| --- | --- | --- | --- |
| | Race 7 100M | | |
| Pos | Name | Club | Time |
| 1 | Samantha Weatherall | Kimberworth | 17.50 |
| 2 | Harriet Eisner | Totley | 18.73 |
| 3 | Hazel Fyffe | Smiley Paces | 19.58 |
| 4 | Tina Bell | Kimberworth | 20.66 |
| 5 | Louise Taylor | Kimberworth | 21.44 |
| 6 | Jo Gleig | Steel City Striders | 22.87 |
| 7 | Yvonne Mills | Kimberworth | 23.39 |
| | | | |
| --- | --- | --- | --- |
| | Race 8 100M | | |
| Pos | Name | Club | Time |
| 1 | Catherine Bowman | Smiley Paces | 15.64 |
| 2 | Jane Boden | Smiley Paces | 16.49 |
| 3 | Dawn Short | Steel City Striders | 16.51 |
| 4 | Andi Herrrick | Smiley Paces | 16.78 |
| 5 | Sarah Ward | Steel City Striders | 18.07 |
| 6 | Melanie Edwards | Kimberworth | 20.97 |
| | | | |
| --- | --- | --- | --- |
| | Race 9 100M | | |
| Pos | Name | Club | Time |
| 1 | Kate Scott | Steel City Striders | 15.84 |
| 2 | Caroline Fuller | Smiley Paces | 17.83 |
| 3 | Angela Jackson | Steel City Striders | 18.58 |
| 4 | Yvette McCracken | Smiley Paces | 19.58 |
| 5 | Helen Eberlin | Steel City Striders | 21.82 |
| | | | |
| --- | --- | --- | --- |
| | Race 10 100M | | |
| Pos | Name | Club | Time |
| 1 | Jane Gardiner | Smiley Paces | 15.01 |
| 2 | Liz Carthy | Totley | 15.13 |
| 3 | Angie Wright | Smiley Paces | 15.21 |
| 4 | Sarah Millns | Kimberworth | 17.04 |
| 5 | Rachel Biggin | Totley | 17.34 |
| 6 | Claire Chapman | Kimberworth | 18.57 |
| | | | |
| --- | --- | --- | --- |
| | Race 11 100M | | |
| Pos | Name | Club | Time |
| 1 | Natalie Lowe | Kimberworth | 16.14 |
| 2 | Alexa Dale | Sheffield RC | 17.71 |
| 3 | Keeleigh Scriven | Sheffield RC | 18.71 |
| 4 | Carolina Scarton | Sheffield RC | 18.77 |
| | | | |
| --- | --- | --- | --- |
| | Race 12 100M | | |
| Pos | Name | Club | Time |
| 1 | Gillian Burgon | Steel City Striders | 14.97 |
| 2 | Gillian Allen | Steel City Striders | 15.48 |
| 3 | Liz Burley | Kimberworth | 15.55 |
| 4 | Natalie Shield | Kimberworth | 15.77 |
| 5 | Heather Wallis | Steel City Striders | 16.43 |
| 6 | Mel O'Connor | Handsworth Roadhogs | 16.76 |
| 7 | Gemman Gladwin | Totley | 17.02 |
| 8 | Amy Clements | Kimberworth | 17.09 |
| | | | |
| --- | --- | --- | --- |
| | Race 13 100M | | |
| Pos | Name | Club | Time |
| 1 | Amy Earnshaw | Steel City Striders | 14.39 |
| 2 | Caz Kay | Totley | 14.59 |
| 3 | Lucy Broom | SCS | 16.36 |
| 4 | Vicki Beckitt | Kimberworth | 18.12 |
| | | | |
| --- | --- | --- | --- |
| | Race 14 1500M | | |
| Pos | Name | Club | Time |
| 1 | Beth Marney | SP | 6:19.35 |
| 2 | Lucy Smith | Totley | 6:39.98 |
| 3 | Helen Doyle | Kimberworth | 6:44.90 |
| 4 | Alexa Dale | Sheffield RC | 7:02.53 |
| 5 | Caroline Fuller | SP | 7:12.17 |
| 6 | Carolina Scarton | Sheffield RC | 7:48.55 |
| 7 | Harriet Eisner | Totley | 7:58.88 |
| | | | |
| --- | --- | --- | --- |
| | Race 15 1500M | | |
| Pos | Name | Club | Time |
| 1 | Natalie Shield | Kimberworth | 5:48.03 |
| 2 | Carlene Rowson | Totley | 5:48.20 |
| 3 | Gillian Allen | SCS | 5:56.98 |
| 4 | Ali Griffiths | SP | 6:00.07 |
| 5 | Helen Chan Webster | SP | 6:24.20 |
| 6 | Karen Stevens | SP | 6:24.23 |
| 7 | Roz Massey | Totley | 6:27.22 |
| 8 | Pamela Leon | Sp | 6:44.31 |
| | | | |
| --- | --- | --- | --- |
| | Race 16 1500M | | |
| Pos | Name | Club | Time |
| 1 | Lucy Broom | SCS | 5:29.18 |
| 2 | Helen Burgess | SCS | 5:42.52 |
| 3 | Caz Kay | Totley | 5:45.24 |
| 4 | Amy Earnshaw | SCS | 5:45.33 |
| 5 | Liz Carthy | Totley | 5:57.98 |
| 6 | Angie Smith | SCS | 6:16.35 |
| 7 | Yvonne Twelvetree | Totley | 7:18.95 |
| | | | |
| --- | --- | --- | --- |
| | Race 17 400M | | |
| Pos | Name | Club | Time |
| 1 | Lucy Smith | Totley | 1.30.99 |
| 2 | Tina Bell | Kimberworth | 1.36.79 |
| 3 | Hazel Fyffe | Smiley Paces | 1:40.35 |
| 4 | Louise Taylor | Kimberworth | 1:47.46 |
| 5 | Jo Gleig | SCS | 1:54.34 |
| | | | |
| --- | --- | --- | --- |
| | Race 18 400M | | |
| Pos | Name | Club | Time |
| 1 | Beth Marney | Smiley Paces | 1:17.31 |
| 2 | Catherine Bowman | Smiley Paces | 1:17.62 |
| 3 | Andi Herrick | Smiley Paces | 1:18.42 |
| 4 | Dawn Short | Steel City Striders | 1:20.57 |
| 5 | Helen Pennington | Smiley Paces | 1:25.83 |
| 6 | Keeleigh Scriven | Sheffield RC | 1:35.45 |
| 7 | Melanie Edwards | Kimberworth | 1:38.29 |
| 8 | Carolina Scarton | Sheffield RC | 1:41.15 |
| | | | |
| --- | --- | --- | --- |
| | Race 19 400M | | |
| Pos | Name | Club | Time |
| 1 | Kate Scott | Steel City Striders | 1:12.43 |
| 2 | Sarah Millns | Kimberworth | 1:17.57 |
| 3 | Rachel Barnes | Smiley Paces | 1:19.31 |
| 4 | Rachel Biggin | Totley | 1:21.90 |
| 5 | Fleur Roberts | Smiley Paces | 1:22.64 |
| 6 | Claire Chapman | Kimberworth | 1:24.30 |
| 7 | Helen Young | Totley | 1:33.35 |
| | | | |
| --- | --- | --- | --- |
| | Race 20 400M | | |
| Pos | Name | Club | Time |
| 1 | Gemma Gladwin | Totley | 1.18.45 |
| 2 | Liz Burley | Kimberworth | 1:20.76 |
| 3 | Natalie Lowe | Kimberworth | 1:22.48 |
| 4 | Alexa Dale | Sheffield RC | 1:25.71 |
| 5 | Amy Clements | Kimberworth | 1:27.38 |
| | | | |
| --- | --- | --- | --- |
| | Race 21 400M | | |
| Pos | Name | Club | Time |
| 1 | Natalie Shield | Kimberworth | 1:14.14 |
| 2 | Gillian Allen | Steel City Striders | 1:14.52 |
| 3 | Heather Wallis | Steel City Striders | 1:15.59 |
| 4 | Mel O'Connor | Handsworth Roadhogs | 1:21.16 |
| 5 | Vicki Beckitt | Kimberworth | 1:25.40 |
| | | | |
| --- | --- | --- | --- |
| | Race 22 400M | | |
| Pos | Name | Club | Time |
| 1 | Frances Roberts | Steel City Striders | 1:05.51 |
| 2 | Heather Hatton | Steel City Striders | 1:10.49 |
| 3 | Jane Gardiner | Smiley Paces | 1:10.89 |
| 4 | Caz Kay | Totley | 1:13.43 |
| 5 | Amy Earnshaw | Steel City Striders | 1:15.63 |
| 6 | Helen Burgess | Steel City Striders | 1:17.97 |
| 7 | Lucy Broom | Steel City Striders | 1:18.96 |
| | | | |
| --- | --- | --- | --- |
| | Race 23 4x100M A Race | | |
| Pos | Name | Club | Time |
| 1 | Steel City Striders | | 1.01 |
| 2 | Smiley Paces | | 1.04 |
| 3 | Totley | | 1.04 |
| 4 | Kimberworth | | 1.08 |
| | | | |
| --- | --- | --- | --- |
| | Race 24 4x100M B race | | |
| Pos | Name | Club | Time |
| 1 | Smiley Paces B | | 1.10 |
| 2 | Kimberworth B | | 1.13 |
| 3 | Kimberworth C | | 1:14 |
| 4 | Sheffield RC/ Handsworth RH | | 1:14 |
| 5 | Totley B | | 1:18 |
| 6 | Smiley Paces C | | 1:19 |
| | | | |
| --- | --- | --- | --- |
| | Race 25 4x400M | | |
| Pos | Name | Club | Time |
| 1 | Totley | | 5:07 |
| 2 | Steel City Striders | | 5:11 |
| 3 | Smiley Paces | | 5:31 |
| 4 | Smiley Paces B | | 5:38 |
| 5 | Kimberworth | | 5:51 |
| 6 | Smiley Paces C | | 6:04 |
| 7 | Totley B | | 6:26 |
| 8 | Kimberworth B | | 6:44 |