Report by Stephen Schubeler
Race Date: 7th July 2019
Hosted by North Derbyshire Running Club, this hilly 10 mile run in the Derbyshire district of Chesterfield was to start on a nice Sunny day from Holmebrook Valley Park.
Race number collected nice and easy, with baggage store available too. Then a quick warm up and spy of the Derbyshire Runner stall to see what discounted gear was available then it was follow the rest of the runners to the start. Quick word or two with some Striders then it was ready for the off!
A good few hundred metre 'flat' start before the hills started! First timer at this event, original plans changed so I was able to take in this run and eventually get my hands on a bottle of commemorative Brampton Brewery ale. Bottle of beer to finish is always worthy of a race sign up.
So back to the climbs! This is pretty much a longer version of the Holymoorside 10k, and shorter than the Sheffield half, all with great views. The tough runs do reward you with great scenery though.
About 4.5 mile up, and up, slightly undulating at the top then the downhill, winding down country lanes, with a few midges to boot!
Plenty marshals on course, all chipper, with three water stations I believe, with a canny leg zapping last mile or so on a very slight gradient back to Holmebrook Valley Park that seemed to go on forever!
Seeing the 9 mile signpost wasn't great either, especially when you think it must only be another 600-800metres to go!
But all in all a nicely ran event, great marshals, local, beer for finishing and a technical race shirt.
Seen a few striders, spoke to a couple at the end but well done all on that course on a Sunny hot day indeed!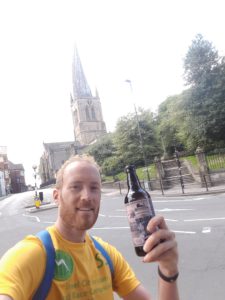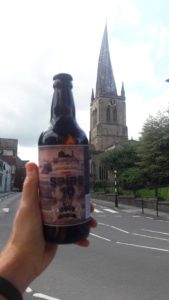 Race results:
The race was won by Tom Shaw in a time of 1:00:29, followed by myself in 2nd place, in a time of 1:01:10, with 3rd occupied by Sam Broomhead (brother of James Broomhead, fellow Strider I soon learned) in a time of 1:02:32.
First lady home was Jessica Penney in a time of 1:14:32, followed by Lyndsey Blunkett in 1:16:16 and Strider Sarah Allcard completing the top 3 in a time of 1:16:48 (also first Vet 40 Lady). Striders took all 3 top places in the Vet 40 ladies as Julie Bembridge and Jacqui Herring took 2nd and 3rd places respectively.
168 runners took part, with from what I can see on the results 9 striders took part.
Link to full results here.
| | | | | |
| --- | --- | --- | --- | --- |
| Pos | Name | Cat | Cat Pos | Time |
| 2 | Stephen Schubeler | SM | 2 | 1:01:10.5 |
| 10 | James Broomhead | SM | 8 | 1:10:33.2 |
| 30 | Sarah Allcard | VW40 | 1 | 1:16:48.7 |
| 36 | Julie Bembridge | VW40 | 2 | 1:17:27.9 |
| 39 | Jacqui Herring | VW40 | 3 | 1:19:15.5 |
| 48 | Rob Adams | VM40 | 16 | 1:21:23.4 |
| 82 | Lindsay Crowson | VW40 | 8 | 1:28:17.7 |
| 101 | Sarah Storey | VW40 | 13 | 1:32:40.2 |
| 143 | Matthew Winslow | VM40 | 35 | 1:44:18.8 |