Race date: Sunday, 8 December 2019
Race report by Cara Hanson
The Sprout Scuttle is based at the Horse racing centre at Rossington, and this was its third year. There are two distances for this race, a 10k and a 5k.
I tried to book on the 10k but it had sold out, so I opted to do the 5k. Given that it was 6 days before my Marathon I thought it would be the more sensible option anyway. I'd also done the 5k last year, but this year I thought I'd get into the Christmas spirit and wear Fancy dress, and opted for my 'Elsa' dress.
We arrived to loads of Mud and bitter cold winds! Registration was quick and easy! There were plenty of people in fancy dress, including some fellow Striders, shout out to the Veg!  My kids were here to watch and was excited that 'Elsa' was running  a race. The 5k started 10 minutes before the 10k, presumably to avoid route confusion. After a quick jog with the kids I warned up enough to take my coat off and was ready to go. After doing well last year, I thought I would go for it again this year and started right at the front although looking totally out of place.
We set off down the race track straight onto a muddy track, to my surprise there were only 5 people in front of me and no one had over took me. The track got muddier and at one point my trainer got stuck, then came the huge puddle…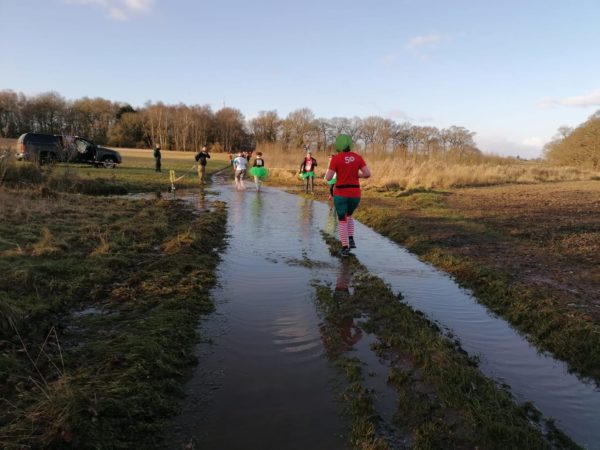 The best option was to run straight through it, though it was pretty deep and freezing. I glanced behind me, there was no one there. 'Where is everyone?' I thought. I entered the woods which gave a welcome relief from the wind, the guys in front were out of sight, so I was on my own. We had another field to run round before going back on the race track for 3/4 of a lap, despite being flat it was hard to run on as the grass was lumpy and ankle twisting. My wet dress was wet and rubbing on my legs as well as proving to be not very aerodynamic in the wind. On to the home straight the head wind was horrendous and it felt like I was running on the spot, I eventually reached the finish line and could hear my kids shouting "Mummy you're the first Lady". Sure enough I was first lady and 6th overall, obviously the fast runners were doing the 10k. I'd definitely recommend this race to get you in the Christmas spirit, it's well organised, a brilliant course and the prizes were very generous. I did find it pretty lonely up front so next year I'll be back running the 10k with friends. Well done to Tracey Davies who was 2nd lady for the 10k.
The race was won by Cortez Reilly, in 20:02.5. First woman was, of course, Cara Hanson!
Striders results
| | | | |
| --- | --- | --- | --- |
| P | Name | Cat | Time |
| 6 | Cara Hanson | F35-39 | 25:57.4 |
| 77 | Sara Copp | F40-44 | 38:46.7 |
| 86 | Julie Armnstrong | F50-54 | 39:36.3 |
Full results: https://img1.wsimg.com/blobby/go/3927637f-aff6-4b5d-afd9-9224b2c07510/downloads/5k%20Results%20Export%20web.pdf?ver=1576676099789