Report by Stuart Jones
Race Date: 8th Septmeber 2019
stratford's big 10k
(You might think that, in the birthplace of the nation's greatest ever playwright, we would see correct grammar, but not on the 'big' medal)
You'll be expecting a slew of Shakespeare quotes, no doubt, but I shall give only two.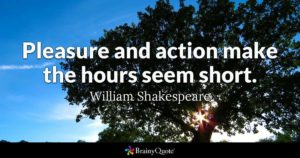 I do get asked why I race so much, and run so often, and whether I shouldn't rest occasionally, but the days and evenings would be too long if I did not fill them, and running and racing seems a good way to do it.
My middle lad, Oli, moved to near Stratford recently and he suggested we run this; it got me to visit as a bonus. It is a good-sized event, with just short of fifteen hundred finishers this year. Mid-priced, but low on memorabilia with just a big medal and a banana once across the finish line across the river from the RSC, but I would say worth the cost. It was short-shorts weather day.
The route is lovely – the second I've done this year that passes a Waitrose on its way out into the countryside. After some mild undulation (44 metres elevation gain only) on closed roads we moved onto The Stratford Greenway, a classic reclaimed railway line. The surface here was that slightly unstable fine grit which did slow me a little, but it gave a perfectly flat 4 kilometres, passing the racecourse, crossing the river twice and past a bike hire centre housed in a train of old railway carriages. (I passed a stray timing chip here – the loop-through-the-laces sort – someone was going to be unhappy later.)
With about 1.5 km to go we were back in Stratford upon Avon, entering the old town. There are some fine houses here, and the owners had left the impressive gates open, perhaps to flaunt their wealth and taste. We swung round the famous Holy Trinity Church and a couple of theatres (they have a few in Stratford) before slipping through Bancroft Gardens, with its Bard's character statues and S-bend footbridge, over the old Tramway Bridge and into the Recreation Ground (home of the totally flat Stratford-upon-Avon parkrun).
When in a race by myself I cannot stop from racing, pushing as hard as I think I can. That, I think, is the crucial part to the mental commitment that is needed to improve race times – Henry Ford's, 'whether you think you can, or think you cannot, etc.' is right, and Shakey put it thus: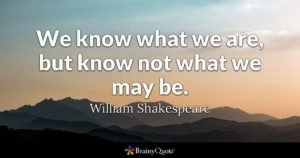 I knew, because Power of Ten told me, that I had a 43:14 pb from 2018's Doncaster 10k. I knew also that Plantar Fasciitus was not actually slowing me down, just making my feet sore. I knew I had an unusually forward starting position because I came from the first pen (for 30:00 to 45:00) and because I could see the vast majority of the field stretching down the road behind me as we waited to set off. I did not know how fast I could go or if a new pb was possible but I knew I was going to try.
The results came online very quickly – and I took a fine margin off my previous best, and now have a 43:06 pb for 10k.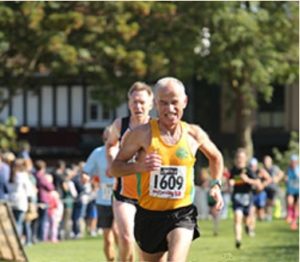 Oli, who runs for Northbrook AC of Coventry, beat me by about a minute a mile, and was in the first 40 finishers, but the initial official results said he was over 30 minutes behind me. They have his race and chip number wrong; he is appealing and will use the official photos to support his claim for a three-minute improvement over the distance.
Anyway, all's well that ends well, hopefully.
| | | |
| --- | --- | --- |
| First male: | Raymond Edgar (Lancaster and Morecambe AC) | 31:44 |
| First female: | Jane Evans (Knowle & Dorridge) (1 / 736) | 36:40 |
| First and only Steel City Strider: | Stuart Jones (164 / 1493) | 43:06 |
| Average time of the 1,493 finishers: | | 57:55 |
1,493 finishers (weirdly this has gone up by 5 since the initial results were published).