Report by Stuart Jones (aka Delia Smith)
Race Date: 2nd February 2019
If you learnt to run in the 1960s, as I did, you will remember those precursors of our modern tracks which were made from cinders.
Track hasn't seen anything like this since Kevin Keegan got badly burned on Superstars, from falling off his bike. 13 million watched that episode. This modern twist is sure to get the family calling out for seconds.
Now, after more than 30 years of oblivion, track is about to come crashing through the collective awareness and make a comeback.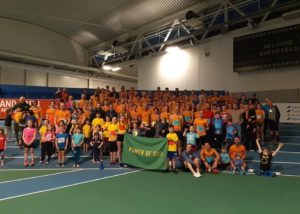 This recipe is taken from Andrew Davies' Illustrated Cookery Course.     Serves 40-400
BRITISH, ONE-CLUB RECIPES, ATHLETICS, FAMILY FUN DAY, COMPETITION, SPECIAL OCCASIONS, WINTER WARMERS
METHOD
Bring 1¼ tablespoons of the Club runners to the track on a Saturday afternoon. Divide them carefully into ten pieces, making sure to include a boaster and a statesman-like Captain figure in each.
Using the PA and cool-headed compere, transfer the runners to the side of the track as they reach the finish. Next add the second race and run until breathing hard, too.
While sweating the adults, get the baby Striders 'jumping' into the sandpit. (Children in the family will likely have more fun with the rake than by the 'jumping'!)
Now return the adults to the straight or track loop and sprinkle in the better known faces, stirring round to soak up all the atmosphere. This is the point at which we add guests (or Ringers as they are also known) to improve chances in 800m and relay races.
Gradually pour in the atmosphere and attitude, along with the other spices (tension and expectation), and wait until a false start, a dramatic 'trip' or a VAR controversy brings things to the boil. Stir all the time.
After about two hours of gentle bating, prepare everything for the special dish: The Eliminator. The secret of this dish is to alternate between gentle rolling on the back straight and using offal such as knuckles and elbows by the finish line. Do not be surprised to see runners electing to stop (modesty and British reserve) or refusing to stop (disbelief and unawareness of position).
A perfect accompaniment for this dish is a Spicy Relay Selection, though it might be best if served after the main course. Again, organise groups of runner beans, each with a carrot or other baton. (A vuvuzela works well, strangely enough.) Whirl them round and round the track, until all done and lightly dusted.
What you will have created will be a real Showstopper, and is sure to bring many compliments and requests for the recipe. It will probably work just as well as a Summer Special (July 14th), and this recipe can be expanded to feed all the Striders Family.
INGREDIENTS
2 lb (900 g) bruising encounters
10 x 130 g packs Club members, brought together and then split into Sheffield postcode segments
4 oz (110 g) dark-glares (optional – if tripped, pushed, blocked etc.)
Compliments, to taste
3 tablespoons anti-chafe cream ('Glide' can be used by the experienced cook)
1 medium of communication
1 heaped tablespoon of tension and expectation
15 fl oz (425 ml) red isotonic drink (burgundy will do as a good replacement if Lucozade is not available)
20 plus baby Striders, assorted
2 thyme keepers
1 bailiff
12 oz (350 g) horn (gas or lung will both do well)
ADDITIONAL
Prepare the track and pit by clearing and raking.
EQUIPMENT
You will also need a large indoor running track, with banked seating, PA, crash mats for bouncing on, timing kit, organisers, cakes, squad numbers (colour coded).
Overall Results
| | |
| --- | --- |
| Team | Points |
| S6 | 66 |
| S10 | 51 |
| S7 | 34 |
| S8 | 22 |
| S35 | 18 |
| Spine | 13 |
| S17 | 8 |
| S11 | 7 |
| SEast | 5 |
| S18 | 3 |
For more detailed information (calorific content, allergens, results, Club records) see the Club Facebook pages.