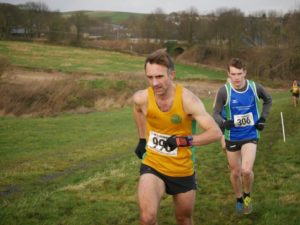 Race date: Sunday, 8 December 2019
Report by Stuart Jones
League Winners 2020
The thing that caused the publicity and furore (good word, that) at the Brass Band of The Year Finals in 'Brassed Off' was the Grimley Colliery Band refusing the trophy. (https://www.youtube.com/watch?v=zo8hIc7DpuE)
John Lennon returned his MBE, politely and respectfully, to Her Majesty the Queen, in protest at the 'Nigeria-Biafra thing'. (https://www.youtube.com/watch?v=wADRRYNHhOA)
So why did the massively successful 2019 Steel City Striders Cross Country team fail to collect their hard-earned trophy after the final stage of the South Yorkshire County Amateur Athletics season at Penistone? Simply because it was so cold, so windy and so wet and muddy (and because they run the last event backwards with the kids' races later on) that we had gone home before the end.
We have enjoyed the local season immensely – it has been unusual in its offering this year of 'nostalgic' ground conditions of every kind of mud and clag, yet the friendliness of the events make them great fun to attend and participate in.
This Sunday adventure was no different, but as always its success relied on unsung heroes: Gillian brought the numbers again, Richard had completed the registrations, Andy had power-hosed the tent and supplied new fittings, fast lasses and lads brought home the points scoring, lots of people chipped in with cake and coffee, volunteers erected and collapsed the tent, lame jokes and bonhomie were shared at all events, lifts offered and taken, and this time 14 women and 23 men ran for the Club and themselves.
In the men's league the first six runners from each Club score points, and in the women's league the first four runners to cross the finish line score. With such a good turn-out, this means that runners towards the back of the field or having a bad race don't have to worry about how their performance might affect the Club's rankings. When racing, you can theoretically think less about your time and more about getting the best finishing position you can.
For the senior men it was eight times up to the top of the ridge and over, eight times into the north wind. Eight times back to the Showground field and on seven of those it was knowing that there was more hill, more wind and more cold and wet to deal with. At one point there was sharp, fine hail that even the hardy Marshals of Penistone did not like.
Underfoot, the ground was so 'soft' that Parkrun was cancelled the following Saturday, the Showground not having recovered from the churning and charging encounter with 500 pairs of runners feet.
There were novices amongst the Striders, running alongside what you might call 'seasoned' runners, and each a fresh convert to the discipline; we think we will hate it, we oftentimes do while running, and then we head off to get cross country spikes and sign up for Lightwater Valley or Wollaton Park (or both) as we did actually really enjoy it.
It's given me great pleasure, and I expect it always will do. (My brother will appreciate that line, nudge, nudge; wink, wink; say no more.)
Senior and veteran women (6.70km):
| | | | |
| --- | --- | --- | --- |
| 1 | 25:45 | Rachel Lundgren | Hallamshire Harriers |
| 8 | 27:41 | Caroline Brock | Steel City Striders |
| 21 | 30:00 | Helen Burgess | Steel City Striders |
| 23 | 30:34 | Claire Grisdale | Steel City Striders |
| 26 | 31:00 | Sarah Koriba | Steel City Striders |
| 36 | 32:12 | Nicola Galley | Steel City Striders |
| 39 | 32:32 | Caitlin Robertson | Steel City Striders |
| 40 | 32:48 | Isabelle Carter | Steel City Striders |
| 45 | 33:26 | Kate Scott | Steel City Striders |
| 46 | 34:10 | Charlotte Civico | Steel City Striders |
| 47 | 34:11 | Gillian Burgon | Steel City Striders |
| 60 | 36:37 | Julie Meredith | Steel City Striders |
| 73 | 38:13 | Dawn Short | Steel City Striders |
| 82 | 41:34 | Louise Cousins | Steel City Striders |
| 83 | 42:00 | Sarah Bird | Steel City Striders |
| 105 | 57:30 | Deb Knowles | Valley Hill Runners |
Senior and veteran men U-65 (9.90km):
| | | | |
| --- | --- | --- | --- |
| 1 | 34:55 | Lee Milburn | Rotherham Harriers & AC |
| 5 | 36:19 | Joe Sweetnam-Powell | Steel City Striders |
| 17 | 38:59 | Ben Jones | Steel City Striders |
| 19 | 39:24 | Sam Brown | Steel City Striders |
| 34 | 41:41 | Louis Wood | Steel City Striders |
| 40 | 42:29 | Joseph Mallinshaw | Steel City Striders |
| 42 | 42:44 | James Fulcher | Steel City Striders |
| 46 | 43:10 | Richard Carter | Steel City Striders |
| 48 | 43:32 | Malcolm Baggaley | Steel City Striders |
| 49 | 43:35 | Rob Betts | Steel City Striders |
| 58 | 44:49 | Chris Guy | Steel City Striders |
| 61 | 45:13 | Alex Shepherd | Steel City Striders |
| 63 | 45:25 | Chris Lawson | Steel City Striders |
| 75 | 46:45 | Ian Stinson | Steel City Striders |
| 76 | 46:45 | Tim Holt | Steel City Striders |
| 77 | 47:01 | Andy Buck | Steel City Striders |
| 93 | 48:48 | Terry Byrne | Steel City Striders |
| 96 | 49:17 | Adam McAuley | Steel City Striders |
| 101 | 49:57 | Seth Kirby | Steel City Striders |
| 105 | 51:09 | Stuart Jones | Steel City Striders |
| 110 | 51:41 | Michael Wu | Steel City Striders |
| 112 | 52:03 | Peter Brown | Steel City Striders |
| 129 | 58:07 | Anthony Bell | Steel City Striders |
| 136 | 61:40 | Phil Harris | Valley Hill Runners |
DNF (but does not show on the results pages): Andrew Woffindin
And someone left these nice gloves in the tent: