Race Date: Sunday 14th January 2019
Race Report Couplet by: Stuart Jones
A 'Rhyming Couplet' Race Report,
(Not something so easily taught).
If it does not rhyme, use a TLA.
The TNT chooses the second way.
Just four Striders to east Leeds went,
No gazebo nor any tent.
Temple Newsam was the venue,
For a race that is still quite new.
'It's like the Trunce', said Tillie Clarke,
But in the grounds of a big park.
No river crossing, bridge or stiles,
And this race is a full ten miles.
The start is relaxed, all in a huddle,
The wind and the cold caused some to cuddle.
Then off; chasing one thousand others,
We merry few, we band of brothers.
Windy it was, but very dry,
Allowing the fleet of foot to fly.
When the camera called, Rob Davies stood
Out from the crowd, as only he would.
Recognised in running community,
He likes a photo opportunity.
Under the M1 and round the tip,
Snot and sweat running from upper lip.
He pushed me and I pressed him,
A workout better than any gym.
A three-loop circuit with fifteen climbs,
Leading to running to impressive times.
'Big Up' to Zoe, with such a PB,
Twenty mins faster than previous she.
Rob raced a sprint finish but turned just before
The timing mat stretched over the floor.
He just made a point to an impudent cur:
You don't easily win just 'cos of his grey hair.
Would be so different on a day with mud,
Would be much harder, but still just as good.
Winner – Philip Boynton (1:01:06) of Horsforth Harriers,
Goody Bags came in biodegradable carriers.
First Female – of Hyde Park, one Amy Young, 1:10:18
Parking was free, so no-one got stung.
Rob Davies, first Strider (1:18:36) and 18th M50
He may not be fast, but he is quite nifty.
Just behind Rob, our next Strider,
'Poet', Stuart Jones (1:18:46), doggerel provider.
Dean Harding, the dark horse, (not in the vest?)
Should be happy with that (1:33:08), and puff out his chest.
Eight Zoe's ran, Dickinson third.
She got a PB (1:35.36) – perhaps you heard?
More Striders should go, and here's a good reason:
Great trail running, in the Cross Country season.
Full results here, if you want to look: https://racebest.com/results/7uwsu
Opens in May for next year to book.
| | | | |
| --- | --- | --- | --- |
| Pos | Name | Category | Time |
| 145 | Rob Davies | M50 | 01:18:36 |
| 149 | Stuart Jones | M55 | 01:18:46 |
| 375 | Dean Harding | MSEN | 01:33:08 |
| 427 | Zoe Dickinson | F45 | 01:35:36 |
We overtook all this lot, on the next downhill.
Using good shape and form – you know the drill.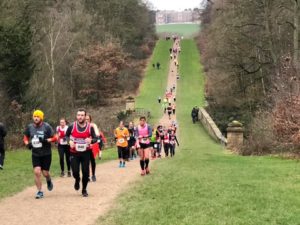 It's not uphill – it's an illusion.
Zoe disagrees with that conclusion