Race date: Saturday, 7 September 2019; race distance: 100km (62.14mile)
Race report by Russell Stevenson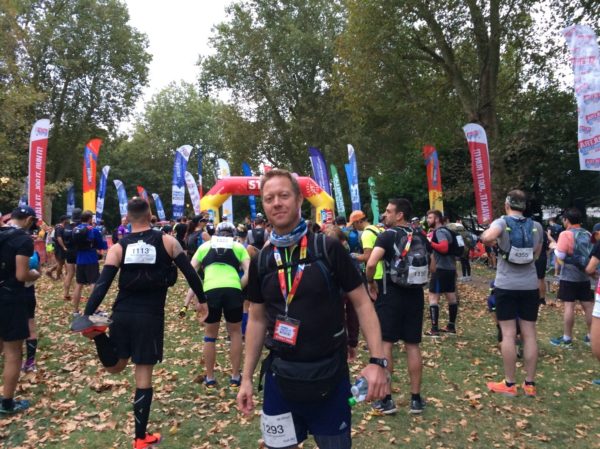 You are about to read a long race report, but it was a long race so what else would you expect?
The thought process was like this. Sunday 14th April 2019 and I've achieved a half marathon PB in my home city of Sheffield, now what shall I do next? Entering the same events year after year isn't capturing my imagination. With 40 years of running enjoyment behind me, I need something different. Now built for comfort and no longer for speed, what could I do to find the next level of self-fulfilment, something to mark 40 years of effort and enjoyment from the pure simplicity that is running.
Attention turned to making my mark, setting a record or maybe achieving a high place race finish? How could I take my past experiences forward? My Dad has always been a source of inspiration to me. A runner in his time of capability, determination and true grit. Not so technical or theory driven but a man of quiet confidence and sheer physical effort. I haven't got near Dad's achievements in terms of comparable race times. A current Steel City Striders club record holder, could I join Roger Stevenson in this fold? No, probably not.
Hang on what's this? Steel City Striders men's vet45 100km club record achieved 32 years ago in 1987, 10 hours 36 minutes by Preston Grundy (he's Scottish apparently). That's an average pace of over 10 minute miles; I can run quicker than that! I'll address this minor oversight as you read on.
"Can't you just run a marathon?"
"100km, no chance!"
"100km, are you sure it's that far?"
"Err, right, OK!" + puzzled expression.
Or just a completely blank expression, no words, nothing! I personally found this reaction to be the most irritating. So, I thought "I'll bloody show you lot!"
The right event was key in terms of running 100km. Research found an opportunity to run a flat 100km in a scenic part of the country and an event that would enable me to do some fundraising for charity, the British Heart Foundation being of very close personal relevance to me. The Thames Path Challenge, organised by Action Challenge Events, appeared to tick all the boxes and in the end it did. Action Challenge deserve credit where credit is due for organising a top event, I can find no fault. Logistics, support, catering, information availability, all the staff, no stone unturned.
A 6.50am start from Putney Bridge, SW London. Lots of runners (and walkers), looking apprehensive, excited, hugging friends and family, taking photographs. Cue obligatory pre-race warm up that you partake in for the first 27 seconds, conducted by a long since expired Britain's Got Talent duo, I could not tell you who. Everyone here for their own personal reasons, you don't enter an event like this without wanting to prove something to yourself.
Off we go, the first batch of runners released in a series of staggered starts, periodically a total of 3000 runners and walkers set off from Bishops Park and over Putney Bridge onto the opposite side of the River Thames, my head telling me to take my time and settle in, find my rhythm and pace.
I've learned over several years to prepare well for races but you're always learning. I was carrying a lot of gear, some was very necessary, some not. The 100km distance was divided into stages that provided 7 rest stops along the route. Each rest stop provided ample snacks and drinks, medical attention if required and a chance to rendezvous with relatives and friends for support. Throughout the event my parents followed me to the rest stops they could access. When I started to become tired and needy as the kilometres passed by their support really helped.
The scenery was impressive along the route and helped pass the time and negated the ability of the mind to cast doubt. See those bankside apartments on show as we ran West out of London along the Thames in the early race stages, for those with obscene amounts of money and a love of London city life, I'm sure they're very nice. Myself and a guy from Middlesbrough utilised our Northern humour between us as at 7.10am a lady on the other side of the Thames belted out orders through her megaphone to passing rowers, no consideration whatsoever for the sleepy residents of the expensive riverside apartments. Perhaps the locals consider this a bonus after spending ample amounts of cash on purchasing or renting such property in the big smoke? Their choice.
I used the rest stops at 14km and 28km to take on fluids and food. Despite the £14 Hilly anti-blister socks a miniscule blister was in its beginning. An untreated blister could affect my ability to complete the event, stop and treat with a Compeed. Taking over 100000 steps and strides over the distance and having 2 surfaces rubbing together, no blister sock is going to entirely protect your feet.
I did follow some other simple rules during the race taken from an Ultra runner I read about –
Drink before you get thirsty.
Eat before you get hungry
Stop and walk before you get tired.
Shit before you shit your pants.
As the race went on, you passed someone; they then passed you, chatted briefly and then went your separate ways and so on. Each had their own tale to tell. The compulsory question of the day was "have you done anything like this before?" Surprisingly the majority answer was "no". I particularly liked the reasoning from one runner as we discussed the validity of entering marathons; he said "I wanted to enter something that I may not finish, that's the challenge for me today".
I would emphasise to anyone considering this distance to keep your food and drink intake very simple in the 24 hours preceding the start of the event and throughout the event itself. Anything you give a remote chance thought of not agreeing with you should not be consumed. Frustratingly I made errors in this area and suffered for it during the first 50km, not only was this uncomfortable but it cost me too much time in stop offs. I reached the halfway point around 1.30pm at Runnymede Pleasure Ground, this being 60 minutes later than I envisaged.
The first 50km was ok for me physically and he legs were fine. I reached the rest stop, had some food and a breather and felt in good spirits, onwards Russ. The negative "voices in my head telling me to stop" were not there, instead I knew that ahead of me I would be counting down the kilometre markers. I pictured in my mind seeing 80km and this being a major milestone, I would then mentally celebrate each Km thereafter, up to 99km and revelling in the final 1km, that was my mental picture.
The weather on the day was near perfect with occasional bursts of sun but mostly overcast and a nice breeze, a massive plus. Had the weather been different then this aspect would have been very significant in terms of preparation and through the event itself.
More impressive housing on show beside The Thames captured the imagination as did the river boats on view. People were supportive, inquisitive and encouraging along the route even offering food and drink. Even the gang of local hoodies and youths in a field just outside Windsor (63km) voiced their support very nicely as I passed by on my own, an example of the North / South divide I convinced myself whilst smiling.
Experience from running fell races tells me that if instinct says you've taken a wrong turn, you probably have. Stop and ponder your next move or else this shall cost you time and energy. The route was very well marked with pink directional arrows and warning signs at road crossings. Parts of the race were away from the urban sprawl, particularly in the final third. There was a not one marshal en route directing runners and because of the precise marking out of the course it wasn't necessary. You would think the default would be "just follow the river" but this was not always possible in built up areas. I would not have fancied inadvertently entering the Thames either when it fell dark. As dark set in, the route was meticulously marked with those Poundland type green glow sticks, simple but effective. I took 2 minor wrong turns throughout the 100km, both quickly rectified. An elderly couple in Maidenhead pointed out they had seen other runners taking a different direction down a narrow path I had missed, thank you!
Between 60 – 75km I found a rhythm, I was going at a decent pace and maintaining it, this gave me confidence bearing in mind that I had already completed the equivalent of well over a marathon and still had almost a marathon ahead of me.
Rest stop 78km, Cookham near Maidenhead. I had run out of blister plasters and my feet looked like a sheet of bubble wrap, I needed to do something about this. Thanks to the nice medic who paid great attention to strapping up my feet. I had changed my socks 4 times up to this point having listened to advice but the distance was starting to take its toll. Taking advantage of the extended stop, I consumed some food to fuel me for the final push. In theory this was the correct thing to do, in reality my body disagreed and I felt queasy for the next 10-12 km. Having learned from this, motto is just to keep it simple, consume the fluids and carbs but without the saucy extras. Avoid the pizza, Russ! Just have the skin-on-fries with poppy seed roll (Southern version) or the chip butty (Sheffield version). This seems obvious I know but when you are tired and hungry your mind tells you otherwise and when faced with "free" food; this Yorkshire lad takes some stopping. Focus next time Russ.
I doubt I shall do energy gels and energy drinks again. I now don't like either. Both products are now in the comparable bracket to drinking strong cider in the park as a teenager and feeling sick. Whether they are effective or not, who cares. Do energy gels provide you with a sufficient energy source? Not sure as the packet suggests you need one every 20 minutes. I carried a box of powder rehydration sachets in my backpack, comparing the labels between a certain heavily marketed sports drink and an Asda rehydration sachet mixed with water and the ingredients are about the same. The sachets cost less and taste better. As ever personal choice wins.
The landmarks kept coming into sight and passing. Runnymede, Hampton Court, Windsor Castle all very nice but the locals must put up with a low flying jumbo jet from Heathrow passing over their back garden or boat at one every minute.
The end was in sight at 87km and the final rest stop, the on-set of darkness at 8pm was going to be a test mentally. I initially predicted that I would finish in around 12 hours, now with 13km still to go I knew I would be finishing wide of that mark. I was carrying a head torch and a hand held torch but neither was up to the job of running in the darkness through fields and alongside the riverbank. In my over confidence of finishing quicker, I was under prepared at this point. A token £3.99 head torch from Decathlon was a mistake as it was crap.
Alas ahead in the distance was someone with a head torch that illuminated the night sky like Bramall Lane on a Tuesday night. I caught him up and stayed in close proximity to use his light, eventually running alongside. This was Justin from Bury St. Edmunds, Suffolk. From here on we supported each other to the finish. We spotted the 91km marker but then subsequent markers disappeared into the night. As we began to wonder just how long there was to go, the 96km marker appeared.
One of the many appeals of running for me, aside from the simplicity is that it brings like-minded individuals together, each has something in common but you may have never met before. Everyone I encountered through the race encouraged and supported each other, asking how you were; now at this crucial stage of the event and in the dark, we were looking out for each other. You could see flashes of light in the dark open fields from torches, in front and behind you, comforting really. The clear night sky was atmospheric and the half moon and stars were out.
97km marker, now Justin and I were back on a concrete footpath, urban lighting was in sight ahead of us, it could only be the finish at Henley on Thames, Oxfordshire. In the darkness I rolled my ankle over the edge of the footpath. I hobbled for a couple of minutes whilst the ankle came to terms with what had happened and then we were steadily on our way again pushing to the glorious end. Over the bridge at Henley to the opposite side, Mum and Dad waiting at 99km started trotting alongside us. Crossing the 100km finish line was a great feeling. I believed before the event and throughout the day itself that I was going to complete the full distance, 100km! The equivalent Yorkshire distance of running from Ilkley Moor to South Sheffield, or from York to Sheffield (Dad has already knicked that stat though).
I knew it was all in the mind. What about the legs? Well they just do the leg work. Whilst training I ran no further than 46km in one go, running too far in training carries risk of injury leading up to event day thus potentially wasting your efforts. A very good training plan was actually supplied by the event organisers Action Challenge.
My finish time was 15 hours, 17 minutes and 3 seconds; my position was 138th out of 793 finishers. Some people walked the 100km distance.
Could I have done anything different before and during the challenge to complete the distance quicker? Yes, I honestly believe I could and that it would have produced a sub 14 hour finish. There's always next time.
So, to the beginning, utmost respect Preston Grundy, I don't know you but undoubtedly you have metal. One day, just maybe one day, I might depose you from your club record standing.
Thanks to people's support and generosity I have raised so far almost £900 for The British Heart Foundation, you have benefitted a very good cause. If you would like to read more about why I undertook this challenge and my reason for the British Heart Foundation being my chosen charity, then please visit the Just Giving website and enter my full name, or use this link – https://www.justgiving.com/fundraising/russell-stevenson5
Enjoy your running.
Winner: Connor Strynkowski: 08:29:43
1st Lady (7th overall): Susannah Gill: 09:27:49
138th overall: Russell Stevenson: 15:17:03
1026 people started the full 100km challenge
794 (77%) completed the full distance
232 (23%) did not finish or withdrew
| | | | |
| --- | --- | --- | --- |
| 0km | Bishops Park, Fulham | 00:00:00 | 0650 hrs |
| 14km | Old Deer Park, Richmond | 01:36:08 | 0826 hrs |
| 28km | Hurst Park, East Molesley | 03:32:14 | 1022 hrs |
| 37km | Manor Park, Shepperton | 04:37:40 | 1127 hrs |
| 50km | Runnymede Pleasure Ground, Egham | 06:42:46 | 1332 hrs |
| 63km | Eton Wick | 09:05:00 | 1555 hrs |
| 78km | Marsh Meadow, Cookham. | 11:06:04 | 1806 hrs |
| 87km | Hurleyford Farm, Hurley, Berkshire | 13:13:30 | 2003 hrs |
| 100km | Henley-on-Thames, Oxfordshire | 15:17:03 | 2207 hrs |