Race Date: Sunday 8th December 2019
Race Report by: Angela Lester
So here I am writing my very first report for my very first trail run. Being a fair weather runner for the last 4/5years I was and am determined to run through the winter for the very first time, so what better way to do this than to sign up to a run in December. Thanks to Gayle Dooley I found myself signed up and ready to go for the sprout scuttle at Rossington near Doncaster, now what Gayle forgot to say was this was trail running!! This for me was a first as previously I've avoided all puddles and mud during any running I've done so far.
Parking at the event is easy and there's plenty of spaces with clear instructions sent via email beforehand.
The options to pick up your race pack are either on the day from 8am or alternatively the day before. If you arrive early enough you can treat yourself to a cuppa and a bacon sandwich, these are reasonably priced.
On with the run. Taking my place at the start line after chatting with a few fellow Striders who looked great in fancy dress, the run finally began just after 10am. We headed up the race track to the first of many muddy puddles, it was then all about slip sliding your way through the first couple of kilometres, this was definitely like running through the trenches (in my opinion anyway). I'd like to say there's no more mud or puddles but there was! At around the 4k mark and after nearly losing my trainers to the mud on a number of occasions I decided to just embrace it and crack on. It really did help by having a fellow runner playing Christmas songs for all to hear, a few shout outs from a couple of Striders, and words of encouragement from another runner, helped me get up the hill and towards the final furlong along the race track to the finish line where I met my reward "a chocolate muffin and a sprout medal".
All in all a run I sort of enjoyed in the end and one I'd recommend others to try.
The race winner was Mike Sharp of Fitmums in a time of 42:00:00. First lady home was Katie Scutt of Lincsquad in a time of 00:49:54. Full results can be found here and Striders results are given below. Special mention to Tracey Davies, who finished first in her age category and second Lady overall. Well done!
| | | | |
| --- | --- | --- | --- |
| Pos | Name | Category | Time |
| 23 (2) | Tracey Davies | FV45 | 00:50:22 |
| 30 | Alan Dalton | MV45 | 00:52:20 |
| 58 | Clive Downing | MV55 | 00:56:46 |
| 71 (5) | Gill Turton | FV35 | 00:58:33 |
| 88 | Phil Dooley | MV45 | 00:59:19 |
| 134 (14) | Angela Lester | FV45 | 01:04:40 |
| 252 (28) | Caroline Brash | FV45 | 01:13:20 |
| 253 (32) | Rosie Smith | FV35 | 01:13:22 |
| 254 (33) | Julia Waldron | FV45 | 01:13:23 |
| 255 (34) | Gayle Dooley | FV45 | 01:13:24 |
| 257 | Peter Brash | MV50 | 01:13:25 |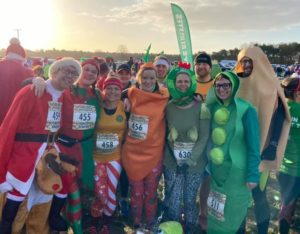 Some of the Strider contingent at the Great Sprout Shuffle 2019