Report by Matt Gibson
Race Date: Sunday 22nd June 2019
The NoMad Ultra Event has options of a 50 mile, 50km or Team Relay Challenge all taking place last Sunday –  22nd June 2019.
The 50k/31 mile event is just a few short miles up from a marathon is perfect for those new to ultras. It is a well organised friendly event on a great scenic, multi terrain circular run following the established NoMad 50 mile route for the first and last sections with a scenic middle route heading through the historic city of Derby along the old Derby canal and River Derwent.
A basic level of navigation skill was required. To help, the route is partially marked and for the majority following the Derby NoMad trail which is way-marked in places. Route written instructions were available and I used these on my previous two times at the NoMad, this time however I was using GPS.  I knew and remembered large chunks of the route but not it all. I also remembered the incentive of a large buffet and a barrel or two of  locally brewed beer waiting at the finish to help soothe away the pain.
Previously in 2016 I had taken  6 hrs 27 mins and the following year in 2017 6 hrs 26 mins. Now the veteran of 19 marathons and ultra marathons in the last 4 years I had decided to race this one and not merely set out to survive it as I had in all my previous ultra marathons.  I was confident of a big improvement on these times, I expected to go under 6 hours and had an ambitious plan to take almost an hour off my previous times and get 5 hrs 30 mins.
Race day arrived and along with my 1 woman support crew we made the short journey down the M1 to Breaston, which is where the race started and finished, arriving in good time.  No need to be there hours in advance as at some of the bigger races, with just 54 registered for the 50k and 10 or so relay runners, 30 minutes is ample.  There was easy access to parking near the start, registration, toilets and changing facilities.
9am soon arrived and after a short briefing we were on our way.  I knew that the first 18 miles until the second checkpoint were virtually flat and on good surfaces, so planned to set off quick and make good progress and then hang on through the lumpy cross country sections to follow.  After 4 miles of fields and trails we joined the Trent and Mersey canal and would follow this for 6 miles.  No need for navigating here, just relax, daydream and watch the world go by.  On a glorious hot sunny morning this section provided some trees to shelter from the sun and the air was a little cooler near the canal.  I was aware I was going faster than intended, my watch was on navigation so couldn't see my pace, so I ran by feel and decided to carry on as I knew these favourable conditions would not continue. We left the canal at Shardlow and 1 mile further on it was the first checkpoint at mile 11.
I was aware that there was only 10 or so people in front of me but didn't know which of these were relay runners and which were doing the 50k, nor did I really care as I have never raced for position at the sharp end, only ever for my own personal time (like the vast majority of us) as I am only ever a middle of the pack runner. Top half of finishers in any race and I'm happy, top third means I've had a really good day.
The first checkpoint was well supplied with the usually goodies and Karen was there too, she informed me that I was about 5th, I confidently informed her that this wouldn't last, I'd set off far too quick and would gradually be overtaken.  After a couple of cups of water and some flapjack I was soon on my way.  The route now headed on the well tarmacked Cycle Route 6 towards Derby.  I again fell into the same rhythm and the miles passed by, plenty of changeable scenery to occupy the mind and plenty of cheery hello's from the many people out on such a lovely day.  Heading into the city the heat began to rise, the sun beating down without a cloud in the sky.  I eased off a bit, didn't worry about it, as it's an uncontrollable factor which I couldn't affect, I could just simply deal with it.  I caught up with and passed one fellow runner who was already struggling with the heat and before I knew it I was heading into checkpoint 2 at The Paddock Pub near Breadsall.  I had already started to struggle and had had a couple of walking breaks, so was ready for a short break to fill up the water, have some food and catch my breath.  Although there was 18 miles gone and 13 to go, in my mind this way the half way point.
Karen was waiting again for me as I had planned on changing shoes at this point as the route headed more cross country and into more hillier terrain (although certainly not hilly by Sheffield standards!).  I had expected the conditions underfoot to be worse due to the recent downpours but I decided to stick with the shoes I had on as the fields in the first 4 miles were relatively dry and firm.  It dawned on me that no-one had overtaken me, so I asked the marshal how many people were in front of me. 2 was the reply!  I nearly spat out my flapjack.  What on earth am I doing in 3rd place especially at mile 18 I thought. This shouldn't be happening.  After a stop of no more than a few minutes I was on my way, there was a hill straight after this checkpoint and Karen walked with me as planned for a few minutes whilst I ate, banana and flapjack being the order of the day.
The thought of being in 3rd place and the fact that no-one else had caught me up at the checkpoint stirred my competitive juices and served as a great boost to me.  I knew the next leg to the last checkpoint was the toughest but I knew what was coming, so was prepared for it and made great progress, running hard when the terrain was good and the clouds came over, easing off when it was tough or the sun was beating down.  I think my legs actually welcomed the change to more rolling terrain from the first virtually flat 18 miles. There were some tough overgrown sections on this leg, loads of brambles, waist high grass and 6 foot nettles at times, but this was no day for tiptoeing through them and pussyfooting around, I had the bit firmly between my teeth and ploughed on regardless.  The miles ticked over and I couldn't help looking behind me from time to time, fully expecting to see people closing in on me rapidly, but to my surprise there was never anyone in sight.
Although I was concentrating on the navigation side, I recognised many parts of the route, so the watch was just a back up.  I find my mind wanders on these long runs it helps pass the time, I have bizarre thoughts at times……
Am I really still in 3rd place at mile 24?
Could I really stay in this position?
Would I actually finish before the presentation? (I was that late in the Sheffield Way Relay I even missed the buffet)
What happens at the presentation? (not sure I've ever seen one, I'm usually still running)
Will there be a podium?
Will you get a small bunch of flowers like I've seen on the telly at the Olympics?
Will they play the national anthem?
Can I remember the words?
Anyway, all this gibberish passed the time and before long I was being welcomed into the third and final checkpoint at the Carpenter's Arms in Dale Abbey by the ringing of a cow bell and more enthusiastic marshals, Karen was there again regaling me with stories of how good the beer garden was. I wasn't impressed! I filled the water bottles again, I was drinking loads. with several Jaffa cakes and banana in hand I was quickly on my way.
Although I knew from here there was one substantial hill to get over, my main thought was that they was definitely more downhill than uphill, once over the last climb it was a couple of miles of gentle decent to the finish, and even a lovely golf course to run through.  Third place was actually becoming a possibility, just 5.25 more miles of pain and it would all be over. I was really beginning to feel the pace now, the moment the terrain went uphill I was walking, but still managing to keep the pace up on the flat and downhill.  There are many, many stiles on the last leg, each one an unwelcomed break to any rhythm I had built up and with each one I stepped off with less spring in the legs and the thud vibrated right through me. I hate stiles!
My thoughts turned to a conversation I remember well that I had with Trevor Burton several years ago on a run on the TPT from Rother Valley not long after I'd joined the Striders, in which he told me that it might take your body several years to get used to being a runner, maybe today was that day, maybe they were very wise words, for once I was racing for position and not for a respectable time, today I actually felt like a runner.
Across the golf course (not so lovely now it's closed and overgrown) through the fields and over the last stile, I knew it was 1/2 mile of flat road to the finish. I'm nearly there, 1 final push and many looks over my shoulder, still expecting to be caught and it would all be over.  It's a long straight road and it seemed to go on forever, but finally I turned in the park and down the finishing straight to be announced as Matt Gibson 3rd place finisher, in 5 hours and 6 minutes, a whopping 80 minutes off my previous times and 24 minutes faster that what I thought was an all too ambitious target.
3rd place…me??? That wasn't supposed to happen. I collapsed on the grass and lay there for a few minutes trying to catch my breath, I shed a few emotional tears being so happy at my achievement, that I had worked so hard for today. This was later replaced with spontaneous laughter at the thought of me actually winning something in a race.
Now the time may not be fantastic to many of you in the club, and plenty of you would have beaten it, but you can only beat who is there on the day. I am immensely proud of my performance, it's something that's unlikely to be repeated but something I'm unlikely to forget.
As they say….'Every dog has his day!'
Probably best not to run with me for a while, I may bore you to tears with this story.
My List of Achievements on the Day:
3rd Place
1st MV40
1st Shire
Beat Ladies course record.
1st to the beer tent.
Longest in the beer tent.
The men's race was won by Ollie Sterne (unattached) in 04 hours 19 minutes and the women's race was won by Sarah Sutton (Sinfin RC) in 05 hours 24 minutes.
Full results can be found here.
| | | | |
| --- | --- | --- | --- |
| P | Name | Cat | Time |
| 3 | Matt Gibson | M | 5:06 |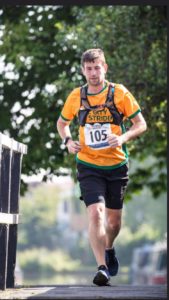 Looking strong…. and determined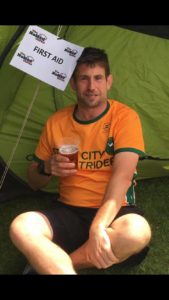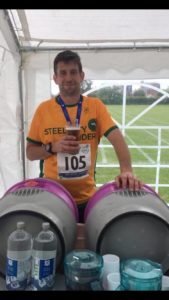 Can't believe it … yes 3rd, a podium finish!