The Trigger (Marsden to Edale) fell race
Race date: Sunday 13 January 2019
The results and three reports on one epic race.
First up, Louis Wood:
This race, along with Holme Moss, is one people warn you not to run. People laugh when you tell them you've signed up and show you photos of runners struggling to cross rivers in spate. They remind you that dozens retire each year suffering early onset hypothermia.
Then it's 5am on race day and in your sleep-robbed state you try to get out of bed and out of the house without waking the rest of the family and walk to the bus full of like minded fools. It takes an hour to get to the start in Marsden and when you get out it's still dark and the wind is whipping and there is a touch of rain in the air.
Then kit check is done, your dry kit is in the back of the van heading to Edale, the organisers yell out for the person who has dropped their compass and gloves and suddenly we're off.
The start is deceptive. It follows a clear track, rises steadily but not steeply and you begin to wonder if perhaps you've overdressed. Off comes the hat, the buff, even the gloves for a while. I run the first mile or so with Simon Bayliss. This is his fifth Trigger – the race he's run most often – and he warns against going off too fast, getting too overconfident. I tell myself to hold back. Then we pass race organiser and fell running legend, Nicky Spinks. Then I pull away from Simon. I'm feeling good.
The road crossing at Wessenden is the first sign of things to come. I'm knocked sideways by the wind and the chill is instant. On go the gloves, the buff, the hat. They don't come off again till Edale.
We'd recced en masse from Crowden to the finish, but the first 9 miles are a mystery to me. Simon assured us it wasn't difficult but with the clag down, heading across the featureless moors is a stuggle. It's a case of finding your bearing and trusting it. Runners are scattered across the moor, but nowhere near as much as they are later. I'm part of a large, shifting group, all broadly heading in the right direction though we have drifted from the optimum line. No matter, as we drop out of the cloud and, with runners spread all across the slopes, it's a case of picking a spot on the infamous Crowden Brook and fording. You get wet, but at least you're not washed away.
I feel fleet again and pull away from the pack into Crowden, only to get confused above the village and let them back. Thankfully Simon is with them and I can follow his signal towards the correct path. Once through the checkpoint the lingering fears are gone; I've recced the remainder of the route, I know where I am going. The terrors are behind me. If only.
When we'd jogged round in December, the skies were clear, mountain hares skittered over the heather in the distance and spotting the route was relatively straightforward. Today the cloud envelopes us and makes route finding by anything but compass impossible. The pop-pop of the rifle range soundtracks the wet and greasy ascent to  of Lawrence Edge. Simon drops off, perhaps hoping for another grope [Ed – see the 2018 Trigger race report] but soon catches me again.
And we're up onto Bleaklow, the part of the course that scares me the most. And with good reason. It is featureless, covered in peak groughs several metres deep and following a bearing is tricky as you are constantly forced left and right by the terrain. Add to it the sight of runners appearing and disappearing constantly and getting disorientated is almost guaranteed. I make it to the fence and the Penninne Way up to the trig point, but from there to Higher Shelf I am running almost blind. I lose my sense of direction and while desperately trying to follow a bearing I latch on to a group of a dozen others and hope someone knows what they are doing. Those 10 minutes seem an age. Before long I have no idea where I was. Suddenly we're careering through the scattered wreckage of a plane. Then we pass a clown, in multicoloured wig and red nose offering me a flapjack from a tub. I am 90% sure he was there, but looking back I was very cold and discombobulated at this point. Perhaps it was a hallucination. If Jasmin Paris gets to see them, why not me?
Turns out I wasn't the only one to lose it at this point. This Strava flyby gives you a sense of the chaotic route choices that ensued in the clag on Bleaklow. And this is remembering that the people who run the race are practiced fell runners, vetted for experience beforehand.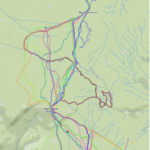 From the trig point you run down to another stream crossing and on to the path to Snake Top. On the recce this was one of the most enjoyable parts. But by now I am freezing and miserable. Thoughts of quitting cross my mind. I stagger to the road crossing and fumble with my jacket zip, desperately trying to show the marshall my race number. Then Andy and Emily appear, the angels of the Snake Pass. They make me drink warm tea, help me put polar mittens on my frozen hands and lift my spirits.
I trot off along the Pennine way, the wind at my back. Ski-masked Spine Race runners – just a few hours into a run that can take a week – come past in the opposite direction. I can see Simon and aim to keep him in sight as he's recced the route to the new checkpoint and I haven't. I pat my pocket for my compass, pat again. Where is it? I must have dropped it when changing gloves. I slow, consider returning to get it. But I'm already 500m down the path. I still have a mini compass on the back of my whistle. I press on, pushing hard to make sure I catch Mr Bayliss.
We descend a deep gully and criss-cross the stream at the bottom in search of runnable ground. It's a real slog at this point. Then we plod below the edge of the Kinder plateau – the last barrier before the finish. It takes an age to reach the crossroads and the next checkpoint. Cramp is starting to twitch in my calves. Only another 5 miles to go, I think. The wind on Kinder is extraordinary. Staying on your feet is a battle. Simon and I drift apart and come back together, as if tied by elastic. Kinder downfall is an upfall. An icy power shower just when you didn't want one.
Eventually we find the turn off to Kinder Low, the final checkpoint before the finish. From there the final two miles should be a joy: it's all pretty runnable, and pretty much all downhill. But by now all you want to do is get to the end. Simon and I are locked in a pairing of mutual dependency now: I fear losing him and missing the final turn off; cramp is stabbing at his legs and he needs help getting up every time he falls.
Eventually we hit the final slope, a thigh shredding near-vertical drop into Edale. Finally Simon abandons me and I can't follow. The last few hundred yards on the road and we're there.
"Never, ever again. That was just horrible," I say once over the line. But 30 minutes later, after a shower and some hot food I'm already thinking how next year I'm going to run a better race. And at least I wasn't 18th, for the first time in a long fell race since Sep 2017.
*
Next up, Ben Clithero, senior men's fell race champion 2018, gives us his memories of the day:
A 5.40am pick up to go and do a race is hardly a good start, 60mph wind gusts and rain pretty much guaranteed.
"Why am I doing this?". I suppose its to push myself over longer distances but this time in a race which – being in January – is pretty much always going to be in poor weather.
Starting from the cricket club at Marsden we proceeded along the edge of the Butterly and Wessenden reservoirs on the Pennine Way. I was running along with Matt having a chat and a laugh while we were all bunched together. A road crossing brought us to Wessenden Head Moor and an ascent of Black Hill to the first check point. The weather doesn't seem too bad at this point. This is where we leave the Pennine Way and navigation can become necessary but with there still being plenty of people about you tend to follow the crowd which sometimes is a dangerous thing to do but worked fine for us here across Sliddens Moss.
A nice bit of descent past a few folk brought me down to the brook, photographer perfectly placed to take photos of us knee deep in freezing water. I had recced from here with Simon and Matt and the track to the Crowden road crossing is runnable so I kicked on a bit from there knowing really that any gap I had made would probably be lost on the ascent up to Lawrence Edge.
I didn't find the climb which we had recced but instead found a steep scramble which was pretty naff. To make my anxiety of being in the wrong place worse I now found that I had about half a dozen people following me. Oh crap. "Just keep pushing forward and look like you know where you are" I thought to myself. I could hear them chatting "I've not been this way before", "No, me neither" said another voice. "Oh no" I thought, "we're all going to get completely lost and it will be my fault!" I then heard someone say that the other way was just too congested and this looked quicker – music to my ears.
Once on top a few bodies were emerging from all angles and it was time to get the compass out and take a bearing across to Bleaklow. From here you can feel a bit isolated and the weather was dismal. People shot off in all directions and you must decide to stick to your guns or follow someone who could easily get lost. The weather by Higher Shelf was very windy and visibility pretty poor. From Higher Shelf back onto the Pennine Way and at the road crossing at Snake Top I was met by Andy and Heather with a much needed cuppa. I told Andy that if he could manage to pour it in those conditions then I would drink it. He reassured me that it would not be a problem and I consumed my milky brew. I noticed that Matt was stood with them and for a second I thought that he must have found a better line than me and overtaken me somewhere. Unfortunately the reality was that he'd turned his ankle and had to pull out at Crowden. I was gutted for him.
More compass shenanigans are necessary at Ashop Moor, especially as the route we were going to take had been declared out of bounds the day before the race. I ended up following the masses here instead of sticking to the plan and I remember the wind battering us as we climbed to the fence corner check point. We were all walking – running was futile.
Up onto Kinder on the Pennine Way where everyone was completely battered by the wind, it was quite something else. I could hear Kinder Downfall before I could see it and I definitely felt it. It was like being jet washed! I grimaced with shock at first, then chuckled to myself and got away as quickly as possible. At some point on my way to the Kinder Low trig I got lost. Paths and trods were becoming unfamiliar to me and I could see from the footprints that very few fell shoes had been this way. The panic and fear set in, thoughts of mountain rescue and terrible outcomes. I got my maps out to find where I was and they just blew away at 60mph. I just stood for a minute and thought I'd have something to eat and just try and compose myself. I had began to cut across to where I thought I should be but after having a chat to myself realised that the thing to do is just to backtrack the way I came. The trod soon became the Pennine Way again and I was off again. Grindslow Knoll was the ending of the route we recced but I missed the trod and was soon descending Jacobs Ladder managing to stay off the rocky path.
Soon I was back in Edale for a shower a beer and a cup of tea.
What an adventure! Tough but brilliant in equal measure.
*
And finally, Mark Doyle (honourary Strider for the day), gave us this wonderfully evocative report:
Bowing my head again into the blasting wind and horizontal rain and mist that lashed over Bleaklow, I realised I hadn't seen anyone for quite some time and the wind was biting a nasty chill through my sodden waterproof. I repeated to myself that I should trust my bearing, and continuing to stumble forwards, I picked an improvised and exhausting line through the never ending moguls of bog and grough. The lack of visibility and lack of company was starting to spook me out. Were they runners half seen in the cloud, way off to the left? But they had already vanished, and as I turned to look ahead again, I ran straight into the wreckage of an airplane, nearly tripping over an old part of engine and grey aluminium fuselage resting on the black peat. I'd seen photographs of this online but didn't know the location, and hadn't passed it on any recces. Where was I?
The Trigger is a linear route, but in my memory it's a jumble of images: broken crowds of people sprawled out across the mist-streaked moors like the manic runners of some zombie apocalypse; gangs of hooded marshals appearing out of nowhere, dressed bright-red beside the weird contortions of wind sculpted boulders; an unexpected field of delicately-leaved mountain cranberry; individual rocks that I'd named from the recces (route note #46 – in poor visibility turn right at Up Yours Rock); suddenly meeting and then immediately losing Simon Bayliss on the moors above Lawrence Edge; golden cloud mixed with greyscale streaks of Kinder Downfall blown high into the air.
Thanks to all the Striders who recce'd and ran for their banter and psyche, to Heather, Elliot and Andy for their invaluable support on the day, to Dark Peak for booking a coach to Marsden at 6am on Sunday morning, to the race organisers, and of course to the Woodhead Mountain Rescue Team. Let's do it again next year!
*
The race was won by Tom Saville (Dark Peak) in an incredible 3:31:50, a full fiften minutes ahead of second place and nearly forty minutes ahead of third place – and first lady – Nicola Jackson (Ribble Valley Harriers) in 4:09:41. Only 6 other runners finished within an hour of Tom, showing what an exceptional effort it was. There were 164 finishers and 18 who started but had retire. Full results on the Trigger website
Striders results:
| | | | |
| --- | --- | --- | --- |
| Pos | Name | Cat | Time |
| 32 | Simon Bayliss | M50 | 05:06:14 |
| 34 | Louis Wood | M40 | 05:07:21 |
| 56 | Mark Doyle | Msen | 05:19:24 |
| 68 | Ben Clithero | M40 | 05:34:55 |
| 70 | Jo Taylor | Fsen | 05:35:19 |
| 122 | Alison Barrett | F40 | 06:05:08 |
| 123 | Helen Davis | FSen | 06:05:08 |
| DNF | Matt Williams | M40 | No time |