Report by Phil Dooley
Race Date: Jan 2019
On a perfect night for running, 4 striders took to the Urban nights race series, this one was the North Stands Race. 15 runners took part.
The aim of the race is to plot your way around the 3 football grounds of Sheffield: Sheff Wednesday, Sheff United and Hallam FC and touch all of the North stands.
The hardest part is to choose what order to do it in.
As Ben Jones shot off into the distance, Phil Dooley, Matt Gibson and Dave Maloney choose to do the Hallam, United and Wednesday in that order.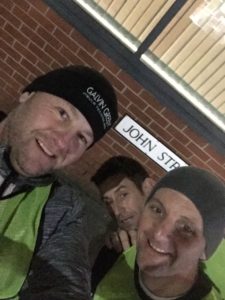 Good navigational skills from Gibbo and Dave got us round the route in 10.1 miles and in a time of 94:50.
By the time we'd finished Ben Jones was already home and having his dinner in front of the telly as he'd finished 3rd in 65:03.
The winner of the race was Pete Davis in a time of 61:12.
The next Urban Nights Race is the Tipsy Strider on Wednesday 13th February where hopefully Phil Dooley will be in his element as he's been training for this race for the last 6 months.
Full results below.