Saturday 12th October, 7:30 pm start
Race report by Stuart Jones
The one where I finish first Strider in a race where there is more than one Strider!
John Liddle might be able to help me with this, because we both grew up in Ellesmere Port – I have a memory of walking through the newly finished and not yet officially opened Kingsway Mersey tunnel (the new one) in 1971 and running down the completed but not yet opened M53 past the Canal Museum in about 1972 or 3. Is it a real memory or a fabrication suggested by photos and stories?
The route of this made-for-single-people-who-literally-have-nothing-better-to-do-on-a-Saturday-night race was mostly on wide, new roads built in preparation for new housing estates on the northern edge of the city of Wakefield. It was quiet to say the least, as the housing estates have not actually been built yet, so it was like running thorough The Waverley with the houses were stripped out. Or, the reason for my first paragraph, running down a pre-opened M53 but in the dark.
The extensive guide book and fluorescent event t-shirt issued to every runner, and the challenge I received from the race organiser in wanting to run in my Striders Run Leader hi-viz / reflective running top, provides the rest of the content for this report.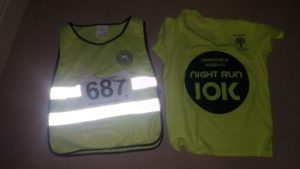 The roads were closed, very efficiently and effectively, but we were told in the guide that it was a UKA requirement that we all wear the 'fluorescent' t-shirt provided. As you can see from the photo it has a great big black circle on the front. In the dark places between street lights we might as well have worn the 2017 Percy Pud t-shirt for all the good the 'fluorescence' did. Keeping left on a largely out and back route kept us separated from the other runners, and the colour of the t-shirt was immaterial. My Club-branded Run Leader's tabard is both fluorescent and hi-viz and I think made me even more noticeable to other runners. (That, and my loud 'encouraging voice'). Was it actually just branding, or does UKA have a different idea on what is best to wear on a night run to we Striders? In my warm up I was stopped by the race organiser and looked over from head to toe (not a great distance, to be sure) and asked if I was wearing the race t-shirt (yes I was – it was under the Striders tabard) and intending to wear 'that'? The photo shows how Ben and I matched up for garishness. My shiny balding head probably equals his impressive auburn beard. And I had the reflective horizontal bands front and back. I was given a begrudging go-ahead.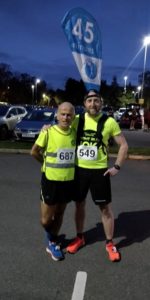 Anyway, with Ben Stittle pacesetting again (just outside Eliud's pace) to 15 seconds under his target time of 45 minutes, and Matt Broadhead running in Ben's Pied Piper collection, I 'romped' home as first Steel City Strider, a full minute ahead of them! Get me!
First finisher: Ben Butler, Wakefield Harriers, in 31:58
First female (of 314 female finishers): Libby Greatorex, Leeds Beckett Uni / Wakefield Harriers, in 42:00
(There are 14 athletes registered on Power of Ten with the surname 'Greatorex')
Striders results:
| | | | | |
| --- | --- | --- | --- | --- |
| P | Name | Cat | Time | Cat pos |
| 42 | Stuart Jones | VM50 | 43:35:00 | 2/15 |
| 58 | Matt Broadhead | VM40 | 44:41:00 | 5/35 |
| 61 | Ben Stittle | Pacer (age not given, but I do know his cat is called 'Rambo' and he's been poorly) | 44:45:00 | |
Full results (with finish line video and photos): https://www.sportstimingsolutions.co.uk/rd.php?id=356