Race Date: October 27th 2019
Report from Julia Waldron
After the wettest Saturday on record, we awoke on the morning of the Workshop Half to a bright, bright, sunshiny day, so it was with an excited heart that myself and 'him indoors' (Al Dalton) headed over to Dronfield to pick up Tracey Davies for the morning ahead.
Worksop half was only the fourth half marathon I've ever run, and the only one I've ever followed a proper training plan for.  To be fair, my training plan had been for the Rochdale half at the start of October, but vile lurgy knocked me back and killed my dreams of glory a week before the event.  I'd wanted to do really well in my home town but it was not to be.  Worksop seemed a great second choice…..plus I'd heard the t-shirt and bling were amazing!
My other half marathons had been run on a wing, a prayer and a 'please get me to the finish' mentality. This one was different. I'd written out a proper training plan and stuck to it religiously. I loved the discipline of it and I knew I was improved at the end of it. Despite nerves, I wanted this to be the first race I could run all the way without faltering around mile 9.
The race village was already full of life when we arrived with plenty of striders tops dotted around. We queued for our numbers and gathered in the large hall with the green and gold army for a pre-race chin wag.  It was a joy to briefly see my training buddy and all round good egg Dave Birch in the athletes area who had come to cheer us all on whilst on his own Sunday morning run.
Before long we were off to the bag drop and meeting for the obligatory pre-race Strider photo before the start.  I said goodbye to the guys and headed off to the post 2 hours area of the starting line.  It was a really pleasant surprise when Al and Tracey joined me to run the first mile.  They had earned themselves an enjoyable non race kind of run after their successes at the Isle of Axholme the week before.  I wasn't feeling quite so relaxed!
My goal was to run it in under 2 hours 15 (way faster than my previous best).  Loads of my friends and the Dalton had stressed keeping it steady on the first mile.  My plan was just to keep to a 10 minute mile pace for as long as possible but I went even slower in the first mile…..doing what I'm told for once!
As Al and Tracey headed out on their faster legs after the first mile, I put on my brilliant '10 minute mile spotify play list'.  I couldn't believe such a thing actually existed but was well chuffed with the music selection and the fact that my musician legs found it almost impossible to run out of time!
The scenery was truly spectacular in the sunshine.  My nickname as the smiley runner was well deserved as I beamed like a Cheshire cat joining in the banter around me.
Just before the four mile and first water point I clocked Dave Birch standing on a wall cheering and shouting and waving at me.  He was pointing to my left ahead and shouting something. I couldn't really hear him so I just smiled and waved.  As I rounded the corner I was greeted with what can only be described as a lake after the heavy rains the day before (which was clearly what Dave was warning me about).  I am a notorious wuss when it comes to running in muddy wet places so this was not a cheery sight.  I pummelled down my inner diva strop and ran (waded) right through the middle of it…..in a none too elegant fashion.  Surprised to say it was one of the highlights of my race, squelchy shoes and all.
After the unexpected bath, the route headed into Clumber park and a really pleasant part of the race.  Although scenically pleasing, I was surprised at how undulating the route was.  I hadn't done my homework on the route really (unlike Rochdale where I knew every nook and cranny of the run I never did).  After a few ups and downs I caught up with my mate Nicola at around mile 7 and we ran for a mile or so together.  As we approached the woods I got a surge of energy and pushed on ahead.
The woodland signs that had been put up for the race were really fun and gave me even more smiles.  One read something like……
'Worksop Half Marathon – A flattish PB Route – "according to the Sheffield running club" (I could certainly relate to that one).
I soon stopped laughing when I read the last one though. Words to the tune of…
"Sincere apologies for the route change this year and the new 1.5 km incline" 'Bassetlaw Council'.
I had hoped this was a joke, there had already seemed to be far more ups than downs in this race, but as we continued to rise the joke went a little sour.  I noticed that a lot of my fellow runners had started to walk the final inclines, so I stayed grateful and positive to feel strong and fresh enough to keep on running.  With a check of my watch and my feet still in time with my playlist, I knew that my PB target was in sight.
As we reached the top of the hill we headed into the grounds of Worksop College, where trusty Dave was once again waiting to cheer me on.  He was full of beans on the sidelines telling me I was 'having a brilliant run' and 'I was on target to do it'.  He knew how much it meant to me, despite me being all cool about 'just enjoying the race'.  His greatest chant at the top of his voice was 'It's kitchen sink now Julia – give it EVERYTHING'.  This gave me and all the runners around me a chuckle, and it was time to heed his advice and complete the final mile in my fastest time of the race at 9 minutes 15.
I finished with a chip time of 2.09:22 which I was well chuffed with.  I was even more pleased that my training had paid off and my splits were consistent throughout.  All in all a great event. Well organised and memorable for lots more reasons than the unexpected lake.
One final word, the medal and the top are top quality, and by far my best from my races this year.  I'll be back Worksop!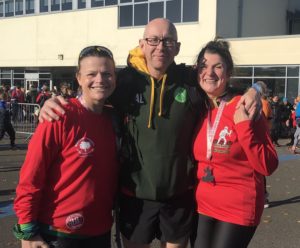 The first male across the line was Stuart Spencer of Barrow Runners with a time of 1.08:28.
First female was Philippa Williams of Sheffield Running Club in 1.17:09.
Congratulations to the top man that is Rob Betts, who got first strider position with a time of 1.28:42.
First female strider was Amy Duck, with a brilliant time of 1.38:38.
Striders' Results (full results here )
| | | |
| --- | --- | --- |
| Name | Cat | Chip Time |
| Robert Betts | MV50-54 | 01:28:42 |
| Daniel Cubitt | MV35-39 | 01:28:54 |
| Ben Clithero | MV40-44 | 01:34:21 |
| Martin Greenough | MV50-54 | 01:36:10 |
| Matt William | MV40-44 | 01:36:40 |
| Amy Duck | Female Senior | 01:38:38 |
| Sarah Allcard | FV45-49 | 01:38:59 |
| Jude Stone | Open Men | 01:39:43 |
| Robin Nelson | MV45-49 | 01:40:26 |
| Tish Prince | Female Senior | 01:40:21 |
| Rob Adams | MV45-49 | 01:44:07 |
| Gemma Wallace | Female Senior | 01:43:25 |
| Caitlin Robertson | Female Senior |  01:48:09 |
| Steve Haake | MV55-59 | 01:46:44 |
| Alan Dalton | MV45-49 | 01:46:00 |
| Philip Swirles | MV40-44 | 01:50:36 |
| Chris Brown | MV40-44 | 01:51:27 |
| Rachel Anderso | FV40-44 | 01:52:28 |
| Mark Wilson | MV40-44 | 01:52:45 |
| Tracey Davies | FV45-49 | 01:49:19 |
| John Liddle | MV50-54 |  01:52:28 |
| Roger Brookes | MV55-59 | 01:53:19 |
| Sophie Reale | Female Senior | 01:54:44 |
| Lisa Higgins | Female Senior | 01:55:21 |
| Katherine Sambrooks | Female Senior |  01:56:52 |
| Caroline Greenough | FV45-49 | 01:57:09 |
| Charlotte Peirson | Female Senior |  01:57:28 |
| Laura Fletcher | FV35-39 | 01:58:33 |
| Chris Smith | MV45-49 | 01:59:12 |
| Richard Binks | MV60-69 | 02:05:24 |
| Elizabeth Sollar | Female Senior |  02:06:08 |
| Roo Allen | MV45-49 | 02:07:01 |
| Katie Hewitt | FV45-49 | 02:07:00 |
| Rebecca Robson | FV40-44 | 02:04:51 |
| Becky Chapman | FV40-44 | 02:08:35 |
| Simon Gleadhall | MV50-54 | 02:09:24 |
| Heidi Hargreaves | FV40-44 | 02:08:38 |
| Stephen Gilmer | MV 35-39 | 02:11:55 |
| Julia Waldron | FV45-49 | 02:09:22 |
| David Bownes | MV60-69 |  02:13:33 |
| Philippa Moorhead | FV55-59 | 02:15:33 |
| Laura Rangeley | Female Senior |  02:19:35 |
| Stephen Schubeler | MV 35-39 | 02:33:44 |
| Jane Claw | FV50-54 | 02:35:27 |
| John Sylvester | MV45-49 | 02:36:10 |
| Lisa Martin | FV45-49 | 02:38:47 |