Race Date: 23rd February 2019
After a great race at the Northerns last year, this years pinnacle of XC running, the nationals, was held at Harewood House.  While our great leader and XC organiser-extraordinaire Richard Pegg had disappeared off to experience a 'medicane' in Malta meaning his half marathon was unfortunately cancelled, this year's XC had us basking in glorious, picnic-like conditions, and sporting Striders vest tans. Climate change doing its bit to ensure that X Country is not the character-building experience it ought to be.
The course itself at Harewood is brilliant – a few long drags uphill, but you are rewarded with a lovely fast down and great views over the stately home and surrounding countryside. And, of course, watching the snake of 2000 or so runners, from Olympic Champions to total novices weave along the course.
I couldn't recommend this event more. Some might be put off by the 'prestige' of the nationals, but the big field means you'll always be surrounded by other runners and supported by the crowd, even if you are not the fastest in the club! Plus, when else can you say you are the Nth best X Country runner in the whole country when people ask what you have been doing?
Massive thanks and Kudos to the 4 volunteers – Nicola Galley, Michael Wu, Joe Mallinshaw and Simeon Cotterell who travelled up at silly-o-clock to volunteer on the course.
As usual, us delicate ladies ran an 8km course, sparing ourselves it seems from the horrors of the extra hill the men had to run in the 12km course.
Emily Hosker Thornhill of Aldershot won the ladies race in 28.17 (a 3.32 minute km average!).
Striders' Results: Ladies
Team position 29th out of 114 – well done!
| | | |
| --- | --- | --- |
| Name | Pos | Time |
| Caroline Brock | 117 | 33.30 |
| Frances Roberts | 253 | 36.06 |
| Fran Cummins | 257 | 36.11 |
| Clare Grisdale | 352 | 37.48 |
| Kate Scott | 533 | 40.56 |
| Caroline Greenough | 602 | 41.59 |
| Sarah Ward | 717 | 44.15 |
| Naomi Rabin | 872 | 47.58 |
| Carol Beattie | 915 | 49.36 |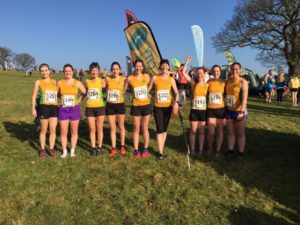 The mens race was won by Mahamed Mahamed of Southampton AC in 36.34. (That's a 3.03 minute km average, on a hilly, uneven course. In. Awe.) My money had been on Emile Cairess who won the Yorkshires and the Northerns, but watching Mahamed's gazelle-like legs spring down the final hill gave him a firm lead.
Striders' Results: Men
The men's team came in in 41st place out of 74 – well done!
| | | |
| --- | --- | --- |
| Name | Pos | Time |
| Ben Jones | 571 | 45.40 |
| Hal Roberts | 669 | 46.33 |
| Ronan Charlton | 689 | 46.41 |
| Paul Middlemas | 861 | 48.18 |
| Rob Pilling | 942 | 49.02 |
| Chris Guy | 982 | 49.25 |
| John Lea-Wilson | 987 | 49.28 |
| Tim Holt | 1019 | 49.47 |
| Alasdair Menmuir | 1054 | 50.05 |
| Malcolm Baggaley | 1172 | 51.14 |
| Andy Buck | 1204 | 51.38 |
| Simeon Cotterell | 1356 | 53.15 |
| Martin Greenough | 1494 | 54.56 |
| Stuart Jones | 1674 | 57.53 |
| Michael Wu | 1723 | 58.44 |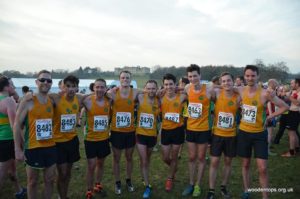 Full results here