Race Date: Sunday 1st March 2020
Race Report by: Ben Jones
What better way to say 'Dydd Gŵyl Dewi Hapus' than a race in Ynys Mon for the Jones Crisps Anglesey Half Marathon. Fans of British weather cheered in delight as another storm blew in perfectly coinciding with the weekend. The race offers breath-taking vistas, the best crisps in the country in the goody bag, and the novel opportunity to sponsor a tree instead of yet another race tee.
Whereas Storm Dennis had improved the racing conditions at the English National XC championships, (Blown over trees could be converted into log jumps) Storm Jorge forced two separate emergency route alterations within 24 hours of the run.
The route normally starts on the iconic Menai Bridge, dropping into the town and out along the sinuous coastal road, through the picturesque town of Beaumaris before climbing into the pleasingly-welsh sounding village of LLanfaes and returning via the coastal road. However, winds exceeding 70mph meant that the 'new bridge' onto the Island was closed to high-sided vehicles and the race start was moved onto Menai Bridge High Street. I was devastated as considered the bridge crossing a great bit of specific training for crossing Tower Bridge at a certain marathon in April. The next change was required after a tree at around the 4 mile mark fell onto a moving vehicle in the early hours of Sunday morning (miraculously all inside the vehicle avoided serious injury). The road closure had a dramatic effect on the route as we were diverted in-land on a tour of the Anglesey lanes. Race organisers assured us that the route was 'accurately GPS measured' but withheld what that measurement was… In short the new route was much hillier, a kilometre longer and more exposed to Jorge's direct howling in the second half. The climb up to Baron Hill golf course at the 10 mile mark has gone into my continually updated 'top 10 most painful racing experiences'. However, still spectacular in its views across the island and strait with the sun bringing the Snowdonia mountain range into view.
Not a day for a PB then but a great challenge nonetheless. I managed 12th place, although lost my title from last year as fastest Jones, pipped agonisingly by a single second. Last year I won £100 for the honour and was a little relieved to find out the race sponsor hadn't repeated the prize… Father Jones was more successful, picking up 2nd place in the V55 category with a typically gritty run. His delight at claiming a prize nearly became his downfall as he narrowly avoided a lie down on a car bonnet whilst deliriously jogging to the race hq to collect his winnings…
Schofields Neil and Sarah completed the roughly 13.7 mile race too, Neil in 1:46:35 and Sarah 2:56:49. Rumour has it that they were persuaded to make the trip after being seduced by the strength of the race report last year. I'll have to wait till 2021 then to judge this reports reception. There is also a 10k and Dragon Dash held at the same time as well as a number of good Airbnb's nearby for those tempted.
The race was won in 1:21:08 by a man in those Nike shoes (Martin Green of North Wales Road Runners) and the first lady was Lucy Williamson of Ilkley Harriers, whose vests match perfectly with the welsh colours, in 1:32:56.
Finally I'd like to add what an incredible job race volunteers and marshals do. Standing on a remote bit of road for half a day in driving wind looked pretty unappealing but these hardy-souls do so much for a silly little sport.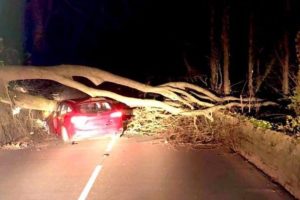 Steeplechase anyone?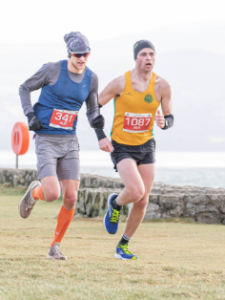 Gasping for air into 50mph winds.
Posing with some crisps and a bag containing a flask and some socks.
Full results here: https://www.tdleventservices.co.uk/event-results/events?event=3503 Striders results below.
| | | | |
| --- | --- | --- | --- |
| Pos | Name | Category | Time |
| 12 | Ben Jones | MSEN | 01:27:10 |
| 121 | Stuart Jones | MV55 | 01:44:32 |
| 138 | Neil Schofield | MV45 | 01:46:35 |
| 1116 | Sarah Schofield | FV40 | 02:56:49 |