Race date: Sunday, 29 December 2019; race distance: 10km; organiser: Ripon Runners
Race report by Stuart Jones
This report is in the form of a Cloze Procedure reading comprehension task. Twenty two words have been omitted – but the reader should be able to have a good guess at replacing the spaces with an appropriate word or alternative.
The correct and omitted words are listed, alphabetically, at the end of the report.
This brilliant ______ race was in the Official Jones Family Top Ten Race Rankings on its previous route. The adjustments made last year avoid one muddy ______ but include seven bridges in Studley Deer Park and a steep ______ in Mackershaw Woods. Despite the route changes, and the _____ levels of mud, The Jolly Holly Jog retains its lofty placement for the fifth consecutive year.
Filling in some locality background: Studley Royal, a World Heritage Site, is the deer park that includes Fountains Abbey, at Ripon. Fountains Abbey hosts arguably the ______ scenic parkrun in the UK. Hamlets called Hell Wath and Studley Roger are on the route; it's ______ Yorkshire countryside.
These are the spare days between Christmas and ____ ____ and runners, like walkers, ______, and all manner of outdoorsy-types, welcome opportunities to burn off Percy Pud ______ while trying out newly 'gifted' kit. The race fills its 1,000 places every year and there is no ____ __ ___ ___.
From Hell Wath – a rather ______, barren set of fields at this time of year, designated as a Nature Reserve – the route uses trails and paths and field ______ round and through the deer park. There are climbs and ______ climbs, and descents and muddy drops. The seven narrow pack horse bridges cross back and ______ over the park's River Ure tributary. Next year, if the route is the same, I'm going ______ the seven adjacent fords instead (for a laugh, and to wash my ______).
The ______ kilometre (4 minutes 12 seconds) is a (closed) downhill country lane section, perfect for a full-on sprint (______ speaking), and I gave it as much as I could.
Combined with a ______ mini-break in a ______ house hotel, or Christmas visits to family or ______, this is a superb race. The t-shirts are a bit ______, but that does not detract at all.
And as a double bonus:
the race HQ is at the rugby club where they have Quidditch posts!
and the 10 km route is marked, ______, with mile markers.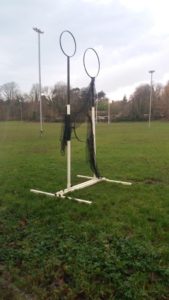 Just two S.C. Striders this year – me and Ian Stinton are regulars though.
Results here: https://my.raceresult.com/141265/results?lang=en
First male:
Andrew Grant – Harrogate Harriers (who have red tops and use the same font as our similarly acronymed neighbours) – in 36:04
First female:
Heather Tuffs – City of York – in 42:02
Steel City Striders:
| | | | |
| --- | --- | --- | --- |
| P | Name | Time | Gender P |
| 95 | Ian Stinton | 46:44 | 79 |
| 115 | Stuart Jones | 47:38 | 96 |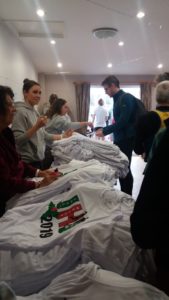 Missing words
| | | |
| --- | --- | --- |
| Calories | Forth | Reduced |
| Cheap | Friends | Relatively |
| Climb | Glorious | Romantic |
| Country | Lofty | Scrubby |
| Cyclists | Most | Shoes |
| Edges | Mound | Through |
| Enigmatically | New Year | Unnecessary |
| Entry on the day | Penultimate | |