Race Date: Saturday 22nd February 2020
Race Distances: Women 9km, Men 13km
Cross Country shoes (aka 'spikes') can have a long life. I bought mine in 2016 (Kalenji Flats @ Decathlon for just £16.00 near the end of the season). They have only done about 240 km in that time – all in races – as no-one trains in spikes or in real racing conditions. You can look at spikes as either a bargain (in terms of pounds per annum) or an unnecessary expense (in terms of pounds per mile). Either way, they become essential as each season progresses.
Because if you did train in them or seek out real-life racing conditions for practice, you'd run a risk of psychological evaluation and being locked up; not for wearing the shoes, but for going out and running in these conditions any more often than you have to.
The courses and conditions build and build over the season until we reach 'Nationals' and something which should be experienced first-hand to be properly understood. In October, when the county-based season starts, the weather is warm and the ground is dry. Courses can usually be run in road shoes – Clifton Park, Rotherham can be dusty and sunny. But by the time we hit the end of November, at Kiveton or some other attractive Doncaster 'country park', we encounter water-logged courses; racing continues. County Championships and Regionals bring coach trips to Lightwater Valley (sticky mud) and Bedale or Knowsley (deeper, longer stretches of mud). And then we get to the season-ending Nationals weekend.
These events are synchronised across the UK. Each nation of UK Athletics holds its Championships on the same day: Scotland's was in Falkirk,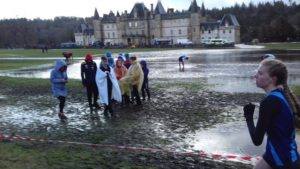 (a runner using the 'Rotherham Bath' technique in the background)
Wales's in Pembrey, near Llanelli, on a dry course despite the recent torrential rainfall,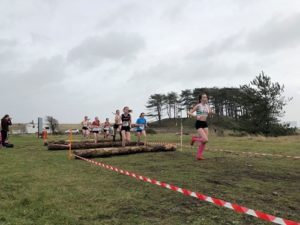 (logs adding 'interest')
and Northern Ireland's was held at the University of Ulster in Coleraine, where it was wet in no half-measure.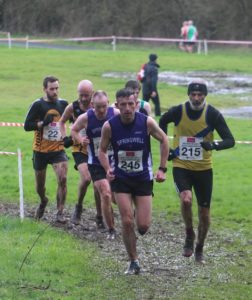 (Hubris did not get its proper reward here, sadly, with the winning team having brought their own champagne to spray on the podium. I wonder how that went with the other teams.)
For the 2020 Saucony English Nationals we were at Wollaton Hall and Deer Park in Nottingham, occasional home to Batman and his manservant, Alfred Pennyworth.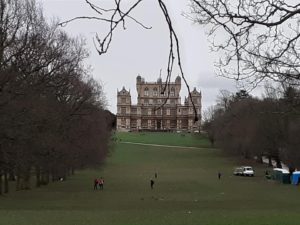 There's a nice history of the event at http://www.national.crosscountrychampionship.uk/, which was first run in 1876.
The first South Yorkshire event of the cross country season is short (at just 8 km for men) – by Nationals distances have increased, so, when we include not taking the racing line, Strava shows men completing 13 km today. Conditions have changed as well…
The mass start hurtles into concealed slop after 25 metres and then standing water after 50. The first climb and drop features tussocks, mole hills and firm ground, but then there's another unavoidable muddy stretch. After passing the club tent village, runners enter the first (of up to eleven) water crossings. This is not clear, fresh, running water; this is black / brown farmyard-smelling foot-deep gloop. The course designers catch every available ramp and climb, chuck in a few fallen tree-trunk hurdles, drop runners into mud of every kind and pass them through streams and yet more shoe-hungry mud. I had to walk twice: my feet sank so far that I simply could not lift them back out fast enough to get both feet off the floor at the same time. Dragging my toes out through the stuff required a swear-word inducing effort. You can find my mid-season thoughts on the many varieties of mud in a race report here.
Nationals were here four years ago, and it was muddy then, too. However, as it has been really wet recently, the quality of the mud was different today: the water crossings were more water and less calf-deep silt, there was an interesting autumnal leaf coloured patch of tree-rooty mud and there were more patches of shining, shallow slipperiness.
One frequent topic of discussion, both before and after, is whether to take the racing line or to venture further on the outside edge. The aim of this is to gain a firmer ground, one that will not sink beneath your feet. On this course that option fails, as mud stretches right across the full width of the track, plus a good few yards beyond. You run the line your feet and body weight takes you, pretty much. There are photos from each of the national events showing two lines of runners hugging both edges of the routes, with the odd solo braveheart trying to plough a furrow straight down the middle. At the water crossings you simply had no choice – the taped route narrowed to force every runner through very drop.
Look carefully here and you'll find Caroline Brock, arms raised to an unnatural position if she were playing football, taking on the shallower (yes, shallower) of the two early water crossings.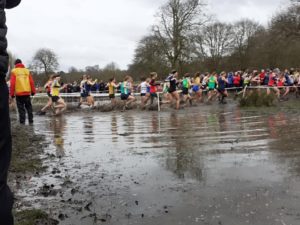 I recommend Caroline's Facebook video of the men's race going through here – the sound is incredible.
She finished 123rd in the Senior Women's race, won for the first time ever by a Norwegian, Anna Moller (Aldershot & Farnham AC in 32:59).
Ben wanted me to mention the strength of 'The North' this year – four of the top five men from Northern Counties XC at Bedale were in the top five here. They build them hard and strong in The North! The Men's Senior race winner was Calum Johnson of Gateshead Harriers (43:36).
Our men's team finished 70th (ahead of Sheffield RC, Northbrook AC (personal bragging rights over number 2 son), Doncaster AC and Kimberworth Striders) out of 115 complete teams. You had to have at least six runners finish and score to make up a team:
Striders Men's Results:
| | | | |
| --- | --- | --- | --- |
| Pos | Name | Cat | Time |
| 343 | James Rose | Male | 52.23 |
| 456 | Ben Jones | Male | 54.09 |
| 711 | Alasdair Menmuir | Male | 58.05 |
| 868 | Richard Carter | Male | 1.00.22 |
| 1154 | Chris Guy | Male | 1.05.12 |
| 1214 | Nick Burns | Male | 1.06.10 |
| 1216 | Kev Sibley | Male | 1.06.16 |
| 1223 | Andy Buck | Male | 1.06.23 |
| 1312 | Ian Stinson | Male | 1.08.09 |
| 1351 | Martin Greenough | Male | 1.09.07 |
| 1359 | Stuart Jones | Male | 1.09.26 |
| 1570 | Michael Wu | Male | 1.17.15 |
| 1586 | Richard Pegg | Male | 1.18.12 |
In the 'big' team version, where nine scored, Striders Men were 40th.
Striders' Women were 65th out of 94 complete teams, and beat Barnsley AC amongst others. Women needed four runners to score and achieve a place on the results board:
| | | | |
| --- | --- | --- | --- |
| Pos | Name | Cat | Time |
| 123 | Caroline Brock | Female | 39.38 |
| 599 | Kate Scott | Female | 51.15 |
| 629 | Caroline Greenough | Female | 52.02 |
| 735 | Dawn Short | Female | 55.56 |
| 739 | Julie Meredith | Female | 56.02 |
| 826 | Carol Beattie | Female | 1.00.08 |
here you can find the women's team results
We took our filthy kit home, rinsed, rinsed, rinsed, rinsed, rinsed, rinsed, rinsed, rinsed and washed it and half of the runners today turned out at Huddersfield 10k the next day. XC is madness, but we love it.
Next? Not too late to take part in the Yorkshire Vets event we are hosting on Sunday 8th March in Longley Park, Sheffield. You stand a very good chance of winning something – if you are a Club member and reading this then you are most likely old enough (35 or older) to enter. Richard Pegg is the contact.