Report By: Stuart Jones
Race Date: 16th February 2020
Oulton Park is a motor racing circuit – home to F3, touring cars and motor bikes – about 12 miles east of Chester.
Every now and then they use a Sunday to host other events, such as a running festival – this time you could choose a 10k, a half marathon, a 3.5 hour challenge or a duathlon in the afternoon. (Except that the rather overblown Storm Dennis put paid to any use of those solid wheel things ('deep section') on road bikes for H&S reasons.)
Apart from the awful weather the next difficulty was picking up race numbers – they were not allowing any unofficial number-swapping as we all had to show ID and a text or email confirmation of race number – that meant I had to go back out in the driving rain to fetch from my car as I was poorer prepared than a novice Boy Scout.
Anyway, it is a simple enough affair, racing on a closed motor racing circuit: follow directions to the correct start line (you would not believe how many had to be redirected!), wait to be told to run, and then do the right number of laps. You'd not think that's going to be a problem either, what with all the Strava being worn, but a bloke ahead of me after 4 miles tried to head into the pit lane finish (a whole full lap too soon). He was aggrieved and argumentative, but Strava said, 'No!' He faded dreadfully after that and I beat him easily.
This is not the only race circuit event available – on the same day as this race the Wombwell 5 mile road race started and finished on a go-kart track. I set a 10k pb one hot and humid July Tuesday evening at Croft Motor Racing Circuit near Darlington back in 2017. Tales of muddy horror are whispered about National XC at Castle Donington.
The Oulton Park road surface is immaculate – smooth, clean and well-draining. The bends are wide. The camber is not too bad. And the hills, such as they are, are short.
As a venue and a route it could easily have accommodated a much bigger entry field – just 76 set off to run the 10k (and only 75 finished it).
The medals have been delayed (by Coronavirus, would you believe) so all there was afterwards was a cup of water, a few Jaffa cakes and a paper pill cup of chocolate M&Ms.
Go again? Possibly.
Data oddities – I was a good minute and a bit outside my 10k pb (Stratford upon Avon, 2018) but today I was first VM50 and fifth (fifth! me!) overall. The winner, Steve Forsyth of Presblyn (Prestatyn to you and me) Running Club, was two minutes outside his pb, and first female Alison Reid of Northern Masters was the same behind hers, set last year when running through the Mersey Tunnel. I think the serious competition must have been elsewhere.
Steve Forsyth of Presblyn Running Club in 35:39
Alison Reid of Northern Masters in 43:23
Stuart Jones of Steel City Striders in 44:12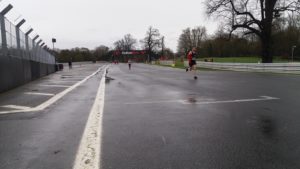 Some runners I somehow managed to beat!

The size of podium I would have needed.