Race Date: Sunday 23rd February 2020
Race Report by: Caroline Brash
PLEASE NOTE: THIS REPORT CONTAINS FACTS ABOUT THE M181
Originally scheduled for 9th February but postponed due to Storm Ciara, the swiftly rearranged Run Your Heart Out Valentine's 10k was an absolute testament to the dedication and professionalism of its organisers, Tape2Tape. 
Over 1400 runners made the rearranged date, despite local competition from the likes of the Snake Lane 10 and the Huddersfield 10k (the preferred option of about 90 Steel City Striders, being part of the Road Race League).
The course, which could best be described as fast and flat, started near to and ended within the Quibell Stadium in Scunthorpe. Despite both the aforementioned Storm Ciara and her successor Storm Dennis having apparently moved on, strong winds still accompanied runners on the route, and whilst this meant a tough headwind for the first half of the race, we were rewarded by a significant tailwind on the way back in. This, in combination with the minimal elevation, meant that many of those taking part achieved personal best times. 
The race was extremely well organised, not only on the day itself but also around the cancellation of the original date, and in the run up to the event. The marshals were plentiful and efficient, yet friendly and encouraging, and the route itself was straightforward, involving closed roads and what appeared to be farm tracks, and taking in views of an extremely enthusiastic wind farm and the least used motorway with its own number, the M181 (also, incidentally, the only spur motorway of a spur motorway)! It ended by doing a partial lap of stadium track itself, where finishers were provided with an excellent medal, a bottle of water, and a magnificent cupcake! 
From a personal point of view I can't imagine anything better than spending a (belated) romantic Valentine's Day with my significant other, running round sunny Scunny, and I very much hope we can do it all again next year. I am particularly grateful to Peter for sticking with me through thick and thin (for the duration of the 10k, and, well, generally), and for physically lobbing me over the line, Brownlee-style, in an attempt to get me a quicker chip time than him (failed), and helping me to achieve my best 10k time since 2018's Sheffield 10k.
There were 1,416 finishers. The race was won by Richard Start of North Derbyshire RC (unattached) in 31:25. First lady home was Gemma Steel of Charnwood AC in 36:26. Full results are available here.
Three Striders took part:
| | | | |
| --- | --- | --- | --- |
| Pos. | Participant | Category | Chip time |
| 60 | Chen Wei | (M) Veteran 45+ |  39:11 |
| 634 | Peter Brash | (M) Veteran 50+ |  54:37 |
| 635 | Caroline Brash | (F) Veteran 45+ |  54:38 |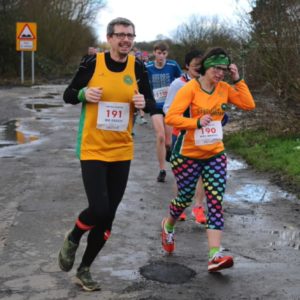 Running round sunny Scunny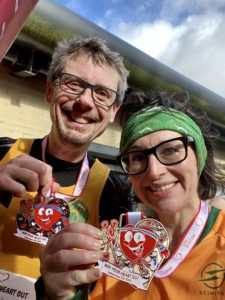 Finishers with their medals