Let's not bury the lead, and start off with biggest headline of this update, the combined efforts of everyone has managed to propel Stride for Sheffield well past the 1000 mile mark, 1193.8 miles to be exact. A huge milestone for the challenge, and a big thank you to everyone that has taken part.
111 and 127.5 miles were logged on days 6 & 7 respectively with some big efforts on the bike by the likes of Andy "Goldstar" Davies, Sam "Fireman Sam" Keen, while the mysterious vigilante only known as the "Treasurer" managed a very respectable 14 miles running. We also has our first 4 legged entry with Ralph becoming the de facto club house leader for canines, logging 6 miles.
With all these miles to work with the SFS Grand Tour was able to continue it's assault on the Pyrenees, making the climb into Andorra le Vella, sitting at an eye watering  3,356 feet above sea level. It's also a member of the Union of Ibero-American Capital Cities, whose membership list of 29 capital cities is somehow not a quiz on Sporcle. Perhaps a future question for the underground Striders quiz scene.
The descent down the other side took the challenge into sunny España, moving with single minded purpose towards the one of the first goals of the challenge, Barcelona. Steeped in history, culture and a huge amount of sporting prestige, it's a city that everyone should visit at least once in their life. For the keen runners the half or full marathons offer a great foreign option for racing (well, maybe in 2021!). Personally I think the city was always be linked inexorably with this song.
From Barcelona we continue, post siesta of course, down the coast to the historic city of Tarragona. A former Roman colony, the roman ruins are a World Heritage Site with the amphitheatre having a stunning backdrop of the Mediterranean Sea: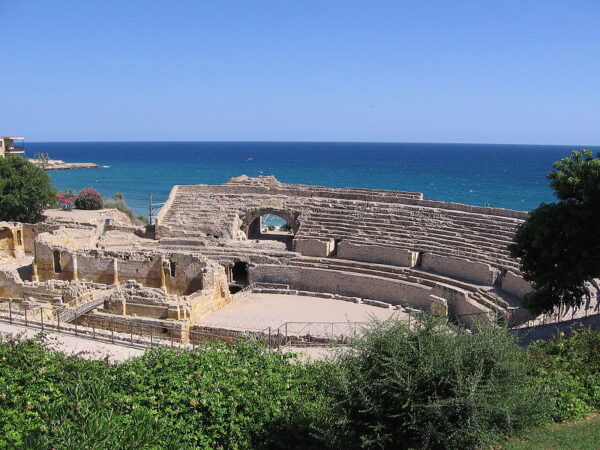 On a side note with Google Maps being limited to 10 destinations I've had to do some fancy dancing to fit everything onto the tracker map, so apologies if it's getting a little squished: