Somewhat embarrassingly, it turns out that yesterday's double update should have in fact been a triple header and what a two days 8 and 9 proved to be. After passing the milestone of 1000 miles in the last update, we're now up to 1657.3 miles after 287.1 miles on day 8 and 176.4 miles on day 9. Steve Cox weighed in a with a very impressive 55 mile bike ride one day, followed by a 20 mile run the next, impressive (or perhaps insane?).
Such a bountiful few days of mileage really allowed the SFS Nomads to motor their way across the Iberian peninsula. Picking up from the last stop off at Tarragona, a very pleasurable jaunt down the coast took us to the city of Valencia. More than a few Striders have ventured here over the years seeking full and half marathon glory with my favourite picture from the archives being this one of Loz Harvey back in 2015: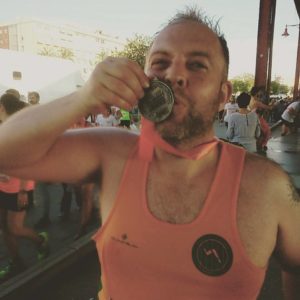 Aside from the running treats on offer, perhaps lesser well know is that Valencia was the birthplace of Paella, no doubt partly as result of also being the home to the largest fresh food market in Europe. I'm not quite sure how also being home to the narrowest building in Europe fits, but I do enjoy that it was constructed purely as a tax dodge!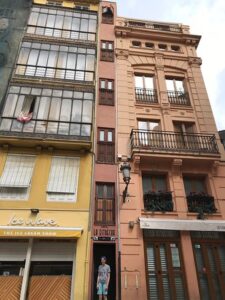 From Valencia we move over the Spanish plains towards the capital city of Madrid. Perhaps seen as the yang to the yin of Barcelona, it too is steeped in culture and sporting prowess. However it has oddly failed in every attempt to secure the Olympics leaving it somewhat the odd one out of major Western European capitals, especially as it's the 3rd biggest European city. It does however historically host the final stage of the Vuelta a España. It also has one of the more unique coats of arms for a city, being a bear eating from strawberry tree.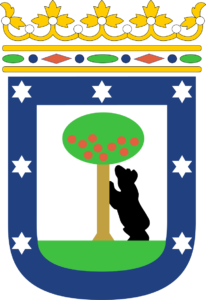 Apparently this represents the outcome of a compromise agreement between church and state where the clergy took ownership of the local beasts, while the city retained control over the land.
The final stop of days 8/9 sees the merry band land in Calzada de Oropesa. A village for which I could find nothing of interest. When a wikipedia page is barely one sentence, you know you're in trouble. However I did stumble across this rather random image during a Google image search:
Obviously estate agent listings in Spain require far more arrows.
After a bumper few days of miles here's how the map now looks, keep up the fine work one and all!