Race date:  Sunday 9th August 2020
This marked the post-lockdown resumption of the monthly 10k races at Tatton Park and (at the time) was the largest Runbritain licensed race to take place under the new guidance.
Spectating was discouraged, there was socially distanced queueing for Portable toilets and no bag drop.  Runners had been allocated to ten waves based on estimated finish time. You assembled in the area assigned to your wave (there was plenty of space) then, after your wave was called, you joined one of two lines along cones that had been positioned leading to the start line, staying a cone apart from the runner in front of you. Runners (one from each of the two lines) were started every five seconds.
That made for a welcome fast start. On the course (going by what I saw and experienced) there was always adequate room for socially distanced overtaking, though this was slightly more difficult later in the race when I started facing the fastest runners returning along the same stretch of road.
We had been alerted that there wouldn't be a water station on the course, but in the event there was one about half way round and some runners took advantage of it. There was no congregating beyond the finish line and widely-spaced tables had been laid out with (separately) medals, bottles of water, and peanut bars.
All the planning and organisation of the race seemed excellent. Hopefully the evidence will continue to build of how races can take place safely under the new guidance.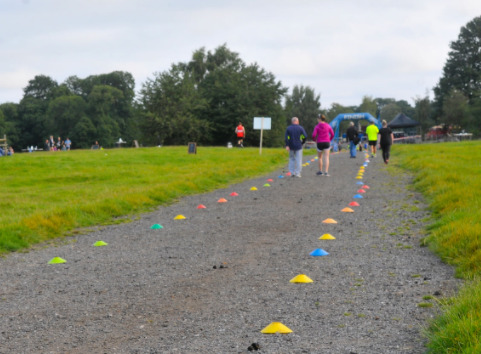 Cones leading to start line
First male: Adam Peacock (Bromsgrove and Redditch) 31:53   First female: Carla Davies (Preston Harriers) 36:53
Table of Strider results:
| | | | |
| --- | --- | --- | --- |
| P | Name | Cat | Time |
| 119 | Jonathan Bickley | V55 | 00:46:15 |