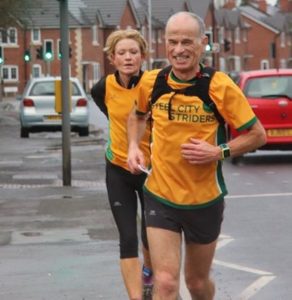 Race date: Sunday, 12 January 2020; race distance (for the two Striders): 13.61km
Race report by Stuart Jones
Regular visitors to the Road Race Championship Car Share etc. pages of Facebook will know that I did recces of each of 2019's races (whether I was running the race or not). Most of the time it is a pointless activity, as 10km on road is 10km on road, if the description says it's flat then it probably will be, and the distance markers will usually be pretty accurate. It was just a foible or an affectation – literally a running joke.
However, once in a while a recce pays dividends; they can provide confidence for the uninitiated (as at the Striders 10k) and insider knowledge for the non-local (the one climb at the super-flat Isle of Axholme Half). And then there is this race, organised by Crazy Legs Events, where the recce is make or break.
This group specialise in 'self-navigated' running and walking events. They have an event base, give you the location of a number of checkpoints, an idea of the shortest possible distance, a copy of a local map, and then you simply pick your own route. Imagine it in Sheffield; start at the U-Mix on Asline Road / Bramall Lane, and be sent to Halifax Hall, Tapton Hall and the Cutlers' Hall in an order of your own choosing and by route of your own design, and finish back at the U-Mix. If you run Monday nights from Heeley you stand a good chance of not getting lost, and picking a reasonable route, possibly avoiding busy roads, difficult road crossings and using a few cut-through alleyways and back roads. But if you don't know Sheffield at all, what chance have you got unless you go and do a recce or use Google Maps all the way round?
I do not know Stockport. I know there is a Hat Museum, some caves, that Edgeley Park used to be the football league ground closest to the River Mersey, and that Stockport is home to the Tudor black and white timber house, Bramall Hall (home of Bramhall parkrun). That knowledge was not going to be much use in finding a fast route that visits this year's checkpoints at three far-flung Church Halls.
The entry list showed athletes from various local Clubs (Marple, Manchester Harriers, Style Harriers, Hyde Village Runners and so on) so what chance did we have with little or no local knowledge? I ran last year's event, but they change the checkpoints each year so this was going to be fairly useless knowledge as well. A recce had to be run a couple of weeks before.
Using Strava, Street View, My Maps and Google Maps and the proffered suggested route, I prepared at the desktop before heading over to Stockport Georgians Cricket Club. I reckoned I had a decent plan that used paths across parks, paths named after English tennis legends, paths along the River Goyt and paths through local housing estates. It looked good on paper, but, as we all know, races are not run on paper.
The recce wasn't too bad, and I set a route with a distance of 9.8 miles against the suggested race best of 8.2 miles. I knew where I had gone wrong / got lost and felt we could get a route below the target, if all went right and I simply remembered every twist, turn, alley, gateway and snicket. I even went back to walk over a short stretch to get the right exit off a railway footbridge, as there were three options at the bottom. Back at home I checked the weather forecast for rain, considered the ground conditions, looked up an alternative that would miss out the worst of mud and slop along the river bank and came up with 8.05 miles / 12.95 km total.
I assured Sarah (Allcard) that road shoes would be perfect as very little was off road and that even that little part was good condition. I forgot that it rains in Manchester.
There is a deliberately informal staggered start – it helps with safety, spreads the field, spreads the stress at each checkpoint and means you have fewer chances to just follow the person ahead. It also means you have no idea how well (or poorly) you are doing until the results are in; someone who starts 55 minutes after you can finish 54 minutes after and win by 60 seconds. We decided on a later start (at 9:30) with runners having been out since 8:00. Chips ready, clip card in back pocket and we were off.
Right, left and straight ahead into the one big field. The shortest route was directly across but what had been firm and clear on the recce was, today, waterlogged and filthy. I was given a 'not impressed' look, but my new Saucony's were suffering, too. Cold, wet feet after less than two minutes was not supposed to happen. The short section of the Fred Perry Way (LDWA) after the field was also awash. Thankfully, the streets of Hazel Grove were much better. We got to the first checkpoint, at Norbury Church Hall, really quickly, and were clearly catching up with two large groups just ahead.
At this point the planned, mapped shortest route required doubling back about a third of the route already run. As we turned back over a footbridge we saw one of the groups in front of us disappearing in the direction of some unknown place, definitely not on the best route. We'd meet them later and find out what that mistake had cost them.
Back on the Fred Perry Way, on a springy riverside path, we were passed by a fast bloke in a black t-shirt. We will refer to him as Black T-shirt Man. We saw and lost sight of him repeatedly for the next 5 miles as he stayed ahead of us, making small but different route choices to Checkpoints 2 and 3, and in the last kilometre. He ended up being first finisher – maybe we should have gone his way?
Checkpoint 2 was at Bramhall Parish Church (Hall). I promised no more off-road, mentally picturing the alternative route needed to fulfil the promise while still taking in the awesome frontage of Bramall Hall. Sarah grabbed some Parma Violets (and Love Hearts) and off we went, back on road and through the rather impressive houses of Bramhall. Black T-shirt Man went into Carr Wood when we stayed on Carrwood Avenue. He stayed on Carrwood Road when we took a route through the Parkrun park. He took Tenement Lane while we stayed on Linney Road (both avoiding the worst of it through to Seven Arches). We approached the last Checkpoint, at Chelwood Baptist Church (Hall – that's right), and he was still just a Checkpoint ahead.
Heading up Adwood Road we overtook more than a dozen runners, all with chips on their ankles. At the next junction, as I was shouting for Sarah to go right, the crowd we were passing through went straight on. Bull-headedness on my part? Supreme confidence? A golden opportunity to bugger it up and fail to impress? Up ahead, having also gone right, was Black T-shirt Man, so this was the right route.
We were no more than 2 km from the finish when we saw a runner ahead simply go 180 degrees off-route. He went into the patch of scrub at the end of a dead-end road but inexplicably turned right instead of left. Another competitor was passed, or maybe he knew something we didn't. In fact, we beat him by over 6 minutes in the end.
Black T-shirt Man disappeared when we were just 3 roads from the finish. He perhaps was aware of a different way into the playing field at the back of the Cricket Club, but I was not going to trust his judgement despite his record of accuracy so far, so we peeled left, right, left as he went straight ahead on Bramhall Lane.
With just 800 metres to go we had what turned out to be a make-or-break decision to make – did we cross the most waterlogged playing field we had seen to save 200 metres or stay on the sure, solid, drying road? In trail shoes (and having travelled in someone else's car) I would have taken the field route and used the break in the fence but this time we stayed on the road and put the pedal to the metal as much as we could.
It rains on Manchester, as it turns out, and the finish mats were either side of a, three-inch deep in water, path. Not the nicest way to finish to be sure.
There was a nice medal, plenty of soup and good bread, tea and coffee and digital timing showing live results on the big screen. The staggered start, like with the Round Sheffield Run, meant that you could not be sure of finish position until all the runners out on course had been gone for longer than we had raced. Black T-shirt Man was top of the Leader Board, and he remained there as Fastest Finisher on the day. A fell runner group (The Fell Devils), who had been very complimentary of our speed over the ground, stood just ahead of us on the board.
When the individual results (there are team prizes and family prizes too) were announced, with no one still running able to beat the runners in the top 40 places, Sarah was second female, finishing in an aggregate chip place of tenth overall. She was just 10 seconds behind San Buckley of The Fell Devils.
If I had not paused us at the entrance to Linney Road to check it was correct, been so cautious on a set of slippery steps down to the riverside, disliked the first field, missed one short corner inside a shrub island, or had chosen to risk the waterlogged field to finish, Sarah may have gained much more than those 10 seconds. Next time, perhaps.
This is my kind of running – slightly loopy, offering a map-reading element, mixed terrain, slightly confused, varied, with choices to please all-comers. I'll be giving it another go in 2021.
First Finisher (aka Black T-shirt Man): David Hope (Unattached) – 13.43 km – 1:01:45
First Female (8th overall): San Buckley (The Fell Devils / South Cheshire) – 13.52 km – 1:07:36
First Steel City Strider (10th overall, second female): Sarah Allcard – 13.61 km – 1:07:46
Second Steel City Strider (11th overall, 9th male): Stuart Jones – 13.61 km – 1:07:47
For the record, the slowest EA-affiliated runner took 3:29:57
190 people completed the route, from a 200 race capacity.
Full results: https://app.lap.io/event/2019-three-halls-of-stockport/results
The group who went wrong at Hazel Grove train station ended up running over 18 km – about 5 km further than necessary. (This is what you talk about with strangers in the Gent's loo while getting stripped, clean and changed.)