Race Date: Saturday 4th January 2020 (Race Distance Women: 8.25km; Men 10.15km)
As soon as the venues for both Yorkshire County and Northern Counties Cross Country were announced (Lightwater Valley near Ripon, and the Camp Hill Estate in Bedale) the cheer went up as both would mean stopping at the (eighth) best Motorway Services in the country en-route. (Wetherby Services, A1M, with its 8 food outlets, wifi, car charging, 370 parking spaces, wildlife area and arcade amusements, scored 87.38 out of 100 in a survey of 112 service areas conducted by Northgate Vehicle Hire https://www.northgatevehiclehire.co.uk/blog/find-the-best-service-stations.) Unless they hold Nationals south of Gatwick I don't think we'll get the chance to visit the top spot – Cobham Services on the M25). Here you can refill your eco-friendly re-usables from Costa and check out which footy teams are playing where by spotting fans in replica kits; Lincoln on the way to Sunderland today. On the way back it's more about which South Yorkshire running clubs have stopped, like us, for a quick bit of bladder relief.
The venue may seem an odd choice, but it meets all the peripheral needs nicely: it is accessible by coaches, close to a main motorway, has vast parking spaces, offers a varied terrain and some hill, has toilets and a café, has space to pitch tents, is contained in a park and therefore needs no road crossings, offers power and wifi supply. It also throws up strangeness – there is an Alice in Wonderland thing going on at the moment so we were greeted by 10-foot-high lions, unicorns and red knights, and Humpty perched rather dangerously on a very tall wall.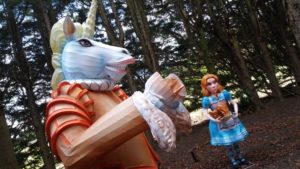 The journey was swift and clear and for once we were in very good time. The tent was quickly up, numbers were fetched and handed out and bottom toilets (ask Kate) were visited, all in plenty of time for the women's race. The events had been going on all day with Juniors being the morning fixtures. Usually this would have meant a great churning of mud and a difficult surface but in these odd climatic times the ground was dry and firm; Trail shoes would have been perfectly good. It is hard to say if it was more difficult than last year or not, as some of the returning runners were faster and others a little slower: a year older, last night's football, better preparation, tapering, a visit to the toilet just before?
The women's race quickly became a battle between four Leeds City runners and one from Ribble Valley making up the front five – needless to say Leeds City won the team prize (with just 11 points – four women to count: Hallamshire Harriers in second place scored 54. Our women finished in a creditable 16th place out of 32 teams, with 306 points). There is this one steep bank. It comes after three drags across slightly upward sloping scrubby land and is an unpleasant experience each time. The fact that you run it four or five times (gender differences in raced distances) does not make it easier. Though it was almost dry this year it was still not an easy challenge. The crowd of spectators at this point gave plenty of vocal encouragement, some of which was appreciated.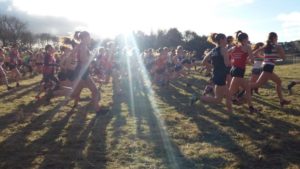 Final race of the day is Under 20 and Senior Men. By now the course should be heavy, difficult and taxing, but the conditions had held and it was just difficult and taxing. A route change, to cut out the previously run 'long lap' meant that the men had five laps of the same 'medium' length loop after a short start turn. One positive and one negative of this change: it did mean that the field of runners was more compact and those of us towards the rear did not feel we were running alone. It also meant we got lapped by more runners – I think 98 got past me (including just one Steel City Strider) before I started my final lap. I have no idea how the front end of the race went but I do know I could not catch up with Nick Burns' new shorter (not short, but shorter) shorts.
And after, after we had had an official team photo taken with us holding a Yorkshire flag, we ate cake and drank hot chocolate / tea around the tent, admired Caroline's hoodie purchase (it LITERALLY had her name on it), and waited for instructions on breaking camp.
Cross Country is hard, there is no escaping the fact. But it is a great day out and fantastic stamina and speed training. Two (or three if you are old enough to count as a Veteran) events are still to do this season – Northerns, Nationals and Yorkshire Veterans. They are all open to all Club members. And as a bonus – Sheffield Open Cross Country in two weeks, at Graves Park, which will count as our own Club Championships. (So that's four, in fact.)
Senior Women's Results:
Place:
Time:
Runner:
1
28:22
Bronwen Owen – Leeds City AC
31
32:41
Caroline Brock
68
36:06
Helen Burgess
89
37:52
Claire Grisdale
118
40:18
Kate Scott
119
40:29
Caroline Greenough
149
44:14
Julie Meredith
Women's Team Placings:
(32 teams)
1st
Leeds City
11 points
16th
SCS
306 points
York Knavesmire got four full teams out and counting – we were down from two teams last year to just one and a half.
 
 
 
Senior Men's Results:
Place:
Time:
Runner:
1
30:59
Andy Heyes –Hallamshire Harriers
90
37.26
Benjamin Jones
126
39:19
Ashley Crow
140
40:14
Chris Guy
147
40:29
Alasdair Menmuir
163
41:16
Robin Lomax
166
41:21
Malcolm Baggaley
205
43:27
Andy Buck
242
45:43
Michael Wu
245
45.58
Martin Greenough
253
46:25
Nick Burns
254
46:27
Stuart Jones
281
48:19
Richard Pegg
Men's Team Placings:
(37 teams)
1st
Hallamshire H 'B'
100 points
14th
SCS A Team
838 points
25th
SCS B Team
1480 points
Most Clubs only got out one team. We had two teams – York Knavesmire put out a full three teams.  Last year we had four full teams.
Full results: