Race date:  Wednesday 14th July 2021
Bamford Carnival Fell Race over 7.2 km with 320m of ascent.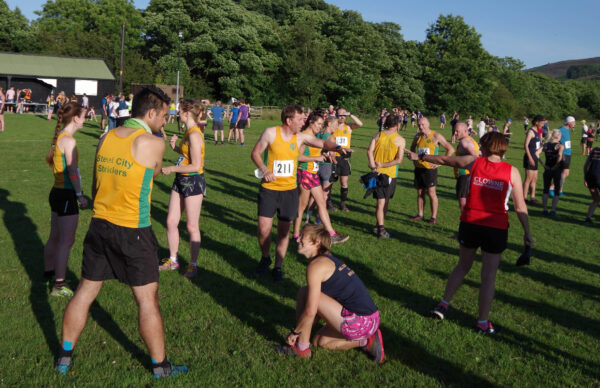 The field of 240 runners was led home by Jonathan Crickmore of Dark Peak Fell Runners in 00:28:59.  One Caroline Brock of a club some may be familiar with – Steel City Striders RC – was first woman home, in 00:34:27.  Congratulations, Caroline!  According to the results sheet, 18 Striders finished the course and the full results are here.
| | | | |
| --- | --- | --- | --- |
| P | Name | Cat | Time |
| 4 | Paul Middlemas | MV40 | 00:33:25 |
| 13 | Caroline Brock | FSEN | 00:34:27 |
| 43 | Al Cook | MV50 | 00:37:39 |
| 44 | Rachel Thorley | FSEN | 00:37:39 |
| 56 | Paul Stuart | MV50 | 00:38:35 |
| 62 | Mark Platton | MV50 | 00:39:23 |
| 76 | Michael Timm | MV50 | 00:40:50 |
| 136 | Matt Broadhead | MV40 | 00:44:57 |
| 153 | Sally Twigg | FSEN | 00:46:22 |
| 161 | Philip Kelly | MV40 | 00:47:11 |
| 168 | Heather Wallis | FV40 | 00:47:27 |
| 170 | Lucy Woodward | FV40 | 00:47:33 |
| 178 | John Armitage | MV50 | 00:48:26 |
| 185 | Jill Davies | FV60 | 00:48:57 |
| 189 | Karen Clark | FV50 | 00:49:41 |
| 192 | Bob Grocutt | MV50 | 00:49:50 |
| 197 | Clive Downing | MV50 | 00:50:28 |
| 203 | Kev Hewitt | MV40 | 00:51:25 |