Race Date: Sunday 22nd August 2021
I went back home to Warrington to run the excellent Birchwood 10km, organised by my old club Spectrum Striders. This is a really good race, the "Percy Pud" of North Cheshire. This was the 37th running of this race, I have only missed 5 of the races due to living overseas or house moving. This was my first trip home since February 2020, this race didn't take place in 2020.
This was my first 10km since the 2019 Percy Pud, I wasn't sure how fit I was, I reckoned that 50 minutes would be a decent target but I was mostly at the race for a family reunion and a chance to see old friends. Conditions were cool, breezy and pouring with rain, I was glad I was running and not volunteering as a marshal.
Off I went on the familiar roads and footpaths, I got encouragement from former clubmates who were marshalling as I ran along. Halfway in 25.12, I then picked up the pace and passed a few runners to 8km, the only real hills in the race are 3 motorway bridges in the last 3km. Really tough going in the last 2km, didn't have much left at the end. Over the line in 49.59 on my watch, but the official time was 50.00 (gun) 49.48 (chip).
Very tired and wet on finishing, a reasonable run in the conditions but disappointed to run out of steam at the end. As always it was good to come home for this race.
The men's race was won by Jack Bromley (unattached) in 32.36. The women's race was won by Hannah Cowley of Cheshire Dragons in 38.20.
Striders Results:
| | | | |
| --- | --- | --- | --- |
| Pos | Name | Cat | Time |
| 99 | Tony Bell | MV 55 | 49.48 |
Full results at https://www.niftyentries.com/Results/Birchwood-10K-2021?ResultSetupId=682834dd-217f-4692-b445-9ee792af70cc
Photographs show me at the start and just after 5km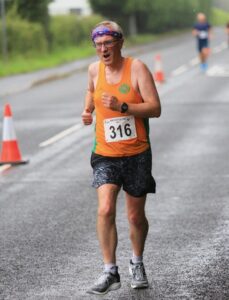 tony….
Tony Bell