Report By: Helen Royles-Jones
Race Date: Sunday 12th September   2021
We saw the return of the always fun but ever challenging Chatsworth 10k on 12 September. Usually held in early May, it was interesting to run the course at the end of summer this time. Perfect running conditions allowed a competitive and, given the current race congestion, large field of over 700 runners on the day.
The course begins in the field next to the golden gates entrance and allows for a nice flat start in the direction of Chatsworth House. Forget pacing and run this section as fast as you can because the next section from 1 mile in starts with a steep grass banking, beginning the uphill climb which will continue to mile 3! As we begin to sense the top is somewhere close, it's a few more twists and turns to reach a flat, and (once breathing is back in order) fast section. A brilliantly organised water station is the reward before the descent begins from mile 4. A few little bumps await and then it's all systems go to get moving and make up time lost on the hill! The final turn usually comes with the sound of the announcer at the finish line congratulating those who have already reached the end. A bit more descending on rocky and in places tricky terrain comes before the final stretch back along the tarmac and the last turn up the field to the finish.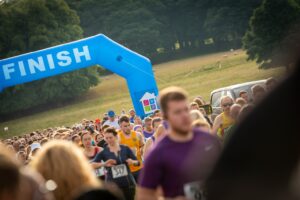 Finishers received a medal along with chip timed instant result, Buxton water and a large choice of post run snack bars. There are also plenty of stalls including massage, coffee and hot food waiting at the end!
There is the option of ordering a race vest when registering for the event in support of the event's charity, Blythe House Hospice & Helen's Trust based in Derbyshire.
This is the 6th time I've ran this 10k and it's always on my race calendar – very well organised and a good measure of progress.
The first gent home was Daniel Haworth of Matlock Athletic Club in 33:51. First lady was Emily Taylor (unattached) in 43:44. There were 8 Striders in the field.
Link to full results here.
Strider's Results:
| | | | | |
| --- | --- | --- | --- | --- |
| Chip Pos | Name | Time | Cat | Cat Pos |
| 13 | James Storey | 41:28 | MV40 | 2 |
| 121 | William Day | 49:37 | MV40 | 33 |
| 141 | Sarah Percival | 50:41 | FV35 | 8 |
| 151 | Helen Royles-Jones | 51:08 | FS | 13 |
| 230 | Richard Eastall | 54:22 | MV40 | 73 |
| 238 | Andrew Fowlds | 54:44 | MV40 | 77 |
| 337 | Matthew Bradbury | 58:41 | MS | 117 |
| 545 | Georgina Bell | 01:06:59 | FV35 | 118 |