Dig Deep Trail Weekend 2021 Results
Dig Deep 12.12 Race Report
Report By: Dave Beech
Race Date: 29th August 2021
Organised by Rivelin Running Events, the 12.12 race is part of the Dig Deep Weekend of Trail Running which consists of a 60 mile race and a 30 mile race on the Saturday followed by the 12.12 and a 10km race on the Sunday. With the usual start/finish area at Whirlow Farm taken up by other events this year the race HQ was moved to nearby Clarkes Farm on Hangram Lane and the routes of each race amended accordingly.
More like a fell race than a trail race, the new route for the 12.12 race took the runners down to Forge Dam, up the Mayfield Valley, over Rudd Hill, through Lady Canning's Plantation, along Houndkirk, over Burbage Edge, along to Fiddlers Elbow, up over Tigger Tor, back to Houndkirk, down Limb Valley, up past Whirlow Farm before a final short section of road to the finish – a distance of some 12.97 miles and a net climb of 2,077 feet! This was the first time I had done this particular race and it is easy to see why it is fast becoming one of the region's iconic races. It is challenging, the views are superb, it has a large enough number of runners to feel like a big event and yet the event retains its low key charm.
There were 7 Striders in the race with Matt Rimmer finishing 2nd overall and 1st male O/40.  Also in the prizes were: Kate Morris (=2nd female and 1st female O/50); Dave Beech (1st male O/60) and Dot Kesterton (1st female O/60).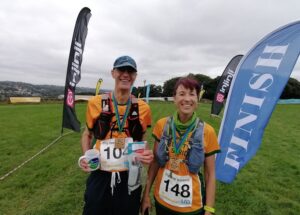 Charlie Player won the race in 1:39:01; Laura Goy was first female in a time of 1:49:53.
Link to full results here.
| | | | |
| --- | --- | --- | --- |
| Pos | Name | Time | Age category position |
| 2 | Matt Rimmer | 1:41:04 | 2nd Male & 1st Male O/40 |
| 10 | Kate Morris | 1:58:15 | =2nd Female & 1st Female O/50 |
| 13 | Dave Beech | 2:03:34 | 1st Male O/60 |
| 20 | Abigail Hickinbottom | 2:14:22 | |
| 24 | Dot Kesterton | 2:17:27 | 1st Female O/60 |
| 28 | Kate Scott | 2:24:28 | |
| 39 | Liam Russell | 2:41:26 | |
Results of Dig Deep Trail Ultra 30
Callum Clifford won the race in 5:02:23: Clare Oliffe was first female in 5:29:19.
There were 2 Striders in the Ultra 30, Lee Kenton and Hannah Holliday, finishing 13th and 14th respectively.
Link to full results here.
| | | | |
| --- | --- | --- | --- |
| Pos | Name | Time | Age category position |
| 13 | Lee Kenton | 06:28:53 | |
| 14 | Hannah Holliday | 06:28:59 | 3rd Female O/40 |