Race Date: Sunday 19th December 2021
Sometimes people regret going for a post run drink with me. This may well have been the case for Rachel Rea, Vicky Hawkins and Rob Davies as I talked (begged) them into helping organise a winter version of the Dronfield Way. Previous organiser, Joe Buckman's assistance was also requested and we furthermore persuaded Helen Smith, Andy Green and Richard Pegg to help out too (organising races with meetings in a pub always help)
Anyway, I think we first met in September and decided a good, fun Christmas event with mulled wine and mince pies was the way forward. Thankfully, Rachel took control of the team entries and obviously Vicky, Helen and Rob were in charge of the alcohol!
As race day loomed, everything seemed to be going well then Helen got Covid. Catherine McKeown however kindly stepped into the mulled wine breach at the end of leg 2 and everything went swimmingly well. As an insight to the preparations, here is a photo of Vicky's hob at 8am Sunday morning. The title of this photo that was sent to the organisaing committee was,
'and so it begins, round 1 of 3'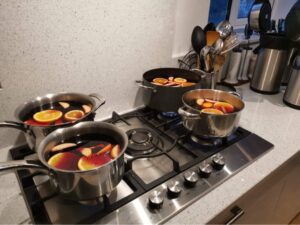 We ended up with 17 teams and 10 solo runners. The Striders team were handicapped to try to make them as fair as possible. The other entrants all went out to win, hence the reason why the Striders teams faired worse than others. Of the others, 3 were Head Torch teams and 2 were Marathon Bus teams which were made predominantly of Striders. We also had 3 Dronfield RC teams, 2 Totley, an HRRC and a Phil Swirles random team. Teams were staggered with an idea that as many teams would finish as close as possible to each other towards the end of leg 3. We also had a group a solo tail runners who left after the last team started but as we, the tail runners, finished so far behind everyone else maybe that needs to be looked at for next year.
The conditions were interesting – good if you like mud and poor visibility. It was cold too but we warmed up once we got moving. As a tail runner, I didn't see much of the race itself but did have the pleasure of passing through the mulled wine/mince pie check points at the end of legs 1 and 2 and a nice warmer at the end of leg 3 – thankfully there was still some left for us and Vicky's wonderful mulled wine recipe was greatly appreciated and well received.
Feedback was it was a great event. We'll look at reinstating it to its usual place in the calendar for next year so nettle stings and brambles will replace frozen fingers and toes but maybe the winter version was not just a one off.
And if you every fancy coming for a pint with me, let me know…….be beware of what you might end up having to do
Team results:
| | | | |
| --- | --- | --- | --- |
| Rank | Name | Club | Result |
| 1 | HRRC | Hillsborough and Rivelin RC | 1:43:55.7 |
| 2 | Team Baker | Totley AC | 1:51:35.7 |
| 3 | Girl Power | – | 1:51:55.6 |
| 4 | Dronfield Shufflers | UHTG | 1:52:42.5 |
| 5 | Tuesday Night Tempo | Dronfield RC | 2:00:45.5 |
| 6 | Team Pope | Totley AC | 2:05:06.5 |
| 7 | Marathon Bus | – | 2:05:09.6 |
| 8 | Tuesday Nights | Dronfield RC | 2:10:10.8 |
| 9 | Snowman Balls | Steel City Striders RC | 2:14:24.2 |
| 10 | Thursday Off Roaders | Dronfield RC | 2:17:14.3 |
| 11 | Reindeer Droppings | UHTG | 2:18:00.7 |
| 12 | Santas Scrooges | UHTG | 2:19:08.6 |
| 13 | Stinky Sprouts | Steel City Striders RC | 2:21:34.4 |
| 14 | Trail Raiders | – | 2:23:01.7 |
| 15 | Turkey Twizzlers | Steel City Striders RC | 2:26:51.7 |
| 16 | Plump Puddings | Steel City Striders RC | 2:27:37.1 |
| 17 | Evil Elves | Steel City Striders RC | 2:34:07.0 |
Solo Results
| | | | |
| --- | --- | --- | --- |
| Rank | Name | Club | Result |
| 1 | Michael Kenyon | Dronfield RC | 1:33:19.0 |
| 2 | Louis Wood | Steel City Striders RC | 1:49:40.1 |
| 3 | Jordan Moat | Steel City Striders RC | 1:49:58.7 |
| 4 | Dave Beech | Steel City Striders RC | 2:42:30.5 |
| 5 | Sarah Percival | Steel City Striders RC | 2:42:30.5 |
| 6 | Nick Burns | Steel City Striders RC | 2:51:25.1 |
| 7 | Ben Heller | Steel City Striders RC | 2:51:25.8 |
| 8 | Steve Haake | Steel City Striders RC | 2:52:03.7 |
| 9 | Andy Green | Steel City Striders RC | 2:52:04.1 |
Full results and splits: Dronfield Way Relay Results 2021