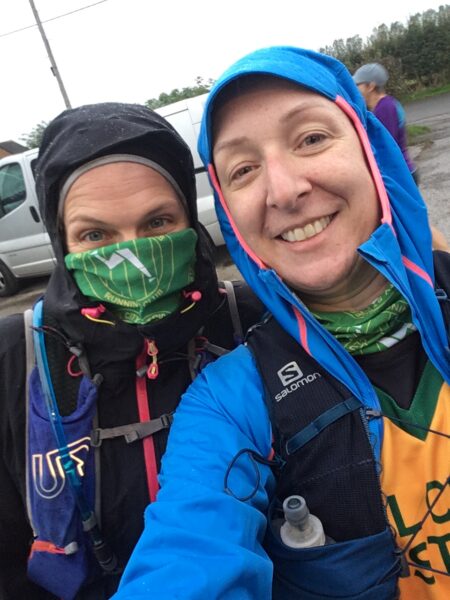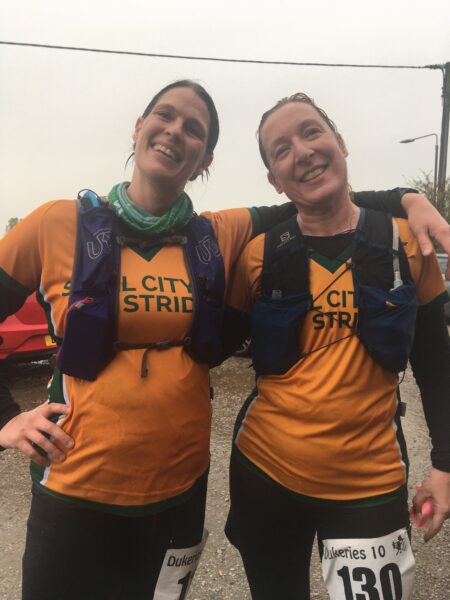 Race date: 30 October 2021
Race distance: 10.8 miles
Race report by Helen Smith
Dukeries 10 is advertised by Hobo Pace as a flat, fun off-road run. I'd run it back in 2019 and had a great time so way back when I'd bought Rachel Rea a place for a birthday present, I thought she'd enjoy the knee high water crossing and copious amounts of mud I'd experienced.
Fast forward to 30th October, with various date changes for races Rachel found herself planning Dukeries 10 to be followed by Worksop half marathon the day after…so a steady, easy run it was to be.
Rachel and I had an early start to get to Walesby village hall for 8.15, we picked up our race numbers and sat in the car avoiding the increasingly persistent rain…with excitement at the thought of even more water and mud (from Rachel).
A low key start with a whistle and we were off on to the first section of path and woodland trail…a lovely run but mainly single file…luckily we'd started near the back so no pressure of being overtaken and no rush to overtake others. Our decision to wear waterproofs soon caught up with as we we got increasingly warm so at the first Marshal point we removed our jackets (possibly not the best decision…more on that later).
The run takes in mainly field, trail and paths, no roads, making for a really relaxing steady run, we chatted to lots of runners along the way, such a friendly, relaxed and welcoming atmosphere…and we ticked off the miles with the rain once again getting heavier and heavier. At mile 6 we got caught in a torrential downpour, sideways wind and rain (and our waterproofs remained in our backpacks) soaked through and splashing through mud and puddles we knew now was not a time to slow down and the rain made it tough to see.
"I can't see, my eyelids are full of water!!"
I've never run in rain that heavy but once you're wet you're wet. The conditions underfoot were tough but doable and we soldiered on. A few more fields (there's a lot of fields in this race, more like cross country running) and we were close to home. The last mile brings you back on to the trail and path back to the start…a welcome sight as our legs were tired and Rachel was mentally counting how many more miles she had to run this weekend.
The race was won by Paul Slater in 1.14.47 and First Lady Helen Burrell from Redhill Road Runners in 1.19.35.
According to the results 3 striders took part
| | | | | | |
| --- | --- | --- | --- | --- | --- |
| P | Name | Cat | Time | Gen P | Cat P |
| | Alyson Evans | | 1:54:30 | | |
| | Helen Smith | | 1:56:20 | | |
| | Rachel Rea | | 1:56:29 | | |
Full results are not yet online.